Filters
Mozart: Mass in C Minor - C.P.E. Bach: Heilig ist Gott
Mozart: Mass in C Minor - C.P.E. Bach: Heilig ist Gott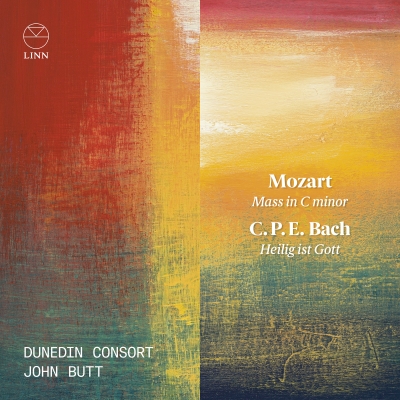 Inlay available for download
Booklet available for download
Missa in C Minor, K. 427: I. Kyrie eleison

Composer(s)

Wolfgang Amadeus Mozart

Artist(s)

John Butt

Lucy Crowe

Dunedin Consort

Missa in C Minor, K. 427: I. Kyrie eleison

$3.40

Missa in C Minor, K. 427: II. Gloria in excelsis Deo

Composer(s)

Wolfgang Amadeus Mozart

Artist(s)

John Butt

Dunedin Consort

Missa in C Minor, K. 427: II. Gloria in excelsis Deo

$2.30

Missa in C Minor, K. 427: III. Laudamus te

Composer(s)

Wolfgang Amadeus Mozart

Artist(s)

John Butt

Anna Dennis

Dunedin Consort

Missa in C Minor, K. 427: III. Laudamus te

$2.30

Missa in C Minor, K. 427: IV. Gratias agimus tibi

Composer(s)

Wolfgang Amadeus Mozart

Artist(s)

John Butt

Dunedin Consort

Missa in C Minor, K. 427: IV. Gratias agimus tibi

$2.30

Missa in C Minor, K. 427: V. Domine Deus

Composer(s)

Wolfgang Amadeus Mozart

Artist(s)

John Butt

Anna Dennis

Dunedin Consort

Lucy Crowe

Missa in C Minor, K. 427: V. Domine Deus

$2.30

Missa in C Minor, K. 427: VI. Qui tollis peccata mundi

Composer(s)

Wolfgang Amadeus Mozart

Artist(s)

John Butt

Dunedin Consort

Missa in C Minor, K. 427: VI. Qui tollis peccata mundi

$2.30

Missa in C Minor, K. 427: VII. Quoniam tu solus sanctus

Composer(s)

Wolfgang Amadeus Mozart

Artist(s)

John Butt

Nicholas Mulroy

Dunedin Consort

Anna Dennis

Lucy Crowe

Missa in C Minor, K. 427: VII. Quoniam tu solus sanctus

$2.30

Missa in C Minor, K. 427: VIII. Jesu Christe

Composer(s)

Wolfgang Amadeus Mozart

Artist(s)

John Butt

Dunedin Consort

Missa in C Minor, K. 427: VIII. Jesu Christe

$2.30

Missa in C Minor, K. 427: IX. Credo in unum Deum

Composer(s)

Wolfgang Amadeus Mozart

Artist(s)

John Butt

Dunedin Consort

Missa in C Minor, K. 427: IX. Credo in unum Deum

$2.30

Missa in C Minor, K. 427: X. Et incarnatus est

Composer(s)

Wolfgang Amadeus Mozart

Artist(s)

John Butt

Lucy Crowe

Dunedin Consort

Missa in C Minor, K. 427: X. Et incarnatus est

$3.40

Missa in C Minor, K. 427: XI. Sanctus, sanctus, sanctus

Composer(s)

Wolfgang Amadeus Mozart

Artist(s)

John Butt

Dunedin Consort

Missa in C Minor, K. 427: XI. Sanctus, sanctus, sanctus

$2.30

Missa in C Minor, K. 427: XII. Benedictus qui venit

Composer(s)

Wolfgang Amadeus Mozart

Artist(s)

John Butt

Nicholas Mulroy

Dunedin Consort

Anna Dennis

Robert Davies

Missa in C Minor, K. 427: XII. Benedictus qui venit

$2.30

Heilig ist Gott, H. 778

Composer(s)

Carl Philipp Emanuel Bach

Artist(s)

John Butt

Jess Dandy

Dunedin Consort

Heilig ist Gott, H. 778

$3.40
Total running time: 60 minutes.

Album information

Following a highly anticipated televised performance at the 2023 BBC Proms, Dunedin Consort and its director John Butt now release Mozart's 'Great' Mass in C minor and Carl Phillip Emmanuel Bach's Heilig ist Gott on Linn.

Devised to celebrate his marriage to Constanze, but left unfinished at the composer's death, Mozart's Mass can clearly be traced back to the choral writing of Johann Sebastian Bach and his son, Carl Phillip Emmanuel. This musical genealogy is displayed here in a lavish double-chorus, double-orchestra feast where both works echo each other. No stranger to Mozart – the ensemble's recording of the Requiem was a Gramophone Award Winner and Grammy-nominated – Dunedin Consort puts its stamp on these most spectacular contributions to church music.
Related Artists
Reviews