Filters
Haydn 2032, Vol. 13: Horn Signal
Haydn 2032, Vol. 13: Horn Signal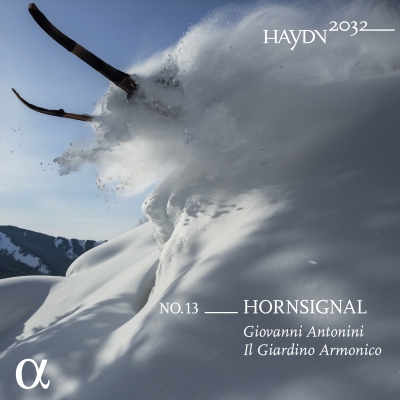 Booklet available for download
Symphony No. 31 in D Major, Hob.I:31 "Hornsignal": I. Allegro

Composer(s)

Franz Joseph Haydn

Artist(s)

Il Giardino Armonico

Giovanni Antonini

Symphony No. 31 in D Major, Hob.I:31 "Hornsignal": I. Allegro

$3.40

Symphony No. 31 in D Major, Hob.I:31 "Hornsignal": II. Adagio

Composer(s)

Franz Joseph Haydn

Artist(s)

Il Giardino Armonico

Giovanni Antonini

Symphony No. 31 in D Major, Hob.I:31 "Hornsignal": II. Adagio

$3.40

Symphony No. 31 in D Major, Hob.I:31 "Hornsignal": III. Minuet - Trio

Composer(s)

Franz Joseph Haydn

Artist(s)

Il Giardino Armonico

Giovanni Antonini

Symphony No. 31 in D Major, Hob.I:31 "Hornsignal": III. Minuet - Trio

$2.30

Symphony No. 31 in D Major, Hob.I:31 "Hornsignal": IV. Finale. Moderato molto with 7 variations - Presto

Composer(s)

Franz Joseph Haydn

Artist(s)

Il Giardino Armonico

Giovanni Antonini

Symphony No. 31 in D Major, Hob.I:31 "Hornsignal": IV. Finale. Moderato molto with 7 variations - Presto

$3.40

Symphony No. 59 in A Major, Hob.I:59 "Feuersinfonie": I. Presto

Composer(s)

Franz Joseph Haydn

Artist(s)

Il Giardino Armonico

Giovanni Antonini

Symphony No. 59 in A Major, Hob.I:59 "Feuersinfonie": I. Presto

$2.30

Symphony No. 59 in A Major, Hob.I:59 "Feuersinfonie": II. Andante o più tosto allegretto

Composer(s)

Franz Joseph Haydn

Artist(s)

Il Giardino Armonico

Giovanni Antonini

Symphony No. 59 in A Major, Hob.I:59 "Feuersinfonie": II. Andante o più tosto allegretto

$2.30

Symphony No. 59 in A Major, Hob.I:59 "Feuersinfonie": III. Minuet

Composer(s)

Franz Joseph Haydn

Artist(s)

Il Giardino Armonico

Giovanni Antonini

Symphony No. 59 in A Major, Hob.I:59 "Feuersinfonie": III. Minuet

$2.30

Symphony No. 59 in A Major, Hob.I:59 "Feuersinfonie": IV. Allegro assai

Composer(s)

Franz Joseph Haydn

Artist(s)

Il Giardino Armonico

Giovanni Antonini

Symphony No. 59 in A Major, Hob.I:59 "Feuersinfonie": IV. Allegro assai

$2.30

Symphony No. 48 in C Major, Hob.I:48 "Maria Theresia": I. Allegro

Composer(s)

Franz Joseph Haydn

Artist(s)

Il Giardino Armonico

Giovanni Antonini

Symphony No. 48 in C Major, Hob.I:48 "Maria Theresia": I. Allegro

$4.60

Symphony No. 48 in C Major, Hob.I:48 "Maria Theresia": II. Adagio

Composer(s)

Franz Joseph Haydn

Artist(s)

Il Giardino Armonico

Giovanni Antonini

Symphony No. 48 in C Major, Hob.I:48 "Maria Theresia": II. Adagio

$3.40

Symphony No. 48 in C Major, Hob.I:48 "Maria Theresia": III. Minuet - Trio

Composer(s)

Franz Joseph Haydn

Artist(s)

Il Giardino Armonico

Giovanni Antonini

Symphony No. 48 in C Major, Hob.I:48 "Maria Theresia": III. Minuet - Trio

$2.30

Symphony No. 48 in C Major, Hob.I:48 "Maria Theresia": IV. Finale. Allegro

Composer(s)

Franz Joseph Haydn

Artist(s)

Il Giardino Armonico

Giovanni Antonini

Symphony No. 48 in C Major, Hob.I:48 "Maria Theresia": IV. Finale. Allegro

$2.30

Concerto a tre, for Recorder, Horn and Continuo, TWV 42:F14: I. Allegro

Composer(s)

Georg Philipp Telemann

Artist(s)

Il Giardino Armonico

Giovanni Antonini

Concerto a tre, for Recorder, Horn and Continuo, TWV 42:F14: I. Allegro

$2.30

Concerto a tre, for Recorder, Horn and Continuo, TWV 42:F14: II. Loure

Composer(s)

Georg Philipp Telemann

Artist(s)

Il Giardino Armonico

Giovanni Antonini

Concerto a tre, for Recorder, Horn and Continuo, TWV 42:F14: II. Loure

$2.30

Concerto a tre, for Recorder, Horn and Continuo, TWV 42:F14: III. Tempo di Menuet

Composer(s)

Georg Philipp Telemann

Artist(s)

Il Giardino Armonico

Giovanni Antonini

Concerto a tre, for Recorder, Horn and Continuo, TWV 42:F14: III. Tempo di Menuet

$2.30
Total running time: 86 minutes.


Album information

The 13th volume of Giovanni Antonini's celebrated Haydn2032 Series focuses on Haydn's extensive and flamboyant use of the horn. The digital version includes three additional tracks not included on the CD: the Concerto a tre, for Recorder, Horn and Continuo.

The Esterházy princes' love of hunting prompted their 'house composer' Joseph Haydn to make extensive use of the horn. At the time, this was still the hand horn (Waldhorn), limited to 'natural' harmonics, since it did not yet have valves. Between 1761 and 1790 there were a total eighteen horn players in princely service, but no trumpeters! So, in his Symphony no.48 of 1769, for example, Haydn used the horns as 'replacement trumpets', instructing them to play an octave higher than usual. The horns strike a flamboyant note in Haydn's symphonies, which is probably why an anonymous copyist of no.59 dubbed it the 'Fire' Symphony.

The Symphony no.31 'Horn Signal' (1765) gives its name to this thirteenth volume in the Haydn2032 Edition. The four horns ring out majestically and the musicians of Il Giardino Armonico perform this music in their characteristically impetuous style, under the fiery direction of Giovanni Antonini.
Related Artists
Reviews