Filters
Haydn 2032, Vol. 8: La Roxolana
Haydn 2032, Vol. 8: La Roxolana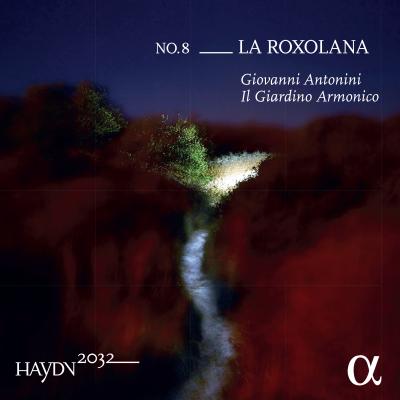 Inlay available for download
Booklet available for download
Symphony No. 63 in C Major, Hob.I:63 "La Roxolana": I. Allegro

Composer(s)

Franz Joseph Haydn

Artist(s)

Giovanni Antonini

Il Giardino Armonico

Symphony No. 63 in C Major, Hob.I:63 "La Roxolana": I. Allegro

$3.40

Symphony No. 63 in C Major, Hob.I:63 "La Roxolana": II. La Roxolana. Allegretto piu tosto allegro

Composer(s)

Franz Joseph Haydn

Artist(s)

Giovanni Antonini

Il Giardino Armonico

Symphony No. 63 in C Major, Hob.I:63 "La Roxolana": II. La Roxolana. Allegretto piu tosto allegro

$2.30

Symphony No. 63 in C Major, Hob.I:63 "La Roxolana": III. Menuet - Trio

Composer(s)

Franz Joseph Haydn

Artist(s)

Giovanni Antonini

Il Giardino Armonico

Symphony No. 63 in C Major, Hob.I:63 "La Roxolana": III. Menuet - Trio

$2.30

Symphony No. 63 in C Major, Hob.I:63 "La Roxolana": IV. Finale. Presto

Composer(s)

Franz Joseph Haydn

Artist(s)

Giovanni Antonini

Il Giardino Armonico

Symphony No. 63 in C Major, Hob.I:63 "La Roxolana": IV. Finale. Presto

$2.30

Symphony No. 43 in E-Flat Major, Hob.I:43 "Mercury": I. Allegro

Composer(s)

Franz Joseph Haydn

Artist(s)

Giovanni Antonini

Il Giardino Armonico

Symphony No. 43 in E-Flat Major, Hob.I:43 "Mercury": I. Allegro

$3.40

Symphony No. 43 in E-Flat Major, Hob.I:43 "Mercury": II. Adagio

Composer(s)

Franz Joseph Haydn

Artist(s)

Giovanni Antonini

Il Giardino Armonico

Symphony No. 43 in E-Flat Major, Hob.I:43 "Mercury": II. Adagio

$3.40

Symphony No. 43 in E-Flat Major, Hob.I:43 "Mercury": III. Menuet - Trio

Composer(s)

Franz Joseph Haydn

Artist(s)

Giovanni Antonini

Il Giardino Armonico

Symphony No. 43 in E-Flat Major, Hob.I:43 "Mercury": III. Menuet - Trio

$2.30

Symphony No. 43 in E-Flat Major, Hob.I:43 "Mercury": IV. Finale. Allegro

Composer(s)

Franz Joseph Haydn

Artist(s)

Giovanni Antonini

Il Giardino Armonico

Symphony No. 43 in E-Flat Major, Hob.I:43 "Mercury": IV. Finale. Allegro

$2.30

Romanian Folk Dances, SZ. 68, BB 76: I. Joc cu bǎtǎ (Allegro moderato)

Artist(s)

Giovanni Antonini

Il Giardino Armonico

Romanian Folk Dances, SZ. 68, BB 76: I. Joc cu bǎtǎ (Allegro moderato)

$2.30

Romanian Folk Dances, SZ. 68, BB 76: II. Brǎul (Allegro)

Artist(s)

Giovanni Antonini

Il Giardino Armonico

Romanian Folk Dances, SZ. 68, BB 76: II. Brǎul (Allegro)

$2.30

Romanian Folk Dances, SZ. 68, BB 76: III. Pê-loc (Andante)

Artist(s)

Giovanni Antonini

Il Giardino Armonico

Romanian Folk Dances, SZ. 68, BB 76: III. Pê-loc (Andante)

$2.30

Romanian Folk Dances, SZ. 68, BB 76: IV. Buciumeana (Moderato)

Artist(s)

Giovanni Antonini

Il Giardino Armonico

Romanian Folk Dances, SZ. 68, BB 76: IV. Buciumeana (Moderato)

$2.30

Romanian Folk Dances, SZ. 68, BB 76: V. Puargǎ romǎneascǎ (Allegro)

Artist(s)

Giovanni Antonini

Il Giardino Armonico

Romanian Folk Dances, SZ. 68, BB 76: V. Puargǎ romǎneascǎ (Allegro)

$2.30

Romanian Folk Dances, SZ. 68, BB 76: VI. Mǎrunţel (L'istesso tempo)

Artist(s)

Giovanni Antonini

Il Giardino Armonico

Romanian Folk Dances, SZ. 68, BB 76: VI. Mǎrunţel (L'istesso tempo)

$2.30

Romanian Folk Dances, SZ. 68, BB 76: VII. Mǎrunţel (Allegro vivace)

Artist(s)

Giovanni Antonini

Il Giardino Armonico

Romanian Folk Dances, SZ. 68, BB 76: VII. Mǎrunţel (Allegro vivace)

$2.30

Sonata Jucunda: Adagio - Presto - Adagio - Allegro - Allegro - Allegro - Adagio - Adagio - Allegro - Adagio

Artist(s)

Giovanni Antonini

Il Giardino Armonico

Sonata Jucunda: Adagio - Presto - Adagio - Allegro - Allegro - Allegro - Adagio - Adagio - Allegro - Adagio

$2.30

Symphony No. 28 in A Major, Hob.I:28: I. Allegro di molto

Composer(s)

Franz Joseph Haydn

Artist(s)

Giovanni Antonini

Il Giardino Armonico

Symphony No. 28 in A Major, Hob.I:28: I. Allegro di molto

$2.30

Symphony No. 28 in A Major, Hob.I:28: II. Poco adagio

Composer(s)

Franz Joseph Haydn

Artist(s)

Giovanni Antonini

Il Giardino Armonico

Symphony No. 28 in A Major, Hob.I:28: II. Poco adagio

$3.40

Symphony No. 28 in A Major, Hob.I:28: III. Menuet. Allegro molto - Trio

Composer(s)

Franz Joseph Haydn

Artist(s)

Giovanni Antonini

Il Giardino Armonico

Symphony No. 28 in A Major, Hob.I:28: III. Menuet. Allegro molto - Trio

$2.30

Symphony No. 28 in A Major, Hob.I:28: IV. Presto assai

Composer(s)

Franz Joseph Haydn

Artist(s)

Giovanni Antonini

Il Giardino Armonico

Symphony No. 28 in A Major, Hob.I:28: IV. Presto assai

$2.30
Total running time: 76 minutes.
Album information

For its eighth volume, Haydn2032 invites us on a musical journey that takes the Balkan route.

Of all the 'Viennese Classical School', Joseph Haydn is certainly the composer closest to folk music, first because he spent his early years in the countryside and also because, unlike his colleagues who worked in the urban centres of the Habsburg monarchy, Haydn was in contact with Croats, Roma and Hungarians throughout his life. These influences were omnipresent in his music, to the delight of Prince Nikolaus I Esterházy and his guests, but by some accounts were not to the taste of many music theorists in Germany. Haydn gave his Symphony no.63 in C major the title of 'La Roxolana', from the famous sixteenth-century sultana who was the wife of Suleiman the Magnificent after having been his slave.

As usual, Giovanni Antonini, who is reunited here with Il Giardino Armonico, juxtaposes Haydn's music with that of another composer. The natural choice here was Béla Bartók, who is represented by his Romanian Folk Dances, composed in 1917.

NB. Please note 176k Studio Master files are available to anyone who has purchased the album in Studio Master. Just email us with your order number and we will send them to you free of charge.
Related Artists
Reviews