Filters
The Hibernian Muse. Music for Ireland by Purcell and Cousser
The Hibernian Muse. Music for Ireland by Purcell and Cousser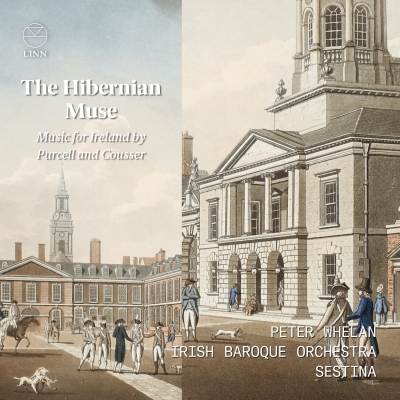 Inlay available for download
Booklet available for download
Great Parent, Hail!, Z 327: I. Overture

Composer(s)

Henry Purcell

Artist(s)

Peter Whelan

Irish Baroque Orchestra

Great Parent, Hail!, Z 327: I. Overture

$2.30

Great Parent, Hail!, Z 327: II. Great Parent, Hail!

Composer(s)

Henry Purcell

Artist(s)

Peter Whelan

Irish Baroque Orchestra

Sestina

Great Parent, Hail!, Z 327: II. Great Parent, Hail!

$2.30

Great Parent, Hail!, Z 327: III. Another Century Commencing

Composer(s)

Henry Purcell

Artist(s)

Peter Whelan

Anthony Gregory

Irish Baroque Orchestra

Great Parent, Hail!, Z 327: III. Another Century Commencing

$2.30

Great Parent, Hail!, Z 327: IV. After War's Alarms Repeated

Composer(s)

Henry Purcell

Artist(s)

Peter Whelan

Anthony Gregory

Irish Baroque Orchestra

Christopher Bowen

Great Parent, Hail!, Z 327: IV. After War's Alarms Repeated

$2.30

Great Parent, Hail!, Z 327: V. Awful Matron Take Thy Seat

Composer(s)

Henry Purcell

Artist(s)

Peter Whelan

Aaron O'Hare

Irish Baroque Orchestra

Great Parent, Hail!, Z 327: V. Awful Matron Take Thy Seat

$2.30

Great Parent, Hail!, Z 327: VI. She Was the First Who Did Inspire

Composer(s)

Henry Purcell

Artist(s)

Peter Whelan

Anthony Gregory

Irish Baroque Orchestra

Christopher Bowen

Sestina

Great Parent, Hail!, Z 327: VI. She Was the First Who Did Inspire

$2.30

Great Parent, Hail!, Z 327: VII. Succeeding Princes Next Recite

Composer(s)

Henry Purcell

Artist(s)

Peter Whelan

Anthony Gregory

Irish Baroque Orchestra

Aaron O'Hare

Great Parent, Hail!, Z 327: VII. Succeeding Princes Next Recite

$2.30

Great Parent, Hail!, Z 327: VIII. But Chiefly Recommend to Fame

Composer(s)

Henry Purcell

Artist(s)

Peter Whelan

Irish Baroque Orchestra

Sestina

Great Parent, Hail!, Z 327: VIII. But Chiefly Recommend to Fame

$2.30

Great Parent, Hail!, Z 327: IX. Symphony

Composer(s)

Henry Purcell

Artist(s)

Peter Whelan

Irish Baroque Orchestra

Great Parent, Hail!, Z 327: IX. Symphony

$2.30

Great Parent, Hail!, Z 327: X. The Royal Patron Sung. Repair

Composer(s)

Henry Purcell

Artist(s)

Peter Whelan

Irish Baroque Orchestra

Maria Keohane

Great Parent, Hail!, Z 327: X. The Royal Patron Sung. Repair

$2.30

Great Parent, Hail!, Z 327: XI. Then a Second Ormond's Story

Composer(s)

Henry Purcell

Artist(s)

Peter Whelan

Irish Baroque Orchestra

Maria Keohane

Sestina

Great Parent, Hail!, Z 327: XI. Then a Second Ormond's Story

$2.30

A New Irish Tune Z 646, "Lilliburlero"

Composer(s)

Henry Purcell

Artist(s)

Pablo FitzGerald

A New Irish Tune Z 646, "Lilliburlero"

$2.30

The Universal Applause of Mount Parnassus: No. 1, Overture

Composer(s)

Johann Sigismund Kusser

Artist(s)

Peter Whelan

Irish Baroque Orchestra

The Universal Applause of Mount Parnassus: No. 1, Overture

$2.30

The Universal Applause of Mount Parnassus: No. 2, Recitativo. Such Harmony (Apollo)

Composer(s)

Johann Sigismund Kusser

Artist(s)

Peter Whelan

Anthony Gregory

Irish Baroque Orchestra

The Universal Applause of Mount Parnassus: No. 2, Recitativo. Such Harmony (Apollo)

$2.30

The Universal Applause of Mount Parnassus: No. 3, Aria. Tuneful Virgins (Apollo)

Composer(s)

Johann Sigismund Kusser

Artist(s)

Peter Whelan

Anthony Gregory

Irish Baroque Orchestra

The Universal Applause of Mount Parnassus: No. 3, Aria. Tuneful Virgins (Apollo)

$2.30

The Universal Applause of Mount Parnassus: No. 4, A Ground. No Other, Than Immortal Lays (The Nine Muses & Apollo)

Composer(s)

Johann Sigismund Kusser

Artist(s)

Peter Whelan

Anthony Gregory

Irish Baroque Orchestra

Maria Keohane

Sestina

The Universal Applause of Mount Parnassus: No. 4, A Ground. No Other, Than Immortal Lays (The Nine Muses & Apollo)

$2.30

The Universal Applause of Mount Parnassus: No. 5, Menuet & Recitativo. She Climbs the Highest Pyramids of Glory (Calliope)

Composer(s)

Johann Sigismund Kusser

Artist(s)

Peter Whelan

Irish Baroque Orchestra

Maria Keohane

The Universal Applause of Mount Parnassus: No. 5, Menuet & Recitativo. She Climbs the Highest Pyramids of Glory (Calliope)

$2.30

The Universal Applause of Mount Parnassus: No. 6, Aria. Anna's Deathless Acts Rehearsing (Calliope)

Composer(s)

Johann Sigismund Kusser

Artist(s)

Peter Whelan

Irish Baroque Orchestra

Maria Keohane

The Universal Applause of Mount Parnassus: No. 6, Aria. Anna's Deathless Acts Rehearsing (Calliope)

$2.30

The Universal Applause of Mount Parnassus: No. 7, Recitativo. Whilst Providence Supports Her (Clio)

Composer(s)

Johann Sigismund Kusser

Artist(s)

Peter Whelan

Aisling Kenny

Irish Baroque Orchestra

The Universal Applause of Mount Parnassus: No. 7, Recitativo. Whilst Providence Supports Her (Clio)

$2.30

The Universal Applause of Mount Parnassus: No. 8, Aria. Future Ages (Clio)

Composer(s)

Johann Sigismund Kusser

Artist(s)

Peter Whelan

Aisling Kenny

Irish Baroque Orchestra

The Universal Applause of Mount Parnassus: No. 8, Aria. Future Ages (Clio)

$2.30

The Universal Applause of Mount Parnassus: No. 9, Recitativo. She Shines With Heavenly Graces (Erato)

Composer(s)

Johann Sigismund Kusser

Artist(s)

Peter Whelan

Sarah Thursfield

Irish Baroque Orchestra

The Universal Applause of Mount Parnassus: No. 9, Recitativo. She Shines With Heavenly Graces (Erato)

$2.30

The Universal Applause of Mount Parnassus: No. 10, Aria. British Ladies' Matchless Charms (Erato)

Composer(s)

Johann Sigismund Kusser

Artist(s)

Peter Whelan

Sarah Thursfield

Irish Baroque Orchestra

The Universal Applause of Mount Parnassus: No. 10, Aria. British Ladies' Matchless Charms (Erato)

$2.30

The Universal Applause of Mount Parnassus: No. 11, Chorus. The Bold Britons from Field When Returned

Composer(s)

Johann Sigismund Kusser

Artist(s)

Peter Whelan

Irish Baroque Orchestra

Sestina

The Universal Applause of Mount Parnassus: No. 11, Chorus. The Bold Britons from Field When Returned

$2.30

The Universal Applause of Mount Parnassus: No. 12, Recitativo. Her Pleasing Aspect Charmeth! (Thalia)

Composer(s)

Johann Sigismund Kusser

Artist(s)

Peter Whelan

Sinéad O'Kelly

Irish Baroque Orchestra

The Universal Applause of Mount Parnassus: No. 12, Recitativo. Her Pleasing Aspect Charmeth! (Thalia)

$2.30

The Universal Applause of Mount Parnassus: No. 13, Aria. In Fortune's Chariot Riding (Thalia)

Composer(s)

Johann Sigismund Kusser

Artist(s)

Peter Whelan

Sinéad O'Kelly

Irish Baroque Orchestra

The Universal Applause of Mount Parnassus: No. 13, Aria. In Fortune's Chariot Riding (Thalia)

$2.30

The Universal Applause of Mount Parnassus: No. 14, Recitativo. Her Conquering Arms Implored (Melpomene)

Composer(s)

Johann Sigismund Kusser

Artist(s)

Peter Whelan

Irish Baroque Orchestra

Maria Keohane

The Universal Applause of Mount Parnassus: No. 14, Recitativo. Her Conquering Arms Implored (Melpomene)

$2.30

The Universal Applause of Mount Parnassus: No. 15, Aria. Our Britain Never Gained (Melpomene)

Composer(s)

Johann Sigismund Kusser

Artist(s)

Peter Whelan

Irish Baroque Orchestra

Maria Keohane

The Universal Applause of Mount Parnassus: No. 15, Aria. Our Britain Never Gained (Melpomene)

$2.30

The Universal Applause of Mount Parnassus: No. 16, Recitativo. Let Her but Wish (Terpsichore)

Composer(s)

Johann Sigismund Kusser

Artist(s)

Peter Whelan

Sinéad O'Kelly

Irish Baroque Orchestra

The Universal Applause of Mount Parnassus: No. 16, Recitativo. Let Her but Wish (Terpsichore)

$2.30

The Universal Applause of Mount Parnassus: No. 17, Aria. Fortune Caressing (Terpsichore)

Composer(s)

Johann Sigismund Kusser

Artist(s)

Peter Whelan

Sinéad O'Kelly

Irish Baroque Orchestra

The Universal Applause of Mount Parnassus: No. 17, Aria. Fortune Caressing (Terpsichore)

$2.30

The Universal Applause of Mount Parnassus: No. 18, Chorus. True Loyalty's All Shining

Composer(s)

Johann Sigismund Kusser

Artist(s)

Peter Whelan

Irish Baroque Orchestra

Sestina

The Universal Applause of Mount Parnassus: No. 18, Chorus. True Loyalty's All Shining

$2.30

The Universal Applause of Mount Parnassus: No. 19, Recitativo. These Tides of Joy O'erflowing (Euterpe)

Composer(s)

Johann Sigismund Kusser

Artist(s)

Peter Whelan

Aisling Kenny

Irish Baroque Orchestra

The Universal Applause of Mount Parnassus: No. 19, Recitativo. These Tides of Joy O'erflowing (Euterpe)

$2.30

The Universal Applause of Mount Parnassus: No. 20, Aria. Laurels That Adorn Her (Euterpe)

Composer(s)

Johann Sigismund Kusser

Artist(s)

Peter Whelan

Aisling Kenny

Irish Baroque Orchestra

The Universal Applause of Mount Parnassus: No. 20, Aria. Laurels That Adorn Her (Euterpe)

$2.30

The Universal Applause of Mount Parnassus: No. 21, Recitativo. How Many Ways She Conquers (Polymnia)

Composer(s)

Johann Sigismund Kusser

Artist(s)

Peter Whelan

Irish Baroque Orchestra

Maria Keohane

The Universal Applause of Mount Parnassus: No. 21, Recitativo. How Many Ways She Conquers (Polymnia)

$2.30

The Universal Applause of Mount Parnassus: No. 22, Aria. Brightest Star (Polymnia)

Composer(s)

Johann Sigismund Kusser

Artist(s)

Peter Whelan

Irish Baroque Orchestra

Maria Keohane

The Universal Applause of Mount Parnassus: No. 22, Aria. Brightest Star (Polymnia)

$2.30

The Universal Applause of Mount Parnassus: No. 23, Recitativo. Oh! Could She Ever Stay! (Urania)

Composer(s)

Johann Sigismund Kusser

Artist(s)

Peter Whelan

Aisling Kenny

Irish Baroque Orchestra

The Universal Applause of Mount Parnassus: No. 23, Recitativo. Oh! Could She Ever Stay! (Urania)

$2.30

The Universal Applause of Mount Parnassus: No. 24, Aria. Britain Fear to Lose Her Glory (Urania)

Composer(s)

Johann Sigismund Kusser

Artist(s)

Peter Whelan

Aisling Kenny

Irish Baroque Orchestra

The Universal Applause of Mount Parnassus: No. 24, Aria. Britain Fear to Lose Her Glory (Urania)

$2.30

The Universal Applause of Mount Parnassus: No. 25, Recitativo. By Reason Anna Steereth (The Nine Muses & Apollo)

Composer(s)

Johann Sigismund Kusser

Artist(s)

Peter Whelan

Anthony Gregory

Irish Baroque Orchestra

Maria Keohane

Sestina

The Universal Applause of Mount Parnassus: No. 25, Recitativo. By Reason Anna Steereth (The Nine Muses & Apollo)

$2.30

The Universal Applause of Mount Parnassus: No. 26, Aria à 2 & Chorus. While the Wheels of Time Are Moving (Calliope & Apollo)

Composer(s)

Johann Sigismund Kusser

Artist(s)

Peter Whelan

Anthony Gregory

Irish Baroque Orchestra

Maria Keohane

Sestina

The Universal Applause of Mount Parnassus: No. 26, Aria à 2 & Chorus. While the Wheels of Time Are Moving (Calliope & Apollo)

$2.30

Sín síos agus suas liom

$2.30
Total running time: 69 minutes.
Album information

Continuing their investigation into the wealth of forgotten Baroque music from Ireland, the Irish Baroque Orchestra and its Music Director Peter Whelan now explore music by Cousser and Purcell.

Johann Sigismund Kusser or Cousser was a Hungarian composer who travelled to Dublin, via Germany, France and London. One of the most knowledgeable and respected operatic directors in Europe, he spent the last twenty years of his life in Dublin where he was 'Chappel-Master of Trinity-Colledge' and 'Master of the Irish State Musick' at Dublin Castle. His Serenata 'The Universal Applause of Mount Parnassus', given its premiere recording here, is an enormously colourful work composed for the birthday celebrations for Queen Anne in 1711. It is also the earliest extant example of operatic music composed in Dublin for Irish audiences.

Purcell wrote his Ode 'Great parent, hail!' for the centenary of Trinity College Dublin in 1694 with a libretto by his collaborator and Trinity alum, Nahum Tate. This fascinating, little-known work contains some stunning music by Purcell. Its cautious tone delicately navigates the brittle political atmosphere in Dublin following the Glorious Revolution – the College having recently fallen for a time to the Jacobites. This recording will offer another huge surprise for those who know little of Ireland's forgotten heritage in the art music.
Related Artists
Reviews