Filters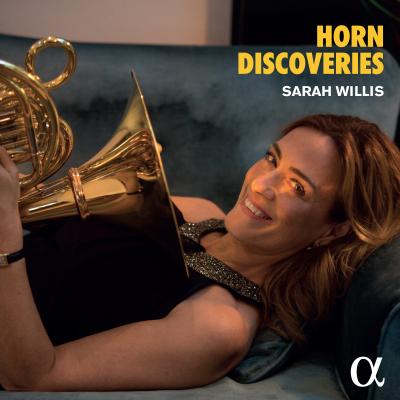 Inlay available for download
Booklet available for download
Velvet Valves (Six Romantic Trio Arrangements): Melodia arranged by David Riniker

Composer(s)

Pyotr Ilyich Tchaikovsky

Artist(s)

Sarah Willis

Kotowa Machida

Velvet Valves (Six Romantic Trio Arrangements): Melodia arranged by David Riniker

$2.30

Velvet Valves (Six Romantic Trio Arrangements): Nocturne arranged by David Riniker

Composer(s)

Pyotr Ilyich Tchaikovsky

Artist(s)

Sarah Willis

Kotowa Machida

Velvet Valves (Six Romantic Trio Arrangements): Nocturne arranged by David Riniker

$2.30

Velvet Valves (Six Romantic Trio Arrangements): Humoreske arranged by David Riniker

Composer(s)

Antonín Dvořák

Artist(s)

Sarah Willis

Kotowa Machida

Velvet Valves (Six Romantic Trio Arrangements): Humoreske arranged by David Riniker

$2.30

Velvet Valves (Six Romantic Trio Arrangements): Romance arranged by David Riniker

Composer(s)

Georges Bizet

Artist(s)

Sarah Willis

Kotowa Machida

Velvet Valves (Six Romantic Trio Arrangements): Romance arranged by David Riniker

$2.30

Velvet Valves (Six Romantic Trio Arrangements): Clair de lune arranged by David Riniker

Composer(s)

Claude Debussy

Artist(s)

Sarah Willis

Kotowa Machida

Velvet Valves (Six Romantic Trio Arrangements): Clair de lune arranged by David Riniker

$2.30

Velvet Valves (Six Romantic Trio Arrangements): L'Abeille arranged by David Riniker

Composer(s)

François Schubert

Artist(s)

Sarah Willis

Kotowa Machida

Velvet Valves (Six Romantic Trio Arrangements): L'Abeille arranged by David Riniker

$2.30

Song of a New World

Composer(s)

Richard Bissill

Artist(s)

Sarah Willis

Kotowa Machida

Song of a New World

$3.40

Mainframe Tropics: Silicon Blues

Artist(s)

Sarah Willis

Kotowa Machida

Mainframe Tropics: Silicon Blues

$2.30

Mainframe Tropics: Marine Snow

Artist(s)

Sarah Willis

Kotowa Machida

Mainframe Tropics: Marine Snow

$2.30

Mainframe Tropics: Greyhound

Artist(s)

Sarah Willis

Kotowa Machida

Mainframe Tropics: Greyhound

$2.30

Willisabethan Sarahnade: The "P" Duet

Composer(s)

Klaus Wallendorf

Artist(s)

Sarah Willis

Kotowa Machida

Willisabethan Sarahnade: The "P" Duet

$2.30

Willisabethan Sarahnade: Gozo fan tutte

Composer(s)

Klaus Wallendorf

Artist(s)

Sarah Willis

Kotowa Machida

Willisabethan Sarahnade: Gozo fan tutte

$2.30

Willisabethan Sarahnade: Xlendrian

Composer(s)

Klaus Wallendorf

Artist(s)

Sarah Willis

Kotowa Machida

Willisabethan Sarahnade: Xlendrian

$2.30

Willisabethan Sarahnade: Agia Galini

Composer(s)

Klaus Wallendorf

Artist(s)

Sarah Willis

Kotowa Machida

Willisabethan Sarahnade: Agia Galini

$2.30

Willisabethan Sarahnade: My Yorker

Composer(s)

Klaus Wallendorf

Artist(s)

Sarah Willis

Kotowa Machida

Willisabethan Sarahnade: My Yorker

$2.30
Total running time: 51 minutes.
Album information

Horn player Sarah Willis presents beautiful arrangements of well-loved repertoire by Tchaikovsky, Dvořák, Bizet and Debussy, alongside new commissions, including the Willisabethan Sarahnade by Klaus Wallendorf who played alongside Sarah in the Berlin Philharmonic.

'The French horn is notoriously difficult to play. You can practise all you like but there is no guarantee that the note you blow into the mouthpiece is the same one which will come out of the bell once it has travelled through all the twists and turns of the tubing. However, when all goes well, the horn is glorious and I absolutely love being a horn player, even with all risks – and maybe even because of them.' – Sarah Willis.

After the enormous success of Mozart y Mambo (ALPHA578) which went straight to Number 1 in Germany on release in 2020, Alpha has decided to reissue one of the first albums recorded by this multi-talented and tireless ambassador of the French horn. In this re-release of the 2014 album, Horn Discoveries, Sarah demonstrates all the rich potential of her instrument with exciting original compositions and beautiful arrangements of Tchaikovsky's Souvenir d'un lieu cher, Dvořák's Humoresque, Bizet's Les Pêcheurs de Perles and Debussy's Clair de Lune.
Related Artists
Reviews