Filters
John Bevan Baker Songs of Courtship
John Bevan Baker Songs of Courtship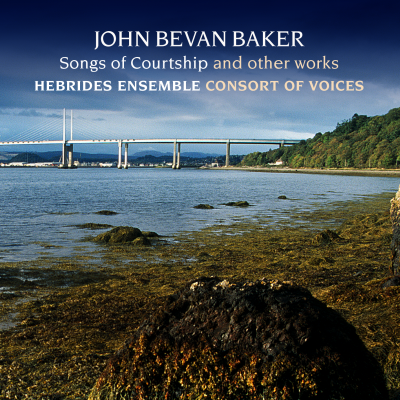 Booklet available for download
Songs of Courtship: <i>Out in the bushlands</i>

Composer(s)

John Bevan Baker

Artist(s)

Consort of Voices, Graeme McNaught - piano, Stuart Hope - piano

Songs of Courtship: Out in the bushlands

$1.80

Songs of Courtship: <i>In the lowlands</i>

Composer(s)

John Bevan Baker

Artist(s)

Consort of Voices, Graeme McNaught - piano, Stuart Hope - piano

Songs of Courtship: In the lowlands

$1.80

Songs of Courtship: <i>Plop fall the plums</i>

Composer(s)

John Bevan Baker

Artist(s)

Consort of Voices, Graeme McNaught - piano, Stuart Hope - piano

Songs of Courtship: Plop fall the plums

$1.80

Songs of Courtship: <i>A very handsome gentleman</i>

Composer(s)

John Bevan Baker

Artist(s)

Consort of Voices, Graeme McNaught - piano, Stuart Hope - piano

Songs of Courtship: A very handsome gentleman

$1.80

Songs of Courtship: <i>Of fair girls the loveliest</i>

Composer(s)

John Bevan Baker

Artist(s)

Consort of Voices, Graeme McNaught - piano, Stuart Hope - piano

Songs of Courtship: Of fair girls the loveliest

$1.80

Songs of Courtship: <i>The cock has crowed</i>

Composer(s)

John Bevan Baker

Artist(s)

Consort of Voices, Graeme McNaught - piano, Stuart Hope - piano

Songs of Courtship: The cock has crowed

$1.80

Songs of Courtship: <i>Shu is away</i>

Composer(s)

John Bevan Baker

Artist(s)

Consort of Voices, Graeme McNaught - piano, Stuart Hope - piano

Songs of Courtship: Shu is away

$1.80

Songs of Courtship: <i>A moon rising</i>

Composer(s)

John Bevan Baker

Artist(s)

Consort of Voices, Graeme McNaught - piano, Stuart Hope - piano

Songs of Courtship: A moon rising

$1.80

Songs of Courtship: <i>Outside the Eastern Gate </i>

Composer(s)

John Bevan Baker

Artist(s)

Consort of Voices, Graeme McNaught - piano, Stuart Hope - piano

Songs of Courtship: Outside the Eastern Gate

$1.80

Songs of Courtship: <i>If along the highroad</i>

Composer(s)

John Bevan Baker

Artist(s)

Consort of Voices, Graeme McNaught - piano, Stuart Hope - piano

Songs of Courtship: If along the highroad

$1.80

Songs of Courtship: <i>By the willows of the Eastern Gate</i>

Composer(s)

John Bevan Baker

Artist(s)

Consort of Voices, Graeme McNaught - piano, Stuart Hope - piano

Songs of Courtship: By the willows of the Eastern Gate

$1.80

Songs of Courtship: <i>I brought my great carriage</i>

Composer(s)

John Bevan Baker

Artist(s)

Consort of Voices, Graeme McNaught - piano, Stuart Hope - piano

Songs of Courtship: I brought my great carriage

$1.80

Songs of Courtship: <i>Wedding Song: My lord is all aglow </i>

Composer(s)

John Bevan Baker

Artist(s)

Consort of Voices, Graeme McNaught - piano, Stuart Hope - piano

Songs of Courtship: Wedding Song: My lord is all aglow

$1.80

Duo

Composer(s)

John Bevan Baker

Artist(s)

Douglas Boyd - oboe, William Conway - cello

Duo

$2.70

Suite for Piano: <i>March</i>

Composer(s)

John Bevan Baker

Artist(s)

Graeme McNaught - piano

Suite for Piano: March

$1.80

Suite for Piano: <i>Jig</i>

Composer(s)

John Bevan Baker

Artist(s)

Graeme McNaught - piano

Suite for Piano: Jig

$1.80

Suite for Piano: <i>Intermezzo</i>

Composer(s)

John Bevan Baker

Artist(s)

Graeme McNaught - piano

Suite for Piano: Intermezzo

$1.80

Suite for Piano: <i>Berceuse</i>

Composer(s)

John Bevan Baker

Artist(s)

Graeme McNaught - piano

Suite for Piano: Berceuse

$1.80

Suite for Piano: <i>Finale </i>

Composer(s)

John Bevan Baker

Artist(s)

Graeme McNaught - piano

Suite for Piano: Finale

$1.80

Spring

Composer(s)

John Bevan Baker

Artist(s)

Sarah Bevan Baker - violin

Spring

$1.80

Triptych

Composer(s)

John Bevan Baker

Artist(s)

William Conway - cello, Graeme McNaught - piano

Triptych

$2.70

A Song for Kate

Composer(s)

John Bevan Baker

A Song for Kate

$1.80

Eclogue

Composer(s)

John Bevan Baker

Eclogue

$2.70

Rorate Coeli Desuper

Composer(s)

John Bevan Baker

Artist(s)

Consort of Voices

Rorate Coeli Desuper

$2.70
Total running time: 66 minutes.
Album information

This disc affords the listener a unique opportunity to explore fascinating and uncharted waters of twentieth-century British music. The majority of works date from the 1980s and early 90s, and were written during the time the composer spent in Fortrose, on the Black Isle in northern Scotland.

Songs of Courtship were set to music by Bevan Baker in 1992 for the Black Isle Singers. The poems, written by Mao Shih in the 7th century BC, were translated from the Ancient Chinese in 1946 by Arthur Waley. John loved them and maintained that they had "a simple directness which could have been written Yesterday".

The courtship songs, richly imaginative, vary greatly in metre and in their treatment of the enigmatic oriental lyrics, some being lightfooted, some more robust, always rhythmically challenging. The 'Wedding Song' is a triumphant, rejoicing finale.
Related Artists
Reviews