Filters
J.S. Bach: Solo Works for Marimba
J.S. Bach: Solo Works for Marimba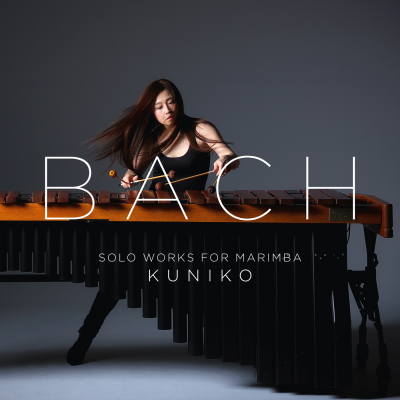 Inlay available for download
Booklet available for download
The Well-Tempered Clavier Book I: Prelude No. 1 in C Major, BWV 846 (arr. for Marimba)

Composer(s)

Johann Sebastian Bach

The Well-Tempered Clavier Book I: Prelude No. 1 in C Major, BWV 846 (arr. for Marimba)

$2.30

Cello Suite No. 1 in G major, BWV 1007: I. Prelude (arr. for Marimba)

Composer(s)

Johann Sebastian Bach

Cello Suite No. 1 in G major, BWV 1007: I. Prelude (arr. for Marimba)

$2.30

Cello Suite No. 1 in G major, BWV 1007: II. Allemande (arr. for Marimba)

Composer(s)

Johann Sebastian Bach

Cello Suite No. 1 in G major, BWV 1007: II. Allemande (arr. for Marimba)

$2.30

Cello Suite No. 1 in G major, BWV 1007: III. Courante (arr. for Marimba)

Composer(s)

Johann Sebastian Bach

Cello Suite No. 1 in G major, BWV 1007: III. Courante (arr. for Marimba)

$2.30

Cello Suite No. 1 in G major, BWV 1007: IV. Sarabande (arr. for Marimba)

Composer(s)

Johann Sebastian Bach

Cello Suite No. 1 in G major, BWV 1007: IV. Sarabande (arr. for Marimba)

$2.30

Cello Suite No. 1 in G major, BWV 1007: V. Menuett I & II (arr. for Marimba)

Composer(s)

Johann Sebastian Bach

Cello Suite No. 1 in G major, BWV 1007: V. Menuett I & II (arr. for Marimba)

$2.30

Cello Suite No. 1 in G major, BWV 1007: VI. Gigue (arr. for Marimba)

Composer(s)

Johann Sebastian Bach

Cello Suite No. 1 in G major, BWV 1007: VI. Gigue (arr. for Marimba)

$2.30

Cello Suite No. 3 in C Major, BWV 1009: I. Prelude (arr. for Marimba)

Composer(s)

Johann Sebastian Bach

Cello Suite No. 3 in C Major, BWV 1009: I. Prelude (arr. for Marimba)

$2.30

Cello Suite No. 3 in C Major, BWV 1009: II. Allemande (arr. for Marimba)

Composer(s)

Johann Sebastian Bach

Cello Suite No. 3 in C Major, BWV 1009: II. Allemande (arr. for Marimba)

$2.30

Cello Suite No. 3 in C Major, BWV 1009: III. Courante (arr. for Marimba)

Composer(s)

Johann Sebastian Bach

Cello Suite No. 3 in C Major, BWV 1009: III. Courante (arr. for Marimba)

$2.30

Cello Suite No. 3 in C Major, BWV 1009: IV. Sarabande (arr. for Marimba)

Composer(s)

Johann Sebastian Bach

Cello Suite No. 3 in C Major, BWV 1009: IV. Sarabande (arr. for Marimba)

$2.30

Cello Suite No. 3 in C Major, BWV 1009: V. Bourree I & II (arr. for Marimba)

Composer(s)

Johann Sebastian Bach

Cello Suite No. 3 in C Major, BWV 1009: V. Bourree I & II (arr. for Marimba)

$2.30

Cello Suite No. 3 in C Major, BWV 1009: VI. Gigue (arr. for Marimba)

Composer(s)

Johann Sebastian Bach

Cello Suite No. 3 in C Major, BWV 1009: VI. Gigue (arr. for Marimba)

$2.30

Cello Suite No. 5 in C Minor, BWV 1011 (Transcribed from Lute Suite in G Minor, BWV 995): I. Prelude (arr. for Marimba)

Composer(s)

Johann Sebastian Bach

Cello Suite No. 5 in C Minor, BWV 1011 (Transcribed from Lute Suite in G Minor, BWV 995): I. Prelude (arr. for Marimba)

$2.30

Cello Suite No. 5 in C Minor, BWV 1011 (Transcribed from Lute Suite in G Minor, BWV 995): II. Allemande (arr. for Marimba)

Composer(s)

Johann Sebastian Bach

Cello Suite No. 5 in C Minor, BWV 1011 (Transcribed from Lute Suite in G Minor, BWV 995): II. Allemande (arr. for Marimba)

$2.30

Cello Suite No. 5 in C Minor, BWV 1011 (Transcribed from Lute Suite in G Minor, BWV 995): III. Courante (arr. for Marimba)

Composer(s)

Johann Sebastian Bach

Cello Suite No. 5 in C Minor, BWV 1011 (Transcribed from Lute Suite in G Minor, BWV 995): III. Courante (arr. for Marimba)

$2.30

Cello Suite No. 5 in C Minor, BWV 1011 (Transcribed from Lute Suite in G Minor, BWV 995): IV. Sarabande (arr. for Marimba)

Composer(s)

Johann Sebastian Bach

Cello Suite No. 5 in C Minor, BWV 1011 (Transcribed from Lute Suite in G Minor, BWV 995): IV. Sarabande (arr. for Marimba)

$2.30

Cello Suite No. 5 in C Minor, BWV 1011 (Transcribed from Lute Suite in G Minor, BWV 995): V. Gavotte I (arr. for Marimba)

Composer(s)

Johann Sebastian Bach

Cello Suite No. 5 in C Minor, BWV 1011 (Transcribed from Lute Suite in G Minor, BWV 995): V. Gavotte I (arr. for Marimba)

$2.30

Cello Suite No. 5 in C Minor, BWV 1011 (Transcribed from Lute Suite in G Minor, BWV 995): VI. Gavotte II (arr. for Marimba)

Composer(s)

Johann Sebastian Bach

Cello Suite No. 5 in C Minor, BWV 1011 (Transcribed from Lute Suite in G Minor, BWV 995): VI. Gavotte II (arr. for Marimba)

$2.30

Cello Suite No. 5 in C Minor, BWV 1011 (Transcribed from Lute Suite in G Minor, BWV 995): VII. Gigue (arr. for Marimba)

Composer(s)

Johann Sebastian Bach

Cello Suite No. 5 in C Minor, BWV 1011 (Transcribed from Lute Suite in G Minor, BWV 995): VII. Gigue (arr. for Marimba)

$2.30

Prelude in C Minor, BWV 999 (arr. for Marimba)

Composer(s)

Johann Sebastian Bach

Prelude in C Minor, BWV 999 (arr. for Marimba)

$2.30

Violin Sonata No. 1 in G minor, BWV 1001: I. Adagio (arr. for Marimba)

Composer(s)

Johann Sebastian Bach

Violin Sonata No. 1 in G minor, BWV 1001: I. Adagio (arr. for Marimba)

$2.30

Violin Sonata No. 1 in G minor, BWV 1001: II. Fuga (BWV 1000) (arr. for Marimba)

Composer(s)

Johann Sebastian Bach

Violin Sonata No. 1 in G minor, BWV 1001: II. Fuga (BWV 1000) (arr. for Marimba)

$2.30

Violin Sonata No. 1 in G minor, BWV 1001: III. Siciliana (arr. for Marimba)

Composer(s)

Johann Sebastian Bach

Violin Sonata No. 1 in G minor, BWV 1001: III. Siciliana (arr. for Marimba)

$2.30

Violin Sonata No. 1 in G minor, BWV 1001: IV. Presto (arr. for Marimba)

Composer(s)

Johann Sebastian Bach

Violin Sonata No. 1 in G minor, BWV 1001: IV. Presto (arr. for Marimba)

$2.30

Violin Sonata No. 2 in A minor, BWV 1003: I. Grave (arr. for Marimba)

Composer(s)

Johann Sebastian Bach

Violin Sonata No. 2 in A minor, BWV 1003: I. Grave (arr. for Marimba)

$2.30

Violin Sonata No. 2 in A minor, BWV 1003: II. Fuga (arr. for Marimba)

Composer(s)

Johann Sebastian Bach

Violin Sonata No. 2 in A minor, BWV 1003: II. Fuga (arr. for Marimba)

$3.40

Violin Sonata No. 2 in A minor, BWV 1003: III. Andante (arr. for Marimba)

Composer(s)

Johann Sebastian Bach

Violin Sonata No. 2 in A minor, BWV 1003: III. Andante (arr. for Marimba)

$2.30

Violin Sonata No. 2 in A minor, BWV 1003: IV. Allegro (arr. for Marimba)

Composer(s)

Johann Sebastian Bach

Violin Sonata No. 2 in A minor, BWV 1003: IV. Allegro (arr. for Marimba)

$3.40

Violin Sonata No. 3 in C major, BWV 1005: I. Adagio (arr. for Marimba)

Composer(s)

Johann Sebastian Bach

Violin Sonata No. 3 in C major, BWV 1005: I. Adagio (arr. for Marimba)

$2.30

Violin Sonata No. 3 in C major, BWV 1005: II. Fuga (arr. for Marimba)

Composer(s)

Johann Sebastian Bach

Violin Sonata No. 3 in C major, BWV 1005: II. Fuga (arr. for Marimba)

$4.60

Violin Sonata No. 3 in C major, BWV 1005: III. Largo (arr. for Marimba)

Composer(s)

Johann Sebastian Bach

Violin Sonata No. 3 in C major, BWV 1005: III. Largo (arr. for Marimba)

$2.30

Violin Sonata No. 3 in C major, BWV 1005: IV. Allegro assai (arr. for Marimba)

Composer(s)

Johann Sebastian Bach

Violin Sonata No. 3 in C major, BWV 1005: IV. Allegro assai (arr. for Marimba)

$2.30
Total running time: 156 minutes.
Album information

The Japanese percussionist turns to the cello suites and violin sonatas of J.S. Bach for her fourth studio recording with Linn. This album debuted at #2 on Japan's Classical Billboard Chart and entered the Top 10 in Tower Records' 2017 Classical Chart.

Arranged for solo marimba, Kuniko gives a unique perspective of these hugely famous and intellectually challenging works. Kuniko's trademark is her highly sensitive touch, particularly with wooden instruments such as marimba, which gives these interpretations an extremely stripped-down yet natural, organic feel.

The beautiful acoustic of the medieval Jaani Kirik (St John's Church) in Estonia creates the ideal sound space for Kuniko's arrangements. Linn's Chief Producer Philip Hobbs commented: 'Kuniko has the most clear and intelligent voice for Bach, which is both logical and deeply musical. I find the interpretations completely mesmerizing. And the sound is simply sensational - so clear, but so deep! It is a wonderful acoustic but it never gets in the way.'

Kuniko won praise for her performance of Bach's G minor violin sonata at the 1995 Leigh Howard Stevens International Marimba Competition, particularly for her lack of marimba rolls in the Adagio. Throughout her 2016 series of concerts ('Reich at 80' and 'Bach To Contemporary Music') Kuniko has performed works from the new album giving fans worldwide a chance to hear these works live.

This is an exciting new take on these perpetually popular works.
Related Artists
Reviews