Filters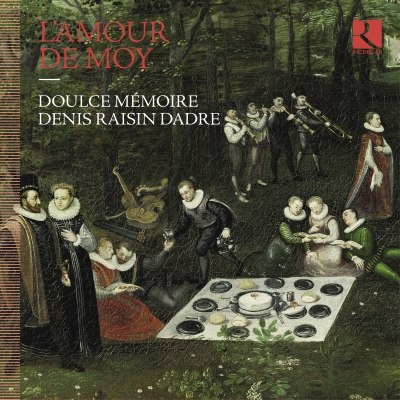 Inlay available for download
Booklet available for download
A qui direlle sa pensée

Artist(s)

Doulce Mémoire

Clara Coutouly

Denis Raisin Dadre

A qui direlle sa pensée

$2.30

Odhecaton, Canti B: A qui direlle sa pensée

Composer(s)

Ottaviano Petrucci

Artist(s)

Doulce Mémoire

Paulin Bündgen

Denis Raisin Dadre

Clara Coutouly

François-Olivier Jean

Odhecaton, Canti B: A qui direlle sa pensée

$2.30

Je suis d'Allemagne

Artist(s)

Doulce Mémoire

Paulin Bündgen

Denis Raisin Dadre

François-Olivier Jean

Je suis d'Allemagne

$2.30

Odhecaton, Canti C: Je suis d'Allemagne

Composer(s)

Johannes Stokhem

Artist(s)

Doulce Mémoire

Denis Raisin Dadre

Odhecaton, Canti C: Je suis d'Allemagne

$2.30

L'amour de moy (I)

Artist(s)

Doulce Mémoire

François-Olivier Jean

Denis Raisin Dadre

L'amour de moy (I)

$2.30

L'amour de moy (II)

Artist(s)

Doulce Mémoire

François-Olivier Jean

Denis Raisin Dadre

L'amour de moy (II)

$2.30

Odhecaton, Canti C: L'amour de moy

Composer(s)

Ottaviano Petrucci

Artist(s)

Doulce Mémoire

Denis Raisin Dadre

Odhecaton, Canti C: L'amour de moy

$2.30

En douleur et tristesse

Artist(s)

Doulce Mémoire

Paulin Bündgen

Denis Raisin Dadre

En douleur et tristesse

$2.30

En douleur et tritesse : Ce n'est pas de merveille

Artist(s)

Doulce Mémoire

Paulin Bündgen

Denis Raisin Dadre

En douleur et tritesse : Ce n'est pas de merveille

$2.30

En douleur et tristesse : Sy tous les maulx du monde

Composer(s)

Noël Bauldeweyn

Artist(s)

Doulce Mémoire

Paulin Bündgen

Denis Raisin Dadre

En douleur et tristesse : Sy tous les maulx du monde

$2.30

Il est de bon heure né

Artist(s)

Doulce Mémoire

Clara Coutouly

Denis Raisin Dadre

François-Olivier Jean

Il est de bon heure né

$2.30

Odhecaton, Canti A: Il est de bon heure né / Amour fait moult

Composer(s)

Ottaviano Petrucci

Artist(s)

Doulce Mémoire

Paulin Bündgen

Denis Raisin Dadre

François-Olivier Jean

Odhecaton, Canti A: Il est de bon heure né / Amour fait moult

$2.30

Odhecaton, Canti C: Il est de bonne heure né

Composer(s)

Ottaviano Petrucci

Artist(s)

Doulce Mémoire

Denis Raisin Dadre

Odhecaton, Canti C: Il est de bonne heure né

$2.30

Odhecaton, Canti C: Je suis d'Allemagne

Composer(s)

Ottaviano Petrucci

Artist(s)

Doulce Mémoire

Denis Raisin Dadre

Odhecaton, Canti C: Je suis d'Allemagne

$2.30

Je suis trop jeunette

Artist(s)

Doulce Mémoire

Clara Coutouly

Denis Raisin Dadre

Je suis trop jeunette

$2.30

Je suis trop jeunette: S'il me veut promettre

Composer(s)

Nicolle Des Celliers d'Hesdin

Artist(s)

Doulce Mémoire

Paulin Bündgen

Denis Raisin Dadre

Clara Coutouly

Je suis trop jeunette: S'il me veut promettre

$2.30

Odhecaton, Canti B: Je suis trop jeunette

Composer(s)

Ottaviano Petrucci

Artist(s)

Doulce Mémoire

Denis Raisin Dadre

Odhecaton, Canti B: Je suis trop jeunette

$2.30

Je suis trop jeunett

Composer(s)

Nicolas Gombert

Artist(s)

Doulce Mémoire

Denis Raisin Dadre

Je suis trop jeunett

$2.30

Bon temps las !

Composer(s)

Johannes De Sancto Martino

Artist(s)

Doulce Mémoire

Paulin Bündgen

Denis Raisin Dadre

Clara Coutouly

François-Olivier Jean

Bon temps las !

$2.30

Bon temps las !

Artist(s)

Doulce Mémoire

Paulin Bündgen

Denis Raisin Dadre

François-Olivier Jean

Bon temps las !

$2.30

Odhecaton, Canti B: Bon temps las !

Composer(s)

Ottaviano Petrucci

Artist(s)

Doulce Mémoire

Denis Raisin Dadre

Odhecaton, Canti B: Bon temps las !

$2.30

Gentils galans de France

Artist(s)

Doulce Mémoire

Clara Coutouly

Denis Raisin Dadre

François-Olivier Jean

Gentils galans de France

$2.30

Odhecaton, Canti C: Gentilz galans de France

Composer(s)

Crispin van Stappen

Artist(s)

Doulce Mémoire

Denis Raisin Dadre

Odhecaton, Canti C: Gentilz galans de France

$2.30

La roussée du moys de may

Artist(s)

Doulce Mémoire

Clara Coutouly

Denis Raisin Dadre

La roussée du moys de may

$2.30

La roussée du moys de may

Artist(s)

Doulce Mémoire

Paulin Bündgen

Denis Raisin Dadre

François-Olivier Jean

La roussée du moys de may

$2.30

La roussée du moys de may

Composer(s)

Jean Richafort

Artist(s)

Doulce Mémoire

Denis Raisin Dadre

La roussée du moys de may

$2.30

Ne l'oseray je dire

Artist(s)

Doulce Mémoire

Clara Coutouly

Denis Raisin Dadre

Ne l'oseray je dire

$2.30

Odhecaton, Canti A: Ne l'oseray je dire

Composer(s)

Ottaviano Petrucci

Artist(s)

Doulce Mémoire

Clara Coutouly

Denis Raisin Dadre

Odhecaton, Canti A: Ne l'oseray je dire

$2.30

Odhecaton, Canti C: Ne l'oseray je dire

Composer(s)

Ottaviano Petrucci

Artist(s)

Doulce Mémoire

Denis Raisin Dadre

Odhecaton, Canti C: Ne l'oseray je dire

$2.30

Vray dieu d'amour

Artist(s)

Doulce Mémoire

Paulin Bündgen

Denis Raisin Dadre

François-Olivier Jean

Vray dieu d'amour

$2.30

Odhecaton, Canti A: Vray dieu d'amour

Composer(s)

Ottaviano Petrucci

Artist(s)

Doulce Mémoire

Denis Raisin Dadre

Odhecaton, Canti A: Vray dieu d'amour

$2.30
Total running time: 54 minutes.
Album information

Doulce mémoire here delves into the repertoire of French songs that were central to the first printed score in the history of music, Harmonice Musices Odhecaton (Venice, 1501).

This repertoire dates from the end of the 15th century and includes music from not only the French and Burgundian courts but also from the chanson rustique, a new genre that was in use at the court of Louis XII (1462-1515). This singular repertoire is based on popular melodies that dealt with everyday, amorous, erotic and satirical subjects; the texts have an irregular versification that was known as 'rural rhetoric' at that time.
Related Artists