Filters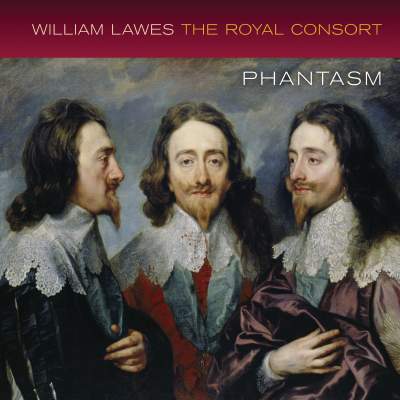 Inlay available for download
Booklet available for download
Royal Consort Sett No. 1 in d – I. Aire

Composer(s)

William Lawes

Royal Consort Sett No. 1 in d – I. Aire

$2.30

Royal Consort Sett No. 1 in d – II. Alman

Composer(s)

William Lawes

Royal Consort Sett No. 1 in d – II. Alman

$2.30

Royal Consort Sett No. 1 in d – III. Corant

Composer(s)

William Lawes

Royal Consort Sett No. 1 in d – III. Corant

$2.30

Royal Consort Sett No. 1 in d – IV. Corant

Composer(s)

William Lawes

Royal Consort Sett No. 1 in d – IV. Corant

$2.30

Royal Consort Sett No. 1 in d – V. Saraband

Composer(s)

William Lawes

Royal Consort Sett No. 1 in d – V. Saraband

$2.30

Royal Consort Sett No. 4 in D – I. Paven

Composer(s)

William Lawes

Royal Consort Sett No. 4 in D – I. Paven

$2.30

Royal Consort Sett No. 4 in D – II. Aire

Composer(s)

William Lawes

Royal Consort Sett No. 4 in D – II. Aire

$2.30

Royal Consort Sett No. 4 in D – III. Aire

Composer(s)

William Lawes

Royal Consort Sett No. 4 in D – III. Aire

$2.30

Royal Consort Sett No. 4 in D – IV. Aire

Composer(s)

William Lawes

Royal Consort Sett No. 4 in D – IV. Aire

$2.30

Royal Consort Sett No. 4 in D – V. Corant

Composer(s)

William Lawes

Royal Consort Sett No. 4 in D – V. Corant

$2.30

Royal Consort Sett No. 4 in D – VI. Corant

Composer(s)

William Lawes

Royal Consort Sett No. 4 in D – VI. Corant

$2.30

Royal Consort Sett No. 4 in D – VII. Saraband

Composer(s)

William Lawes

Royal Consort Sett No. 4 in D – VII. Saraband

$2.30

Royal Consort Sett No. 3 in d – I. Aire

Composer(s)

William Lawes

Royal Consort Sett No. 3 in d – I. Aire

$2.30

Royal Consort Sett No. 3 in d – II. Aire

Composer(s)

William Lawes

Royal Consort Sett No. 3 in d – II. Aire

$2.30

Royal Consort Sett No. 3 in d – III. Corant

Composer(s)

William Lawes

Royal Consort Sett No. 3 in d – III. Corant

$2.30

Royal Consort Sett No. 3 in d – IV. Alman

Composer(s)

William Lawes

Royal Consort Sett No. 3 in d – IV. Alman

$2.30

Royal Consort Sett No. 3 in d – V. Corant

Composer(s)

William Lawes

Royal Consort Sett No. 3 in d – V. Corant

$2.30

Royal Consort Sett No. 3 in d – VI. Saraband

Composer(s)

William Lawes

Royal Consort Sett No. 3 in d – VI. Saraband

$2.30

Royal Consort Sett No. 5 in D – I. Aire

Composer(s)

William Lawes

Royal Consort Sett No. 5 in D – I. Aire

$2.30

Royal Consort Sett No. 5 in D – II. Aire

Composer(s)

William Lawes

Royal Consort Sett No. 5 in D – II. Aire

$2.30

Royal Consort Sett No. 5 in D – III. Alman

Composer(s)

William Lawes

Royal Consort Sett No. 5 in D – III. Alman

$2.30

Royal Consort Sett No. 5 in D – IV. Corant

Composer(s)

William Lawes

Royal Consort Sett No. 5 in D – IV. Corant

$2.30

Royal Consort Sett No. 5 in D – V. Corant

Composer(s)

William Lawes

Royal Consort Sett No. 5 in D – V. Corant

$2.30

Royal Consort Sett No. 5 in D – IV. Morriss

Composer(s)

William Lawes

Royal Consort Sett No. 5 in D – IV. Morriss

$2.30

Royal Consort Sett No. 5 in D – VII. Saraband

Composer(s)

William Lawes

Royal Consort Sett No. 5 in D – VII. Saraband

$2.30

Royal Consort Sett No. 8 in C – I. Aire

Composer(s)

William Lawes

Royal Consort Sett No. 8 in C – I. Aire

$2.30

Royal Consort Sett No. 8 in C – II. Alman

Composer(s)

William Lawes

Royal Consort Sett No. 8 in C – II. Alman

$2.30

Royal Consort Sett No. 8 in C – III. Corant

Composer(s)

William Lawes

Royal Consort Sett No. 8 in C – III. Corant

$2.30

Royal Consort Sett No. 8 in C – IV. Corant

Composer(s)

William Lawes

Royal Consort Sett No. 8 in C – IV. Corant

$2.30

Royal Consort Sett No. 8 in C – V. Saraband

Composer(s)

William Lawes

Royal Consort Sett No. 8 in C – V. Saraband

$2.30

Royal Consort Sett No. 9 in F – I. Pavan

Composer(s)

William Lawes

Royal Consort Sett No. 9 in F – I. Pavan

$2.30

Royal Consort Sett No. 9 in F – II. Aire

Composer(s)

William Lawes

Royal Consort Sett No. 9 in F – II. Aire

$2.30

Royal Consort Sett No. 9 in F – III. Alman

Composer(s)

William Lawes

Royal Consort Sett No. 9 in F – III. Alman

$2.30

Royal Consort Sett No. 9 in F – IV. Corant

Composer(s)

William Lawes

Royal Consort Sett No. 9 in F – IV. Corant

$2.30

Royal Consort Sett No. 9 in F – V. Alman

Composer(s)

William Lawes

Royal Consort Sett No. 9 in F – V. Alman

$2.30

Royal Consort Sett No. 9 in F – VI. Corant

Composer(s)

William Lawes

Royal Consort Sett No. 9 in F – VI. Corant

$2.30

Royal Consort Sett No. 9 in F – VII. Saraband

Composer(s)

William Lawes

Royal Consort Sett No. 9 in F – VII. Saraband

$2.30

IV Sett a5 in F 'to the Organ' – I. Fantazy

Composer(s)

William Lawes

Artist(s)

Phantasm

Daniel Hyde

IV Sett a5 in F 'to the Organ' – I. Fantazy

$2.30

IV Sett a5 in F 'to the Organ' – II. Pavan

Composer(s)

William Lawes

Artist(s)

Phantasm

Daniel Hyde

IV Sett a5 in F 'to the Organ' – II. Pavan

$2.30

IV Sett a5 in F 'to the Organ' – III. Aire

Composer(s)

William Lawes

Artist(s)

Phantasm

Daniel Hyde

IV Sett a5 in F 'to the Organ' – III. Aire

$2.30

Royal Consort Sett No. 2 in d – I. Pavan

Composer(s)

William Lawes

Royal Consort Sett No. 2 in d – I. Pavan

$2.30

Royal Consort Sett No. 2 in d – II. Aire

Composer(s)

William Lawes

Royal Consort Sett No. 2 in d – II. Aire

$2.30

Royal Consort Sett No. 2 in d – III. Aire

Composer(s)

William Lawes

Royal Consort Sett No. 2 in d – III. Aire

$2.30

Royal Consort Sett No. 2 in d – IV. Galliard

Composer(s)

William Lawes

Royal Consort Sett No. 2 in d – IV. Galliard

$2.30

Royal Consort Sett No. 2 in d – V. Corant

Composer(s)

William Lawes

Royal Consort Sett No. 2 in d – V. Corant

$2.30

Royal Consort Sett No. 2 in d – VI. Saraband

Composer(s)

William Lawes

Royal Consort Sett No. 2 in d – VI. Saraband

$2.30

Royal Consort Sett No. 6 in D – I. Aire

Composer(s)

William Lawes

Royal Consort Sett No. 6 in D – I. Aire

$2.30

Royal Consort Sett No. 6 in D – II. Alman

Royal Consort Sett No. 6 in D – II. Alman

$2.30

Royal Consort Sett No. 6 in D – III. Corant

Composer(s)

William Lawes

Royal Consort Sett No. 6 in D – III. Corant

$2.30

Royal Consort Sett No. 6 in D – IV. Morriss

Composer(s)

William Lawes

Royal Consort Sett No. 6 in D – IV. Morriss

$2.30

Royal Consort Sett No. 7 in a – I. Aire

Composer(s)

William Lawes

Royal Consort Sett No. 7 in a – I. Aire

$2.30

Royal Consort Sett No. 7 in a – II. Alman

Composer(s)

William Lawes

Royal Consort Sett No. 7 in a – II. Alman

$2.30

Royal Consort Sett No. 7 in a – III. Alman

Composer(s)

William Lawes

Royal Consort Sett No. 7 in a – III. Alman

$2.30

Royal Consort Sett No. 7 in a – IV. Aire

Composer(s)

William Lawes

Royal Consort Sett No. 7 in a – IV. Aire

$2.30

Royal Consort Sett No. 7 in a – V. Corant

Composer(s)

William Lawes

Royal Consort Sett No. 7 in a – V. Corant

$2.30

Royal Consort Sett No. 7 in a – VI. Saraband

Composer(s)

William Lawes

Royal Consort Sett No. 7 in a – VI. Saraband

$2.30

Royal Consort Sett No. 10 in B flat – I. Paven

Composer(s)

William Lawes

Royal Consort Sett No. 10 in B flat – I. Paven

$2.30

Royal Consort Sett No. 10 in B flat – II. Alman

Composer(s)

William Lawes

Royal Consort Sett No. 10 in B flat – II. Alman

$2.30

Royal Consort Sett No. 10 in B flat – III. Corant

Composer(s)

William Lawes

Royal Consort Sett No. 10 in B flat – III. Corant

$2.30

Royal Consort Sett No. 10 in B flat – IV. Alman

Composer(s)

William Lawes

Royal Consort Sett No. 10 in B flat – IV. Alman

$2.30

Royal Consort Sett No. 10 in B flat – V. Corant

Composer(s)

William Lawes

Royal Consort Sett No. 10 in B flat – V. Corant

$2.30

Royal Consort Sett No. 10 in B flat – VI. Saraband

Composer(s)

William Lawes

Royal Consort Sett No. 10 in B flat – VI. Saraband

$2.30

Sett a4 in d – I. Paven

Composer(s)

William Lawes

Sett a4 in d – I. Paven

$2.30

Sett a4 in d – II. Alman

Composer(s)

William Lawes

Sett a4 in d – II. Alman

$2.30

Sett a4 in d – III. Saraband

Composer(s)

William Lawes

Sett a4 in d – III. Saraband

$2.30

X Sett a6 in c 'to the Organ' – I. Fantazy

Composer(s)

William Lawes

Artist(s)

Phantasm

Daniel Hyde

X Sett a6 in c 'to the Organ' – I. Fantazy

$2.30

X Sett a6 in c 'to the Organ' – II. Fantazy

Composer(s)

William Lawes

Artist(s)

Phantasm

Daniel Hyde

X Sett a6 in c 'to the Organ' – II. Fantazy

$2.30

X Sett a6 in c 'to the Organ' – III. Inomine

Composer(s)

William Lawes

Artist(s)

Phantasm

Daniel Hyde

X Sett a6 in c 'to the Organ' – III. Inomine

$2.30

X Sett a6 in c 'to the Organ' – IV. Aire

Composer(s)

William Lawes

Artist(s)

Phantasm

Daniel Hyde

X Sett a6 in c 'to the Organ' – IV. Aire

$2.30

VII Sett a6 in C 'to the Organ' – I. Fantazy

Composer(s)

William Lawes

Artist(s)

Phantasm

Daniel Hyde

VII Sett a6 in C 'to the Organ' – I. Fantazy

$2.30

VII Sett a6 in C 'to the Organ' – II. Fantazy

Composer(s)

William Lawes

Artist(s)

Phantasm

Daniel Hyde

VII Sett a6 in C 'to the Organ' – II. Fantazy

$2.30

VII Sett a6 in C 'to the Organ' – III. Aire

Composer(s)

William Lawes

Artist(s)

Phantasm

Daniel Hyde

VII Sett a6 in C 'to the Organ' – III. Aire

$2.30
Total running time: 143 minutes.




Album information

The Gramophone Award-winning Phantasm celebrates William Lawes with a sublime collection of premiere recordings with guest musician Elizabeth Kenny.

Described as 'one of the greatest collections of ensemble dance music ever composed', Lawes' Royal Consort is full of astounding moments of striking musical invention. Guest musicians Elizabeth Kenny on theorbo, Emily Ashton on tenor viol and organist Daniel Hyde join Phantasm to honour the celebrated English Renaissance composer. This sublime collection boasts a range and depth of expression, which excites both mind and body through Lawes' startlingly individual pieces.

This recording is the first complete recording of Lawes' version of the Royal Consorts for four viols and theorbo. Phantasm, under the direction of Laurence Dreyfus, presents a passionate and insightful look into this adventurous music. The result is a rich and warm recording of technical brilliance that takes the listener deep into the harmonically rich world of Lawes.

This recording was named a Limelight Magazine 'Recording of the Year' 2015, nominated for a 2016 Gramophone, BBC Music Magazine and International Classical Music Award, as well as being named a 'Disc of the Year' by BBC Radio 3's 'Record Review' and recommended by Fanfare, Iowa Public Radio and WGBH Radio.
Related Artists
Reviews