Filters
Liebermann Flute Concerto and works by Hüe, Poulenc & Nielsen
Liebermann Flute Concerto and works by Hüe, Poulenc & Nielsen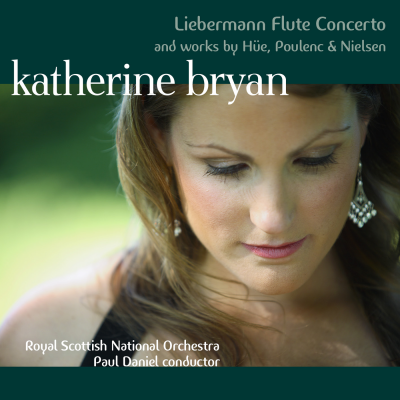 Booklet available for download
Concerto for Flute and Orchestra Op. 39 I. Moderato

Composer(s)

Lowell Liebermann

Artist(s)

Paul Daniel

Katherine Bryan - flute

Royal Scottish National Orchestra

Concerto for Flute and Orchestra Op. 39 I. Moderato

$4.60

Concerto for Flute and Orchestra Op. 39 II. Molto adagio

Composer(s)

Lowell Liebermann

Artist(s)

Paul Daniel

Katherine Bryan - flute

Royal Scottish National Orchestra

Concerto for Flute and Orchestra Op. 39 II. Molto adagio

$3.40

Concerto for Flute and Orchestra Op. 39 III. Presto

Composer(s)

Lowell Liebermann

Artist(s)

Paul Daniel

Katherine Bryan - flute

Royal Scottish National Orchestra

Concerto for Flute and Orchestra Op. 39 III. Presto

$2.30

Fantaisie

Artist(s)

Paul Daniel

Katherine Bryan - flute

Royal Scottish National Orchestra

Fantaisie

$3.40

Flute Sonata Op. 164 I. Allegro malinconico

Composer(s)

Francis Poulenc

Artist(s)

Paul Daniel

Katherine Bryan - flute

Royal Scottish National Orchestra

Flute Sonata Op. 164 I. Allegro malinconico

$2.30

Flute Sonata Op. 164 II. Cantilena: Assez lent

Composer(s)

Francis Poulenc

Artist(s)

Paul Daniel

Katherine Bryan - flute

Royal Scottish National Orchestra

Flute Sonata Op. 164 II. Cantilena: Assez lent

$2.30

Flute Sonata Op. 164 III. Presto giocoso

Composer(s)

Francis Poulenc

Artist(s)

Paul Daniel

Katherine Bryan - flute

Royal Scottish National Orchestra

Flute Sonata Op. 164 III. Presto giocoso

$2.30

Flute Concerto, FS 119 I. Allegro moderato

Artist(s)

Paul Daniel

Katherine Bryan - flute

Royal Scottish National Orchestra

Flute Concerto, FS 119 I. Allegro moderato

$4.60

Flute Concerto, FS 119 II. Allegretto

Artist(s)

Paul Daniel

Katherine Bryan - flute

Royal Scottish National Orchestra

Flute Concerto, FS 119 II. Allegretto

$3.40
Total running time: 63 minutes.


Album information

Young flautist Katherine Bryan is rapidly confirming her place as one of Britain's bright musical stars of the future.  For her recital debut the in-demand concerto soloist performs a selection of 20th century concertos, including the rarely recorded Liebermann Concerto for Flute and Orchestra.

The Liebermann concerto has rarely been recorded in its entirety. Commissioned and originally performed by James Galway, the concerto is considered one of the most substantial and significant additions to the flute repertoire in recent years. Considered "a flautist's dream composer" (BBC Music Magazine) Liebermann's writing is full of optimistic, audience-friendly and tuneful melodies with rapid-fire fingering passages that showcase the technical prowess of the soloist.

The inclusion of works by Hüe, Nielsen and Poulenc in the programme shows the particular diversity of the flute, demonstrating the variety of repertoire composed for the instrument during the twentieth century. Katherine's most recent performance of the Nielsen Concerto with the Helsinki Philharmonic Orchestra received rave reviews.
Related Artists
Reviews