Filters
Lully, Charpentier & Desmarets: Passion
Lully, Charpentier & Desmarets: Passion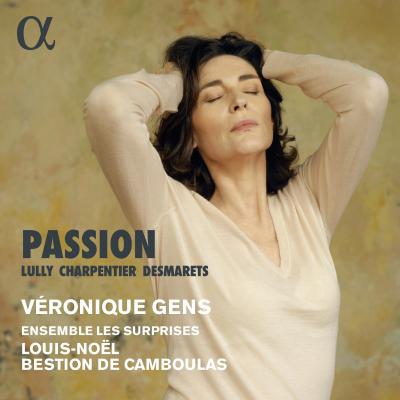 Inlay available for download
Booklet available for download
Le Bourgeois gentilhomme, LWV 43: Canaries

Composer(s)

Jean-Baptiste Lully

Artist(s)

Louis-Noël Bestion de Camboulas

Ensemble Les Surprises

Le Bourgeois gentilhomme, LWV 43: Canaries

$2.30

Atys, LWV 53: Air "Espoir si cher et si doux"

Composer(s)

Jean-Baptiste Lully

Artist(s)

Louis-Noël Bestion de Camboulas

Véronique Gens

Ensemble Les Surprises

Atys, LWV 53: Air "Espoir si cher et si doux"

$2.30

Amadis, LWV 63: Air "Toi qui dans ce tombeau"

Composer(s)

Jean-Baptiste Lully

Artist(s)

Louis-Noël Bestion de Camboulas

Véronique Gens

Ensemble Les Surprises

Amadis, LWV 63: Air "Toi qui dans ce tombeau"

$2.30

Amadis, LWV 63: Prélude

Composer(s)

Jean-Baptiste Lully

Artist(s)

Louis-Noël Bestion de Camboulas

Ensemble Les Surprises

Amadis, LWV 63: Prélude

$2.30

Alceste, LWV 50: Pompe funèbre

Composer(s)

Jean-Baptiste Lully

Artist(s)

Louis-Noël Bestion de Camboulas

Ensemble Les Surprises

Alceste, LWV 50: Pompe funèbre

$2.30

Achille et Polyxène: Air "Calme tes déplaisirs"

Composer(s)

Pascal Collasse

Artist(s)

Louis-Noël Bestion de Camboulas

Véronique Gens

Ensemble Les Surprises

Achille et Polyxène: Air "Calme tes déplaisirs"

$2.30

Persée, LWV 60: Ouverture

Composer(s)

Jean-Baptiste Lully

Artist(s)

Louis-Noël Bestion de Camboulas

Ensemble Les Surprises

Persée, LWV 60: Ouverture

$2.30

Proserpine, LWV 58: Air et chœur "Que tout se ressente de la fureur que je sens"

Composer(s)

Jean-Baptiste Lully

Artist(s)

Louis-Noël Bestion de Camboulas

Véronique Gens

Ensemble Les Surprises

Proserpine, LWV 58: Air et chœur "Que tout se ressente de la fureur que je sens"

$2.30

Médée, H.491: Air "Quel prix de mon amour"

Composer(s)

Marc-Antoine Charpentier

Artist(s)

Louis-Noël Bestion de Camboulas

Véronique Gens

Ensemble Les Surprises

Médée, H.491: Air "Quel prix de mon amour"

$2.30

Circée: Air "Désirs, transports"

Composer(s)

Henry Desmarets

Artist(s)

Louis-Noël Bestion de Camboulas

Véronique Gens

Ensemble Les Surprises

Circée: Air "Désirs, transports"

$2.30

Thétis et Pélée: Tempête

Composer(s)

Pascal Collasse

Artist(s)

Louis-Noël Bestion de Camboulas

Véronique Gens

Ensemble Les Surprises

Thétis et Pélée: Tempête

$2.30

Alceste, LWV 50: Air et chœur "La mort, la mort barbare"

Composer(s)

Jean-Baptiste Lully

Artist(s)

Louis-Noël Bestion de Camboulas

Véronique Gens

Ensemble Les Surprises

Alceste, LWV 50: Air et chœur "La mort, la mort barbare"

$2.30

Proserpine, LWV 58: Deuxième air

Composer(s)

Jean-Baptiste Lully

Artist(s)

Louis-Noël Bestion de Camboulas

Ensemble Les Surprises

Proserpine, LWV 58: Deuxième air

$2.30

Armide, LWV 71: Air "Enfin, il reste en ma puissance"

Composer(s)

Jean-Baptiste Lully

Artist(s)

Louis-Noël Bestion de Camboulas

Véronique Gens

Ensemble Les Surprises

Armide, LWV 71: Air "Enfin, il reste en ma puissance"

$2.30

Proserpine, LWV 58: Air et chœur "O malheureuse mère"

Composer(s)

Jean-Baptiste Lully

Artist(s)

Louis-Noël Bestion de Camboulas

Véronique Gens

Ensemble Les Surprises

Proserpine, LWV 58: Air et chœur "O malheureuse mère"

$2.30

Le triomphe de l'amour, LWV 59: Air pour l'entrée de Borée et des quatre vents

Composer(s)

Jean-Baptiste Lully

Artist(s)

Louis-Noël Bestion de Camboulas

Ensemble Les Surprises

Le triomphe de l'amour, LWV 59: Air pour l'entrée de Borée et des quatre vents

$2.30

Ballet du temple de la paix, LWV 69: Entrée des Bretons, passepied

Composer(s)

Jean-Baptiste Lully

Artist(s)

Louis-Noël Bestion de Camboulas

Ensemble Les Surprises

Ballet du temple de la paix, LWV 69: Entrée des Bretons, passepied

$2.30

Le triomphe de l'amour, LWV 59: Air de la nuit "Voici le favorable temps"

Composer(s)

Jean-Baptiste Lully

Artist(s)

Louis-Noël Bestion de Camboulas

Véronique Gens

Ensemble Les Surprises

Le triomphe de l'amour, LWV 59: Air de la nuit "Voici le favorable temps"

$2.30

Médée, H.491: Air et chœur "Noires filles du Styx"

Composer(s)

Marc-Antoine Charpentier

Artist(s)

Louis-Noël Bestion de Camboulas

Véronique Gens

Ensemble Les Surprises

Médée, H.491: Air et chœur "Noires filles du Styx"

$2.30

La Diane de Fontainebleau: Chœur du sommeil

Composer(s)

Henry Desmarets

Artist(s)

Ensemble Les Surprises

La Diane de Fontainebleau: Chœur du sommeil

$2.30

Ballet de la naissance de Vénus, LWV 27: Sarabande dieu des Enfers

Composer(s)

Jean-Baptiste Lully

Artist(s)

Louis-Noël Bestion de Camboulas

Ensemble Les Surprises

Ballet de la naissance de Vénus, LWV 27: Sarabande dieu des Enfers

$2.30
Total running time: 57 minutes.




Album information

Passion marks the eagerly awaited return of Véronique Gens to Baroque music; works by Lully, Charpentier and Desmarets showcase the charisma that has made her reputation. 

It presents airs from Atys, Persée, Alceste, Proserpine, Le Triomphe de l'Amour and other works by Louis XIV's famous composer, but also several by Marc-Antoine Charpentier (Médée), Henry Desmarets and Pascal Collasse. Whether well known, rare or in some cases even unpublished, all of them present roles for powerful women whose love is unrequited: dark passions, bitter laments, jealousy, vengeance, the type of dramatic characters that Véronique Gens embodies so expertly.

This recording is also the result of an encounter with the youthful ensemble Les Surprises, founded and directed by Louis-Noël Bestion de Camboulas. Together they conceived this programme, which mingles airs, dances and choruses, in collaboration with the Centre de Musique Baroque de Versailles.
Related Artists
Reviews