Filters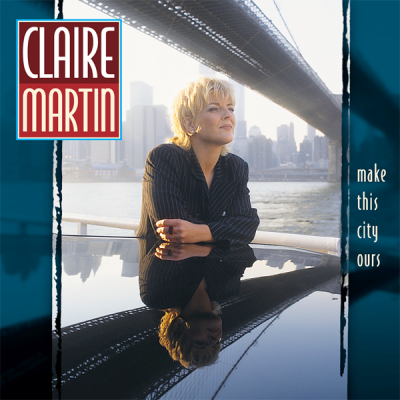 Inlay available for download
Booklet available for download
Make This City Ours Tonight

Composer(s)

Milton Nascimento, Tracy Mann

Artist(s)

Claire Martin: vocals, Gareth Williams: piano, backing vocals, Peter Washington: bass, Gregory Hutchinson: drums, Gerard Presencer: flugel horn, trumpet

Make This City Ours Tonight

$1.80

Gettin' High

Composer(s)

Milton Nascimento, Tracy Mann

Artist(s)

Claire Martin: vocals, Gareth Williams: piano, backing vocals, Peter Washington: bass, Gregory Hutchinson

Gettin' High

$1.80

Another Night

Composer(s)

Dan Siegel, Mark Winkler

Artist(s)

Claire Martin: vocals, Gareth Williams: piano, backing vocals, Peter Washington: bass, Gregory Hutchinson: drums, Gerard Presencer: flugel horn, trumpet

Another Night

$2.70

Bye-Bye Country Boy

Composer(s)

Blossom Dearie, Jack Segal

Artist(s)

Claire Martin: vocals, Gareth Williams: piano, backing vocals, Peter Washington: bass, Gregory Hutchinson: drums, Gerard Presencer: trumpet

Bye-Bye Country Boy

$1.80

No Moon At All

Composer(s)

Redd Evans, David Mann

Artist(s)

Claire Martin: vocals, Gareth Williams: piano, backing vocals, Peter Washington: bass, Gregory Hutchinson: drums, Antonio Hart: saxophone

No Moon At All

$1.80

Summer (Estate)

Composer(s)

Joel E Siegel, Bruno Brighetto, Bruno Martino

Artist(s)

Claire Martin: vocals, Gareth Williams: piano, backing vocals, Peter Washington: bass, Gregory Hutchinson: drums

Summer (Estate)

$1.80

Anyplace I Hang My Hat Is Home

Composer(s)

Johnny Mercer, Harold Arlen

Artist(s)

Claire Martin: vocals, Gareth Williams: piano, backing vocals, Peter Washington: bass, Gregory Hutchinson: drums, Antonio Hart: saxophone

Anyplace I Hang My Hat Is Home

$1.80

How Deep Is The Ocean?

Composer(s)

Irving Berlin

Artist(s)

Claire Martin: vocals, Gareth Williams: piano, backing vocals, Peter Washington: bass, Gregory Hutchinson: drums, Gerard Presencer - flugel horn, trumpet

How Deep Is The Ocean?

$1.80

Empty Bed

Composer(s)

Claire Martin , Gareth Williams

Claire Martin

Gareth Williams

Artist(s)

Claire Martin: vocals, Gareth Williams - piano, backing vocals

Empty Bed

$2.70

Could This Be The One?

Composer(s)

Clive Gregson

Artist(s)

Claire Martin - vocals, Gareth Williams - piano, backing vocals, Peter Washington - bass, Gregory Hutchinson - drums, Antonio Hart - saxophone, Gerard Presencer - flugel horn, trumpet

Could This Be The One?

$1.80

Collagen Lips

Composer(s)

Suzanne Cloud

Artist(s)

Claire Martin: vocals, Gareth Williams: piano, backing vocals, Peter Washington: bass, Gregory Hutchinson: drums, Gerard Presencer: flugel horn, trumpet, Antonio Hart: saxophone

Collagen Lips

$1.80
Total running time: 56 minutes.
Album information

With a title song by the Brazilian troubadour Milton Nascimento, Make This City Ours was critically acclaimed, culminating in Claire being named 'Best Vocalist' at the 1997 BBC Jazz Awards.

In 1996 Claire Martin returned to New York to record Make This City Ours following enthusiastic reviews for her US debut.

Classic songs from the Golden Age of the Great American Songbook sit easily aside contemporary songs, including a Claire Martin original, 'Empty Bed' and Suzanne Cloud's 'Collagen Lips', a wry glance at the cult of the body beautiful. Claire handles this imaginative choice of material with ease and conviction; the New York Observer described the album as 'a meticulous blend of brilliant material and flawless craftsmanship'.

Claire is accompanied by an exceptional trans-Atlantic quintet: British pianist Gareth Williams and trumpeter Gerard Presencer play alongside American saxophonist Antonio Hart, bassist Peter Washington and drummer Gregory Hutchinson. 
Related Artists
Reviews