Filters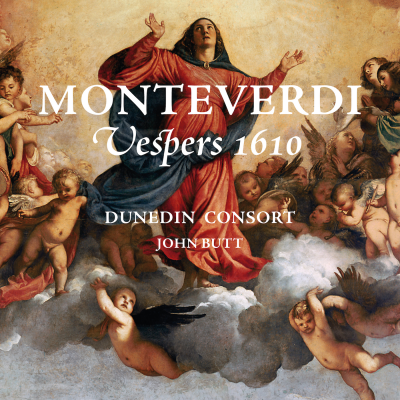 Inlay available for download
Booklet available for download
Deus in adiutorium

Composer(s)

Claudio Monteverdi

Artist(s)

John Butt

Joshua Ellicott

Dunedin Consort

Deus in adiutorium

$2.30

Dixit Dominus

Composer(s)

Claudio Monteverdi

Artist(s)

John Butt

Peter Harvey

Joanne Lunn

Esther Brazil

Matthew Long

Joshua Ellicott

Nicholas Mulroy

Peter Harris

Dunedin Consort

Dixit Dominus

$3.40

Nigra sum

Composer(s)

Claudio Monteverdi

Artist(s)

John Butt

Nicholas Mulroy

Dunedin Consort

Nigra sum

$2.30

Laudate pueri Dominum

Composer(s)

Claudio Monteverdi

Artist(s)

John Butt

Peter Harvey

Joanne Lunn

Esther Brazil

Amy Lyddon

Rory McCleery

Joshua Ellicott

Nicholas Mulroy

William Gaunt

Dunedin Consort

Laudate pueri Dominum

$2.30

Pulchra es

Composer(s)

Claudio Monteverdi

Artist(s)

John Butt

Joanne Lunn

Esther Brazil

Dunedin Consort

Pulchra es

$2.30

Laetatus sum

Composer(s)

Claudio Monteverdi

Artist(s)

John Butt

Peter Harvey

Joanne Lunn

Amy Lyddon

Rory McCleery

Matthew Long

Nicholas Mulroy

Peter Harris

Dunedin Consort

Laetatus sum

$2.30

Duo Seraphim

Composer(s)

Claudio Monteverdi

Artist(s)

John Butt

Matthew Long

Joshua Ellicott

Nicholas Mulroy

Dunedin Consort

Duo Seraphim

$2.30

Nisi Dominus

Composer(s)

Claudio Monteverdi

Artist(s)

John Butt

Dunedin Consort

Nisi Dominus

$2.30

Audi coelum

Composer(s)

Claudio Monteverdi

Artist(s)

John Butt

Peter Harvey

Joanne Lunn

Amy Lyddon

Rory McCleery

Matthew Long

Joshua Ellicott

Peter Harris

Dunedin Consort

Audi coelum

$3.40

Lauda Jerusalem

Composer(s)

Claudio Monteverdi

Artist(s)

John Butt

Dunedin Consort

Lauda Jerusalem

$2.30

Sonata sopra Sancta Maria

Composer(s)

Claudio Monteverdi

Artist(s)

John Butt

Joanne Lunn

Esther Brazil

Dunedin Consort

Sonata sopra Sancta Maria

$3.40

Ave maris stella

Composer(s)

Claudio Monteverdi

Artist(s)

John Butt

Esther Brazil

Amy Lyddon

Joshua Ellicott

Dunedin Consort

Ave maris stella

$3.40

Magnificat

Composer(s)

Claudio Monteverdi

Artist(s)

John Butt

Peter Harvey

Joanne Lunn

Esther Brazil

Matthew Long

Joshua Ellicott

Peter Harris

Dunedin Consort

Magnificat

$2.30

Et exultavit spiritus meus

Composer(s)

Claudio Monteverdi

Artist(s)

John Butt

Amy Lyddon

Rory McCleery

Joshua Ellicott

Nicholas Mulroy

Dunedin Consort

Et exultavit spiritus meus

$2.30

Quia respexit humilitatem

Composer(s)

Claudio Monteverdi

Artist(s)

John Butt

Matthew Long

Dunedin Consort

Quia respexit humilitatem

$2.30

Quia fecit mihi magna

Composer(s)

Claudio Monteverdi

Artist(s)

John Butt

Peter Harvey

Joshua Ellicott

William Gaunt

Dunedin Consort

Quia fecit mihi magna

$2.30

Et misericordia eius

Composer(s)

Claudio Monteverdi

Artist(s)

John Butt

Peter Harvey

Joanne Lunn

Esther Brazil

Rory McCleery

Peter Harris

William Gaunt

Dunedin Consort

Et misericordia eius

$2.30

Fecit potentiam in brachio suo

Composer(s)

Claudio Monteverdi

Artist(s)

John Butt

Rory McCleery

Dunedin Consort

Fecit potentiam in brachio suo

$2.30

Deposuit potentes de sede

Composer(s)

Claudio Monteverdi

Artist(s)

John Butt

Matthew Long

Dunedin Consort

Deposuit potentes de sede

$2.30

Esurientes implevit bonis

Composer(s)

Claudio Monteverdi

Artist(s)

John Butt

Amy Lyddon

Rory McCleery

Dunedin Consort

Esurientes implevit bonis

$2.30

Suscepit Israel puerum suum

Composer(s)

Claudio Monteverdi

Artist(s)

John Butt

Joanne Lunn

Esther Brazil

Nicholas Mulroy

Dunedin Consort

Suscepit Israel puerum suum

$2.30

Sicut locutus est

Composer(s)

Claudio Monteverdi

Artist(s)

John Butt

Peter Harris

Dunedin Consort

Sicut locutus est

$2.30

Gloria Patri

Composer(s)

Claudio Monteverdi

Artist(s)

John Butt

Joanne Lunn

Esther Brazil

Nicholas Mulroy

Joshua Ellicott

Dunedin Consort

Gloria Patri

$2.30

Sicut erat in principio

Composer(s)

Claudio Monteverdi

Artist(s)

John Butt

Dunedin Consort

Sicut erat in principio

$2.30
Total running time: 93 minutes.




Album information

The sonic grandeur of Monteverdi's spectacular masterpiece is expertly realized in this recording by John Butt and Dunedin Consort.

Together with the virtuoso players of His Majestys Sagbutts and Cornetts and a star-studded line up, including Peter Harvey, Joanne Lunn and Nicholas Mulroy, Dunedin Consort delivers the perfect recording to celebrate the 450th anniversary of Monteverdi's birth.

The raison d'être for this recording was reinforced following a performance of the Vespers at the 2016 Lammermuir Festival which wowed the critics: The Herald called it 'superbly stylish…an exhilarating performance' whilst The Scotsman stated 'it is hard to imagine a more exquisite, deeply felt performance'.

In direct contrast to the more typically lavish stagings John Butt's preference for single part performance brings a welcome sense of intimacy to Monteverdi's most famous work. In eschewing the pomp and circumstance John Butt's approach delivers a fresh, modern performance that allows the individuality of the soloists to shine.
Related Artists
Reviews