Filters
Mozart's Bassoon. Works for Solo Bassoon
Mozart's Bassoon. Works for Solo Bassoon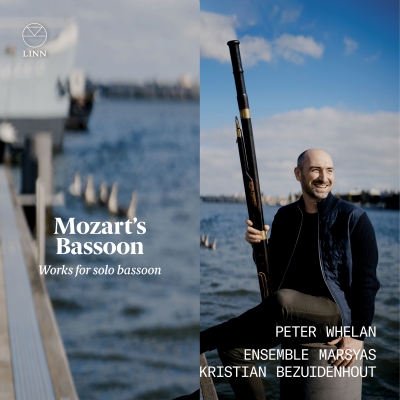 Inlay available for download
Booklet available for download
Bassoon Concerto in B-Flat Major, K. 191: I. Allegro

Composer(s)

Wolfgang Amadeus Mozart

Artist(s)

Peter Whelan

Ensemble Marsyas

Bassoon Concerto in B-Flat Major, K. 191: I. Allegro

$2.30

Bassoon Concerto in B-Flat Major, K. 191: II. Andante ma adagio

Composer(s)

Wolfgang Amadeus Mozart

Artist(s)

Peter Whelan

Ensemble Marsyas

Bassoon Concerto in B-Flat Major, K. 191: II. Andante ma adagio

$2.30

Bassoon Concerto in B-Flat Major, K. 191: III. Rondo (Tempo di menuetto)

Composer(s)

Wolfgang Amadeus Mozart

Artist(s)

Peter Whelan

Ensemble Marsyas

Bassoon Concerto in B-Flat Major, K. 191: III. Rondo (Tempo di menuetto)

$2.30

Sonata in B-Flat Major, K. 292: I. Allegro

Composer(s)

Wolfgang Amadeus Mozart

Artist(s)

Peter Whelan

Kristian Bezuidenhout

Sonata in B-Flat Major, K. 292: I. Allegro

$2.30

Sonata in B-Flat Major, K. 292: II. Andante

Composer(s)

Wolfgang Amadeus Mozart

Artist(s)

Peter Whelan

Kristian Bezuidenhout

Sonata in B-Flat Major, K. 292: II. Andante

$2.30

Sonata in B-Flat Major, K. 292: III. Rondo (Allegro)

Composer(s)

Wolfgang Amadeus Mozart

Artist(s)

Peter Whelan

Kristian Bezuidenhout

Sonata in B-Flat Major, K. 292: III. Rondo (Allegro)

$2.30

Serenade in C Minor, K. 388: I. Allegro

Composer(s)

Wolfgang Amadeus Mozart

Artist(s)

Peter Whelan

Ensemble Marsyas

Serenade in C Minor, K. 388: I. Allegro

$3.40

Serenade in C Minor, K. 388: II. Andante

Composer(s)

Wolfgang Amadeus Mozart

Artist(s)

Peter Whelan

Ensemble Marsyas

Serenade in C Minor, K. 388: II. Andante

$2.30

Serenade in C Minor, K. 388: III. Menuetto in canone

Composer(s)

Wolfgang Amadeus Mozart

Artist(s)

Peter Whelan

Ensemble Marsyas

Serenade in C Minor, K. 388: III. Menuetto in canone

$2.30

Serenade in C Minor, K. 388: IV. Allegro

Composer(s)

Wolfgang Amadeus Mozart

Artist(s)

Peter Whelan

Ensemble Marsyas

Serenade in C Minor, K. 388: IV. Allegro

$2.30
Total running time: 51 minutes.


Album information

Peter Whelan's brand new recording of Concerto K. 191 with Ensemble Marsyas is now available alongside previous recordings of Sonata K. 292, with Kristian Bezuidenhout, and the dramatic Serenade in C minor by Ensemble Marsyas. These three works are available together on Mozart's Bassoon for the first time.

Returning to his beloved bassoon Peter takes a fresh look at the two surviving works by Mozart for the instrument: Concerto K. 191 and Sonata K. 292. These attractive early works were most likely composed during the composer's time in Salzburg. The concerto is the earliest of his woodwind concertos, and has become a staple work for every bassoon player: it showcases the tremendous capabilities of the pre-nineteenth-century instrument, its agility, extraordinary range and tone colour. Whelan and his virtuoso Ensemble Marsyas are playing from the original printed parts since the autograph score has not survived. While the sonata's original medium is uncertain – for two bass instruments or bassoon and keyboard – Whelan makes it his own with Kristian Bezuidenhout performing the continuo line.

Ensemble Marsyas rounds off the programme with Mozart's most dramatic work for winds, the Serenade in C minor. Composed in Vienna for the Harmonie (the bassoon's natural home), it served as a musical laboratory where Mozart could experiment with the virtuoso and lyrical possibilities of his Viennese wind soloists who later animated his greatest operas.
Related Artists
Reviews