Filters
Mozart's Real Musical Father
Mozart's Real Musical Father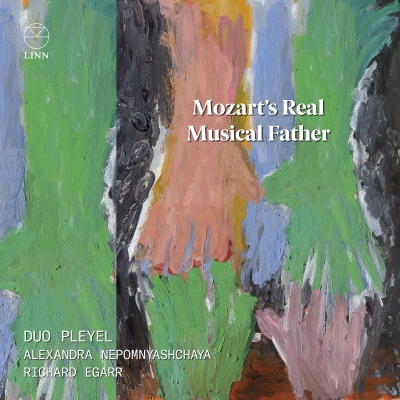 Inlay available for download
Booklet available for download
Keyboard Duet in C Major, W.A 18 : I. Allegro

Composer(s)

Johann Christian Bach

Keyboard Duet in C Major, W.A 18 : I. Allegro

$2.30

Keyboard Duet in C Major, W.A 18 : II. Rondo: Allegretto

Composer(s)

Johann Christian Bach

Keyboard Duet in C Major, W.A 18 : II. Rondo: Allegretto

$2.30

Sonata for Piano Four-Hands in D Major: I. Allegro

Composer(s)

Wolfgang Amadeus Mozart

Sonata for Piano Four-Hands in D Major: I. Allegro

$2.30

Sonata for Piano Four-Hands in D Major: II. Andante

Composer(s)

Wolfgang Amadeus Mozart

Sonata for Piano Four-Hands in D Major: II. Andante

$2.30

Sonata for Piano Four-Hands in D Major: III. Allegro molto

Composer(s)

Wolfgang Amadeus Mozart

Sonata for Piano Four-Hands in D Major: III. Allegro molto

$2.30

Keyboard Duet in A Major, W.A 19: I. Allegretto

Composer(s)

Johann Christian Bach

Keyboard Duet in A Major, W.A 19: I. Allegretto

$2.30

Keyboard Duet in A Major, W.A 19: II. Tempo di minuetto

Composer(s)

Johann Christian Bach

Keyboard Duet in A Major, W.A 19: II. Tempo di minuetto

$2.30

5 Variations in G Major, K. 501

Composer(s)

Wolfgang Amadeus Mozart

5 Variations in G Major, K. 501

$3.40

Keyboard Duet in F Major, W.A 20: I. Allegro

Composer(s)

Johann Christian Bach

Keyboard Duet in F Major, W.A 20: I. Allegro

$2.30

Keyboard Duet in F Major, W.A 20: II. Rondo. Allegro

Composer(s)

Johann Christian Bach

Keyboard Duet in F Major, W.A 20: II. Rondo. Allegro

$2.30

Sonata in B-Flat Major, K. 358: I. Allegro

Composer(s)

Wolfgang Amadeus Mozart

Sonata in B-Flat Major, K. 358: I. Allegro

$2.30

Sonata in B-Flat Major, K. 358: II. Adagio

Composer(s)

Wolfgang Amadeus Mozart

Sonata in B-Flat Major, K. 358: II. Adagio

$2.30

Sonata in B-Flat Major, K. 358: III. Molto presto

Composer(s)

Wolfgang Amadeus Mozart

Sonata in B-Flat Major, K. 358: III. Molto presto

$2.30
Total running time: 62 minutes.

Album information

Following their superb Dussek album (5 stars in BBC Music Magazine), Duo Pleyel's Richard Egarr and Alexandra Nepomnyashchaya explore the seminal role a musical father figure can play in shaping another composer.

From Mozart's first meeting with Johann Christian Bach (the 'London Bach') as a young boy in England in 1764, an extraordinary musical bond and mutual respect was forged between the two great composers. The life-long influence of the older musician on Mozart is often seriously under-appreciated, yet Mozart quoted musical fragments and themes by Christian throughout his life, none more poignantly than in the slow movement of his A major piano concerto K. 414, written shortly after Christian's death. The programme on this recording brings their four-hands music together to show both the influence and individuality of these wonderful composers.
Related Artists
Reviews