Filters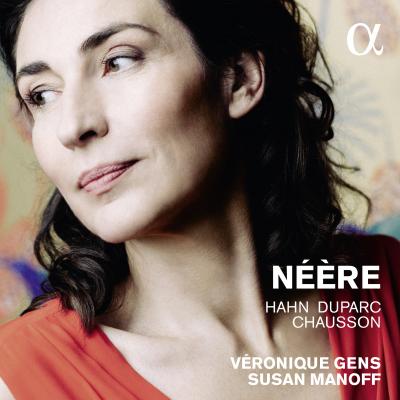 Inlay available for download
Booklet available for download
Etudes latines: Néère

Composer(s)

Reynaldo Hahn

Artist(s)

Véronique Gens

Susan Manoff

Etudes latines: Néère

$2.30

Trois jours de vendange

Composer(s)

Reynaldo Hahn

Artist(s)

Véronique Gens

Susan Manoff

Trois jours de vendange

$2.30

Chanson triste

Artist(s)

Véronique Gens

Susan Manoff

Chanson triste

$2.30

Romance de mignon

Artist(s)

Véronique Gens

Susan Manoff

Romance de mignon

$2.30

Phidylé

Artist(s)

Véronique Gens

Susan Manoff

Phidylé

$2.30

Sept mélodies, Op. 2: 1. Nanny

Composer(s)

Ernest Chausson

Artist(s)

Véronique Gens

Susan Manoff

Sept mélodies, Op. 2: 1. Nanny

$2.30

Sept mélodies, Op. 2: 2. Le charme

Composer(s)

Ernest Chausson

Artist(s)

Véronique Gens

Susan Manoff

Sept mélodies, Op. 2: 2. Le charme

$2.30

Sept mélodies, Op. 2: 3. Les papillons

Composer(s)

Ernest Chausson

Artist(s)

Véronique Gens

Susan Manoff

Sept mélodies, Op. 2: 3. Les papillons

$2.30

Sept mélodies, Op. 2: 4. La dernière feuille

Composer(s)

Ernest Chausson

Artist(s)

Véronique Gens

Susan Manoff

Sept mélodies, Op. 2: 4. La dernière feuille

$2.30

Sept mélodies, Op. 2: 5. Sérénade italienne

Composer(s)

Ernest Chausson

Artist(s)

Véronique Gens

Susan Manoff

Sept mélodies, Op. 2: 5. Sérénade italienne

$2.30

Sept mélodies, Op. 2: 6. Hébé

Composer(s)

Ernest Chausson

Artist(s)

Véronique Gens

Susan Manoff

Sept mélodies, Op. 2: 6. Hébé

$2.30

Sept mélodies, Op. 2: 7. Le colibri

Composer(s)

Ernest Chausson

Artist(s)

Véronique Gens

Susan Manoff

Sept mélodies, Op. 2: 7. Le colibri

$2.30

Quand je fus pris au pavillon

Composer(s)

Reynaldo Hahn

Artist(s)

Véronique Gens

Susan Manoff

Quand je fus pris au pavillon

$2.30

Le rossignol des lilas

Composer(s)

Reynaldo Hahn

Artist(s)

Véronique Gens

Susan Manoff

Le rossignol des lilas

$2.30

A Chloris

Composer(s)

Reynaldo Hahn

Artist(s)

Véronique Gens

Susan Manoff

A Chloris

$2.30

Deux poèmes, Op. 34: 1. La chanson bien douce

Composer(s)

Ernest Chausson

Artist(s)

Véronique Gens

Susan Manoff

Deux poèmes, Op. 34: 1. La chanson bien douce

$2.30

Le temps des lilas (From "Poème de l'amour et de la mer, Op. 19")

Composer(s)

Ernest Chausson

Artist(s)

Véronique Gens

Susan Manoff

Le temps des lilas (From "Poème de l'amour et de la mer, Op. 19")

$2.30

Etudes latines: Lydé

Composer(s)

Reynaldo Hahn

Artist(s)

Véronique Gens

Susan Manoff

Etudes latines: Lydé

$2.30

Etudes latines: Tyndaris

Composer(s)

Reynaldo Hahn

Artist(s)

Véronique Gens

Susan Manoff

Etudes latines: Tyndaris

$2.30

Au pays où se fait la guerre

Artist(s)

Véronique Gens

Susan Manoff

Au pays où se fait la guerre

$2.30

L'invitation au voyage

Artist(s)

Véronique Gens

Susan Manoff

L'invitation au voyage

$2.30

Etudes latines: Pholoé

Composer(s)

Reynaldo Hahn

Artist(s)

Véronique Gens

Susan Manoff

Etudes latines: Pholoé

$2.30

Etudes latines: Phyllis

Composer(s)

Reynaldo Hahn

Artist(s)

Véronique Gens

Susan Manoff

Etudes latines: Phyllis

$2.30

Le printemps

Composer(s)

Reynaldo Hahn

Artist(s)

Véronique Gens

Susan Manoff

Le printemps

$2.30
Total running time: 66 minutes.




Album information

Véronique Gens brings her unique expertise to this programme devoted to the French art song. Néère​ won the 2016 Gramophone Award for Best Vocal Recording.​

A grande dame of lyric art and a great Mozartian, Véronique Gens also excels in Gluck, Berlioz and Offenbach and has sung with all the greats, from Claudio Abbado to Marc Minkowski and Frans Brüggens. Her rich discography comprises a richly varied repertoire but, up until now, it has only included one recording of mélodies; a field in which she is renowned as one of the world's most eminent interpreters of the French art song.

With her partner Susan Manoff, a connoisseur of vocal music and a tremendously sensitive pianist, she has assembled this programme devoted to songs she loves, mixing a few well-known favourites and other, quite rare gems, such as this superb Néère, from Reynaldo Hahn's Muses latines.
Related Artists
Reviews