Filters
Artist
Christopher Lowrey
Les Talens Lyriques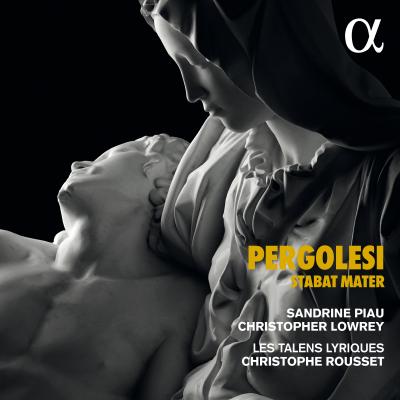 Inlay available for download
Booklet available for download
Stabat Mater in F Minor, P. 77: I. Stabat Mater dolorosa

Composer(s)

Giovanni Battista Pergolesi

Artist(s)

Christophe Rousset

Sandrine Piau

Les Talens Lyriques

Christopher Lowrey

Stabat Mater in F Minor, P. 77: I. Stabat Mater dolorosa

$2.30

Stabat Mater in F Minor, P. 77: II. Cujus animam gementem

Composer(s)

Giovanni Battista Pergolesi

Artist(s)

Christophe Rousset

Sandrine Piau

Les Talens Lyriques

Stabat Mater in F Minor, P. 77: II. Cujus animam gementem

$2.30

Stabat Mater in F Minor, P. 77: III. O quam tristis et dolebat

Composer(s)

Giovanni Battista Pergolesi

Artist(s)

Christophe Rousset

Sandrine Piau

Les Talens Lyriques

Christopher Lowrey

Stabat Mater in F Minor, P. 77: III. O quam tristis et dolebat

$2.30

Stabat Mater in F Minor, P. 77: IV. Quae moerebat et dolebat

Composer(s)

Giovanni Battista Pergolesi

Artist(s)

Christophe Rousset

Les Talens Lyriques

Christopher Lowrey

Stabat Mater in F Minor, P. 77: IV. Quae moerebat et dolebat

$2.30

Stabat Mater in F Minor, P. 77: V. Quis est homo qui non fleret

Composer(s)

Giovanni Battista Pergolesi

Artist(s)

Christophe Rousset

Sandrine Piau

Les Talens Lyriques

Christopher Lowrey

Stabat Mater in F Minor, P. 77: V. Quis est homo qui non fleret

$2.30

Stabat Mater in F Minor, P. 77: VI. Vidit suum dulcem natum

Composer(s)

Giovanni Battista Pergolesi

Artist(s)

Christophe Rousset

Sandrine Piau

Les Talens Lyriques

Stabat Mater in F Minor, P. 77: VI. Vidit suum dulcem natum

$2.30

Stabat Mater in F Minor, P. 77: VII. Eia Mater fons amoris

Composer(s)

Giovanni Battista Pergolesi

Artist(s)

Christophe Rousset

Les Talens Lyriques

Christopher Lowrey

Stabat Mater in F Minor, P. 77: VII. Eia Mater fons amoris

$2.30

Stabat Mater in F Minor, P. 77: VIII. Fac ut ardeat cor meum

Composer(s)

Giovanni Battista Pergolesi

Artist(s)

Christophe Rousset

Sandrine Piau

Les Talens Lyriques

Christopher Lowrey

Stabat Mater in F Minor, P. 77: VIII. Fac ut ardeat cor meum

$2.30

Stabat Mater in F Minor, P. 77: IX. Sancta Mater istud agas

Composer(s)

Giovanni Battista Pergolesi

Artist(s)

Christophe Rousset

Sandrine Piau

Les Talens Lyriques

Christopher Lowrey

Stabat Mater in F Minor, P. 77: IX. Sancta Mater istud agas

$2.30

Stabat Mater in F Minor, P. 77: X. Fac ut portem Christi mortem

Composer(s)

Giovanni Battista Pergolesi

Artist(s)

Christophe Rousset

Les Talens Lyriques

Christopher Lowrey

Stabat Mater in F Minor, P. 77: X. Fac ut portem Christi mortem

$2.30

Stabat Mater in F Minor, P. 77: XI. Inflammatus et accensus

Composer(s)

Giovanni Battista Pergolesi

Artist(s)

Christophe Rousset

Sandrine Piau

Les Talens Lyriques

Christopher Lowrey

Stabat Mater in F Minor, P. 77: XI. Inflammatus et accensus

$2.30

Stabat Mater in F Minor, P. 77: XII. Quando corpus morietur

Composer(s)

Giovanni Battista Pergolesi

Artist(s)

Christophe Rousset

Sandrine Piau

Les Talens Lyriques

Christopher Lowrey

Stabat Mater in F Minor, P. 77: XII. Quando corpus morietur

$2.30

Salve Regina in G Major: I. Salve Regina

Composer(s)

Nicola Porpora

Artist(s)

Christophe Rousset

Sandrine Piau

Les Talens Lyriques

Salve Regina in G Major: I. Salve Regina

$2.30

Salve Regina in G Major: II. Ad te clamamus

Composer(s)

Nicola Porpora

Artist(s)

Christophe Rousset

Sandrine Piau

Les Talens Lyriques

Salve Regina in G Major: II. Ad te clamamus

$2.30

Salve Regina in G Major: III. Ad te suspiramus

Composer(s)

Nicola Porpora

Artist(s)

Christophe Rousset

Sandrine Piau

Les Talens Lyriques

Salve Regina in G Major: III. Ad te suspiramus

$2.30

Salve Regina in G Major: IV.Eia ergo

Composer(s)

Nicola Porpora

Artist(s)

Christophe Rousset

Sandrine Piau

Les Talens Lyriques

Salve Regina in G Major: IV.Eia ergo

$2.30

Salve Regina in G Major: V. Et Jesum

Composer(s)

Nicola Porpora

Artist(s)

Christophe Rousset

Sandrine Piau

Les Talens Lyriques

Salve Regina in G Major: V. Et Jesum

$2.30

Salve Regina in G Major: VI. O clemens

Composer(s)

Nicola Porpora

Artist(s)

Christophe Rousset

Sandrine Piau

Les Talens Lyriques

Salve Regina in G Major: VI. O clemens

$2.30

Beatus vir qui timet in F Major: I. Beatus vir

Artist(s)

Christophe Rousset

Les Talens Lyriques

Christopher Lowrey

Beatus vir qui timet in F Major: I. Beatus vir

$2.30

Beatus vir qui timet in F Major: II. Exortum est

Artist(s)

Christophe Rousset

Les Talens Lyriques

Christopher Lowrey

Beatus vir qui timet in F Major: II. Exortum est

$2.30

Beatus vir qui timet in F Major: III. Misericors

Artist(s)

Christophe Rousset

Les Talens Lyriques

Christopher Lowrey

Beatus vir qui timet in F Major: III. Misericors

$2.30

Beatus vir qui timet in F Major: IV. Iucundus homo

Artist(s)

Christophe Rousset

Les Talens Lyriques

Christopher Lowrey

Beatus vir qui timet in F Major: IV. Iucundus homo

$2.30

Beatus vir qui timet in F Major: V. Dispersit

Artist(s)

Christophe Rousset

Les Talens Lyriques

Christopher Lowrey

Beatus vir qui timet in F Major: V. Dispersit

$2.30

Beatus vir qui timet in F Major: VI. Gloria

Artist(s)

Christophe Rousset

Les Talens Lyriques

Christopher Lowrey

Beatus vir qui timet in F Major: VI. Gloria

$2.30

Beatus vir qui timet in F Major: VII. Sicut era

Artist(s)

Christophe Rousset

Les Talens Lyriques

Christopher Lowrey

Beatus vir qui timet in F Major: VII. Sicut era

$2.30
Total running time: 66 minutes.


Album information

Longstanding partners Sandrine Piau and Christophe Rousset have frequently performed the Stabat Mater, an emblematic work of the eighteenth-century Neapolitan repertory, both together and with other musicians. It was therefore a natural step for them to record this supreme masterpiece of sacred music. 

They are joined here by a relative newcomer to Les Talens Lyriques who has also become a regular partner with the ensemble, the American countertenor Christopher Lowrey.

The programme is completed by a Beatus vir by Leonardo Leo (1694-1744), sung by Sandrine Piau, and a Salve Regina for alto by Nicola Porpora (1686-1768), two totally unknown works by two composers who were nevertheless very famous at the time – Porpora, for example, was Farinelli's singing teacher and mentor to the youthful Haydn.

Christophe Rousset finds in this music 'an expression of very Mediterranean, very highly flavoured piety, in which one moves from tears to laughter quite quickly'. Sandrine Piau sees in Leo 'an elegance of style, a certain distance in sorrow'.
Related Artists
Reviews