Filters
Piercing Silence: Royal Academy of Music Bicentenary Series
Piercing Silence: Royal Academy of Music Bicentenary Series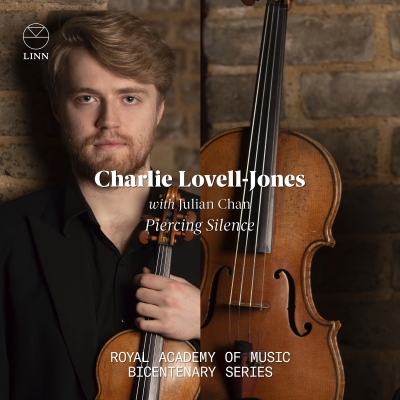 Inlay available for download
Booklet available for download
Suite for Violin and Piano, Op. 6: IV. Lullaby

Composer(s)

Benjamin Britten

Artist(s)

Charlie Lovell-Jones

Julian Chan

Suite for Violin and Piano, Op. 6: IV. Lullaby

$2.30

Grand Caprice on Schubert's 'Der Erlkönig', Op. 26

Composer(s)

Heinrich Wilhelm Ernst

Artist(s)

Charlie Lovell-Jones

Grand Caprice on Schubert's 'Der Erlkönig', Op. 26

$2.30

Deux morceaux pour violon et piano: No. 1, Nocturne

Composer(s)

Lili Boulanger

Artist(s)

Charlie Lovell-Jones

Julian Chan

Deux morceaux pour violon et piano: No. 1, Nocturne

$2.30

Valse-Scherzo, Op. 34

Composer(s)

Pyotr Ilyich Tchaikovsky

Artist(s)

Charlie Lovell-Jones

Julian Chan

Valse-Scherzo, Op. 34

$2.30

Mythes, Op. 30: II. Narcisse

Composer(s)

Karol Szymanowski

Artist(s)

Charlie Lovell-Jones

Julian Chan

Mythes, Op. 30: II. Narcisse

$3.40

Suite for Violin and Piano: I. African Dancer

Composer(s)

William Grant Still

Artist(s)

Charlie Lovell-Jones

Julian Chan

Suite for Violin and Piano: I. African Dancer

$2.30

Adoration

Composer(s)

Florence Price

Artist(s)

Charlie Lovell-Jones

Julian Chan

Adoration

$2.30

Four African Dances, Op. 58: III. African Dance

Composer(s)

Samuel Coleridge-Taylor

Artist(s)

Charlie Lovell-Jones

Julian Chan

Four African Dances, Op. 58: III. African Dance

$2.30

Towards Freedom: I. Justice

Composer(s)

Deborah Pritchard

Artist(s)

Charlie Lovell-Jones

Julian Chan

Towards Freedom: I. Justice

$2.30

Towards Freedom: II. Hope

Composer(s)

Deborah Pritchard

Artist(s)

Charlie Lovell-Jones

Julian Chan

Towards Freedom: II. Hope

$2.30

Towards Freedom: III. Liberty

Composer(s)

Deborah Pritchard

Artist(s)

Charlie Lovell-Jones

Julian Chan

Towards Freedom: III. Liberty

$2.30

Towards Freedom: IV. Peace

Composer(s)

Deborah Pritchard

Artist(s)

Charlie Lovell-Jones

Julian Chan

Towards Freedom: IV. Peace

$2.30

Towards Freedom: V. Voice

Composer(s)

Deborah Pritchard

Artist(s)

Charlie Lovell-Jones

Julian Chan

Towards Freedom: V. Voice

$2.30

Towards Freedom: VI. Freedom

Composer(s)

Deborah Pritchard

Artist(s)

Charlie Lovell-Jones

Julian Chan

Towards Freedom: VI. Freedom

$2.30
Total running time: 48 minutes.
Album information

As part of the Royal Academy of Music Bicentenary Series, violinist Charlie Lovell-Jones makes his recording debut with a multifaceted programme. 

Aiming to pierce what he describes as 'some historical silences', Lovell-Jones aims to amplify the voices of gay, black and female composers; works by celebrated masters like Britten and Tchaikovsky sit alongside the premiere recording of Deborah Pritchard's Towards Freedom. Despite reflecting life's social struggles, the ultimate message is one of triumph. Lovell-Jones states: 'With this music, I hope to share something of the euphoria I felt on finding out one of my heroes was gay.'

Charlie Lovell-Jones is one of the exceptional artists, including Liam Bonthrone, Junyan Chen, Aidan Mikdad and Edvard Pogossian, who are the recipients of the Academy's Bicentenary Scholarships scheme for 2021/22.
Related Artists
Reviews