Filters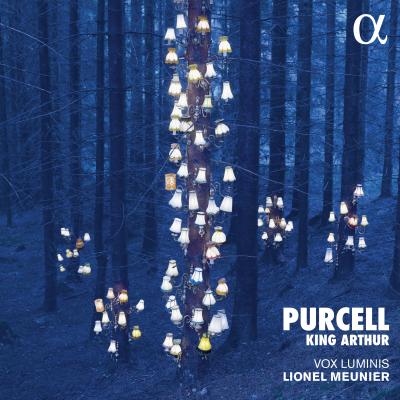 Booklet available for download
King Arthur, Z. 628, First Music: Overture

Composer(s)

Henry Purcell

Artist(s)

Lionel Meunier

Vox Luminis

King Arthur, Z. 628, First Music: Overture

$2.30

King Arthur, Z. 628, Second Music: Aire

Composer(s)

Henry Purcell

Artist(s)

Lionel Meunier

Vox Luminis

King Arthur, Z. 628, Second Music: Aire

$2.30

King Arthur, Z. 628: Overture

Composer(s)

Henry Purcell

Artist(s)

Lionel Meunier

Vox Luminis

King Arthur, Z. 628: Overture

$2.30

King Arthur, Z. 628, Act I: Altar Music

Composer(s)

Henry Purcell

Artist(s)

Lionel Meunier

Vox Luminis

King Arthur, Z. 628, Act I: Altar Music

$2.30

King Arthur, Z. 628, Act I: "Woden, First to Thee"

Composer(s)

Henry Purcell

Artist(s)

Lionel Meunier

Vox Luminis

King Arthur, Z. 628, Act I: "Woden, First to Thee"

$2.30

King Arthur, Z. 628, Act I: "The White Horse Neigh'd Aloud"

Composer(s)

Henry Purcell

Artist(s)

Lionel Meunier

Vox Luminis

King Arthur, Z. 628, Act I: "The White Horse Neigh'd Aloud"

$2.30

King Arthur, Z. 628, Act I: "The Lot Is Cast"

Composer(s)

Henry Purcell

Artist(s)

Lionel Meunier

Vox Luminis

King Arthur, Z. 628, Act I: "The Lot Is Cast"

$2.30

King Arthur, Z. 628, Act I: "Brave Souls"

Composer(s)

Henry Purcell

Artist(s)

Lionel Meunier

Vox Luminis

King Arthur, Z. 628, Act I: "Brave Souls"

$2.30

King Arthur, Z. 628, Act I: "I Call, I Call"

Composer(s)

Henry Purcell

Artist(s)

Lionel Meunier

Vox Luminis

King Arthur, Z. 628, Act I: "I Call, I Call"

$2.30

King Arthur, Z. 628, Act I: "Come If You Dare"

Composer(s)

Henry Purcell

Artist(s)

Lionel Meunier

Vox Luminis

King Arthur, Z. 628, Act I: "Come If You Dare"

$2.30

King Arthur, Z. 628, Act I: First Act Tune

Composer(s)

Henry Purcell

Artist(s)

Lionel Meunier

Vox Luminis

King Arthur, Z. 628, Act I: First Act Tune

$2.30

King Arthur, Z. 628, Act II: "Hither, This Way"

Composer(s)

Henry Purcell

Artist(s)

Lionel Meunier

Vox Luminis

King Arthur, Z. 628, Act II: "Hither, This Way"

$2.30

King Arthur, Z. 628, Act II: "Let Not a Moon-Born Elf"

Composer(s)

Henry Purcell

Artist(s)

Lionel Meunier

Vox Luminis

King Arthur, Z. 628, Act II: "Let Not a Moon-Born Elf"

$2.30

King Arthur, Z. 628, Act II: "Hither, This Way"

Composer(s)

Henry Purcell

Artist(s)

Lionel Meunier

Vox Luminis

King Arthur, Z. 628, Act II: "Hither, This Way"

$2.30

King Arthur, Z. 628, Act II: "Come Follow Me"

Composer(s)

Henry Purcell

Artist(s)

Lionel Meunier

Vox Luminis

King Arthur, Z. 628, Act II: "Come Follow Me"

$2.30

King Arthur, Z. 628, Act II: "How Blest Are Shepherds"

Composer(s)

Henry Purcell

Artist(s)

Lionel Meunier

Vox Luminis

King Arthur, Z. 628, Act II: "How Blest Are Shepherds"

$2.30

King Arthur, Z. 628, Act II: "Shepherd, Shepherd, Leave Decoying"

Composer(s)

Henry Purcell

Artist(s)

Lionel Meunier

Vox Luminis

King Arthur, Z. 628, Act II: "Shepherd, Shepherd, Leave Decoying"

$2.30

King Arthur, Z. 628, Act II: "Come, Shepherds, Lead up"

Composer(s)

Henry Purcell

Artist(s)

Lionel Meunier

Vox Luminis

King Arthur, Z. 628, Act II: "Come, Shepherds, Lead up"

$2.30

King Arthur, Z. 628, Act II: Hornpipe

Composer(s)

Henry Purcell

Artist(s)

Lionel Meunier

Vox Luminis

King Arthur, Z. 628, Act II: Hornpipe

$2.30

King Arthur, Z. 628, Act II: Second Act Tune - Aire

Composer(s)

Henry Purcell

Artist(s)

Lionel Meunier

Vox Luminis

King Arthur, Z. 628, Act II: Second Act Tune - Aire

$2.30

King Arthur, Z. 628, Act III: Prelude to The Frost Scene

Composer(s)

Henry Purcell

Artist(s)

Lionel Meunier

Vox Luminis

King Arthur, Z. 628, Act III: Prelude to The Frost Scene

$2.30

King Arthur, Z. 628, Act III: "What Ho! Thou Genius of This Isle"

Composer(s)

Henry Purcell

Artist(s)

Lionel Meunier

Vox Luminis

King Arthur, Z. 628, Act III: "What Ho! Thou Genius of This Isle"

$2.30

King Arthur, Z. 628, Act III: "What Power Art Thou"

Composer(s)

Henry Purcell

Artist(s)

Lionel Meunier

Vox Luminis

King Arthur, Z. 628, Act III: "What Power Art Thou"

$2.30

King Arthur, Z. 628, Act III: "Thou Doting Fool"

Composer(s)

Henry Purcell

Artist(s)

Lionel Meunier

Vox Luminis

King Arthur, Z. 628, Act III: "Thou Doting Fool"

$2.30

King Arthur, Z. 628, Act III: "Great Love, I Know Thee Now"

Composer(s)

Henry Purcell

Artist(s)

Lionel Meunier

Vox Luminis

King Arthur, Z. 628, Act III: "Great Love, I Know Thee Now"

$2.30

King Arthur, Z. 628, Act III: "No Part of My Dominion Shall Be Waste"

Composer(s)

Henry Purcell

Artist(s)

Lionel Meunier

Vox Luminis

King Arthur, Z. 628, Act III: "No Part of My Dominion Shall Be Waste"

$2.30

King Arthur, Z. 628, Act III: Prelude

Composer(s)

Henry Purcell

Artist(s)

Lionel Meunier

Vox Luminis

King Arthur, Z. 628, Act III: Prelude

$2.30

King Arthur, Z. 628, Act III: "See We Assemble Thy Tevels to Hold"

Composer(s)

Henry Purcell

Artist(s)

Lionel Meunier

Vox Luminis

King Arthur, Z. 628, Act III: "See We Assemble Thy Tevels to Hold"

$2.30

King Arthur, Z. 628, Act III: Dance

Composer(s)

Henry Purcell

Artist(s)

Lionel Meunier

Vox Luminis

King Arthur, Z. 628, Act III: Dance

$2.30

King Arthur, Z. 628, Act III: "'Tis I That Have Warm'd Ye"

Composer(s)

Henry Purcell

Artist(s)

Lionel Meunier

Vox Luminis

King Arthur, Z. 628, Act III: "'Tis I That Have Warm'd Ye"

$2.30

King Arthur, Z. 628, Act III: "Sound a Parley"

Composer(s)

Henry Purcell

Artist(s)

Lionel Meunier

Vox Luminis

King Arthur, Z. 628, Act III: "Sound a Parley"

$2.30

King Arthur, Z. 628, Act III: "'Tis Love That Has Warm'd Us"

Composer(s)

Henry Purcell

Artist(s)

Lionel Meunier

Vox Luminis

King Arthur, Z. 628, Act III: "'Tis Love That Has Warm'd Us"

$2.30

King Arthur, Z. 628, Act III: Borée

Composer(s)

Henry Purcell

Artist(s)

Lionel Meunier

Vox Luminis

King Arthur, Z. 628, Act III: Borée

$2.30

King Arthur, Z. 628, Act III: Third Act Tune - Hornpipe

Composer(s)

Henry Purcell

Artist(s)

Lionel Meunier

Vox Luminis

King Arthur, Z. 628, Act III: Third Act Tune - Hornpipe

$2.30

King Arthur, Z. 628, Act IV: Aire

Composer(s)

Henry Purcell

Artist(s)

Lionel Meunier

Vox Luminis

King Arthur, Z. 628, Act IV: Aire

$2.30

King Arthur, Z. 628, Act IV: Soft Musick

Composer(s)

Henry Purcell

Artist(s)

Lionel Meunier

Vox Luminis

King Arthur, Z. 628, Act IV: Soft Musick

$2.30

King Arthur, Z. 628, Act IV: "Two Daughters of This Aged Stream"

Composer(s)

Henry Purcell

Artist(s)

Lionel Meunier

Vox Luminis

King Arthur, Z. 628, Act IV: "Two Daughters of This Aged Stream"

$2.30

King Arthur, Z. 628, Act IV: Passacaglia - "How Happy the Lover"

Composer(s)

Henry Purcell

Artist(s)

Lionel Meunier

Vox Luminis

King Arthur, Z. 628, Act IV: Passacaglia - "How Happy the Lover"

$2.30

King Arthur, Z. 628, Act IV: "In Vain Are Our Graces"

Composer(s)

Henry Purcell

Artist(s)

Lionel Meunier

Vox Luminis

King Arthur, Z. 628, Act IV: "In Vain Are Our Graces"

$2.30

King Arthur, Z. 628, Act IV: Fourth Act Tune - Trumpet Tune

Composer(s)

Henry Purcell

Artist(s)

Lionel Meunier

Vox Luminis

King Arthur, Z. 628, Act IV: Fourth Act Tune - Trumpet Tune

$2.30

King Arthur, Z. 628, Act V: "Ye Blust'ring Brethren" (John Dryden)

Composer(s)

Henry Purcell

Artist(s)

Lionel Meunier

Vox Luminis

King Arthur, Z. 628, Act V: "Ye Blust'ring Brethren" (John Dryden)

$2.30

King Arthur, Z. 628, Act V: Symphony

Composer(s)

Henry Purcell

Artist(s)

Lionel Meunier

Vox Luminis

King Arthur, Z. 628, Act V: Symphony

$2.30

King Arthur, Z. 628, Act V: Song Tune - "Round Thy Coasts"

Composer(s)

Henry Purcell

Artist(s)

Lionel Meunier

Vox Luminis

King Arthur, Z. 628, Act V: Song Tune - "Round Thy Coasts"

$2.30

King Arthur, Z. 628, Act V: "For Folded Flocks"

Composer(s)

Henry Purcell

Artist(s)

Lionel Meunier

Vox Luminis

King Arthur, Z. 628, Act V: "For Folded Flocks"

$2.30

King Arthur, Z. 628, Act V: Song Tune - "Your Hay It Is Mow'd"

Composer(s)

Henry Purcell

Artist(s)

Lionel Meunier

Vox Luminis

King Arthur, Z. 628, Act V: Song Tune - "Your Hay It Is Mow'd"

$2.30

King Arthur, Z. 628, Act V: Song tune - "Fairest Isle"

Composer(s)

Henry Purcell

Artist(s)

Lionel Meunier

Vox Luminis

King Arthur, Z. 628, Act V: Song tune - "Fairest Isle"

$2.30

King Arthur, Z. 628, Act V: "You Say, 'Tis Love"

Composer(s)

Henry Purcell

Artist(s)

Lionel Meunier

Vox Luminis

King Arthur, Z. 628, Act V: "You Say, 'Tis Love"

$2.30

King Arthur, Z. 628, Act V: Trumpet Tune

Composer(s)

Henry Purcell

Artist(s)

Lionel Meunier

Vox Luminis

King Arthur, Z. 628, Act V: Trumpet Tune

$2.30

King Arthur, Z. 628, Act V: "Saint George, the Patron of Our Isle"

Composer(s)

Henry Purcell

Artist(s)

Lionel Meunier

Vox Luminis

King Arthur, Z. 628, Act V: "Saint George, the Patron of Our Isle"

$2.30

King Arthur, Z. 628, Act V: "Our Natives Not Alone Appear"

Composer(s)

Henry Purcell

Artist(s)

Lionel Meunier

Vox Luminis

King Arthur, Z. 628, Act V: "Our Natives Not Alone Appear"

$2.30

King Arthur, Z. 628, Act V: Grand Dance - Chaconne

Composer(s)

Henry Purcell

Artist(s)

Lionel Meunier

Vox Luminis

King Arthur, Z. 628, Act V: Grand Dance - Chaconne

$2.30
Total running time: 97 minutes.


Album information

In this revelatory reading, the Vox Luminis vocal sound always perfectly matches the mix of choruses and highly characterized vocal solos.

Vox Luminis already boasts an impressive discography, orientated mainly towards sacred music and German repertoire (its CD devoted to music by Heinrich Schütz won the Gramophone 'Recording of the Year' Award in 2013). Now this ensemble, founded nearly fifteen years ago by Lionel Meunier, has scaled one of the summits of English music: the legend of King Arthur and his mentor the wizard Merlin inspired one of Henry Purcell's most popular successes, King Arthur, a semi-opera on which Purcell lavished all his exuberant musical and theatrical inventiveness.

Prior to recording, the group presented the work in many semi-staged concerts, notably in Britain, where this Franco-Belgian ensemble has enjoyed enormous success, becoming one of the most respected European ambassadors for baroque music-making.
Related Artists
Reviews