Filters
Purcell: Ten Sonatas in Four Parts
Purcell: Ten Sonatas in Four Parts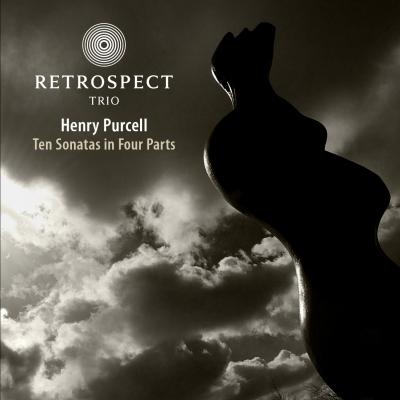 Inlay available for download
Booklet available for download
Sonata I in B minor - Adagio

Composer(s)

Henry Purcell

Artist(s)

Retrospect Trio

Sonata I in B minor - Adagio

$2.30

Sonata I in B minor - Canzona

Composer(s)

Henry Purcell

Artist(s)

Retrospect Trio

Sonata I in B minor - Canzona

$2.30

Sonata I in B minor - Largo

Composer(s)

Henry Purcell

Artist(s)

Retrospect Trio

Sonata I in B minor - Largo

$2.30

Sonata I in B minor - Vivace

Composer(s)

Henry Purcell

Artist(s)

Retrospect Trio

Sonata I in B minor - Vivace

$2.30

Sonata II in E-flat major - Adagio

Composer(s)

Henry Purcell

Artist(s)

Retrospect Trio

Sonata II in E-flat major - Adagio

$2.30

Sonata II in E-flat major - Canzona: Allegro

Composer(s)

Henry Purcell

Artist(s)

Retrospect Trio

Sonata II in E-flat major - Canzona: Allegro

$2.30

Sonata II in E-flat major - Adagio

Composer(s)

Henry Purcell

Artist(s)

Retrospect Trio

Sonata II in E-flat major - Adagio

$2.30

Sonata II in E-flat major - Largo

Composer(s)

Henry Purcell

Artist(s)

Retrospect Trio

Sonata II in E-flat major - Largo

$2.30

Sonata II in E-flat major - Allegro

Composer(s)

Henry Purcell

Artist(s)

Retrospect Trio

Sonata II in E-flat major - Allegro

$2.30

Sonata III in A minor - Grave

Composer(s)

Henry Purcell

Artist(s)

Retrospect Trio

Sonata III in A minor - Grave

$2.30

Sonata III in A minor - Largo

Composer(s)

Henry Purcell

Artist(s)

Retrospect Trio

Sonata III in A minor - Largo

$2.30

Sonata III in A minor - Adagio

Composer(s)

Henry Purcell

Artist(s)

Retrospect Trio

Sonata III in A minor - Adagio

$2.30

Sonata III in A minor - Canzona

Composer(s)

Henry Purcell

Artist(s)

Retrospect Trio

Sonata III in A minor - Canzona

$2.30

Sonata III in A minor - [Allegro] Grave

Composer(s)

Henry Purcell

Artist(s)

Retrospect Trio

Sonata III in A minor - [Allegro] Grave

$2.30

Sonata IV in D minor - Adagio

Composer(s)

Henry Purcell

Artist(s)

Retrospect Trio

Sonata IV in D minor - Adagio

$2.30

Sonata IV in D minor - Canzona

Composer(s)

Henry Purcell

Artist(s)

Retrospect Trio

Sonata IV in D minor - Canzona

$2.30

Sonata IV in D minor - Adagio

Composer(s)

Henry Purcell

Artist(s)

Retrospect Trio

Sonata IV in D minor - Adagio

$2.30

Sonata IV in D minor - Vivace

Composer(s)

Henry Purcell

Artist(s)

Retrospect Trio

Sonata IV in D minor - Vivace

$2.30

Sonata IV in D minor - Largo

Composer(s)

Henry Purcell

Artist(s)

Retrospect Trio

Sonata IV in D minor - Largo

$2.30

Sonata V in G minor - [...]

Composer(s)

Henry Purcell

Artist(s)

Retrospect Trio

Sonata V in G minor - [...]

$2.30

Sonata V in G minor - Canzona

Composer(s)

Henry Purcell

Artist(s)

Retrospect Trio

Sonata V in G minor - Canzona

$2.30

Sonata V in G minor - Largo

Composer(s)

Henry Purcell

Artist(s)

Retrospect Trio

Sonata V in G minor - Largo

$2.30

Sonata V in G minor - Adagio

Composer(s)

Henry Purcell

Artist(s)

Retrospect Trio

Sonata V in G minor - Adagio

$2.30

Sonata V in G minor - Presto

Composer(s)

Henry Purcell

Artist(s)

Retrospect Trio

Sonata V in G minor - Presto

$2.30

Sonata V in G minor - Allegro

Composer(s)

Henry Purcell

Artist(s)

Retrospect Trio

Sonata V in G minor - Allegro

$2.30

Sonata V in G minor - Adagio

Composer(s)

Henry Purcell

Artist(s)

Retrospect Trio

Sonata V in G minor - Adagio

$2.30

Sonata VI in G minor - Adagio

Composer(s)

Henry Purcell

Artist(s)

Retrospect Trio

Sonata VI in G minor - Adagio

$3.40

Sonata VII in C major - Vivace

Composer(s)

Henry Purcell

Artist(s)

Retrospect Trio

Sonata VII in C major - Vivace

$2.30

Sonata VII in C major - Largo

Composer(s)

Henry Purcell

Artist(s)

Retrospect Trio

Sonata VII in C major - Largo

$2.30

Sonata VII in C major - Grave

Composer(s)

Henry Purcell

Artist(s)

Retrospect Trio

Sonata VII in C major - Grave

$2.30

Sonata VII in C major - Canzona

Composer(s)

Henry Purcell

Artist(s)

Retrospect Trio

Sonata VII in C major - Canzona

$2.30

Sonata VII in C major - Allegro

Composer(s)

Henry Purcell

Artist(s)

Retrospect Trio

Sonata VII in C major - Allegro

$2.30

Sonata VII in C major - Adagio

Composer(s)

Henry Purcell

Artist(s)

Retrospect Trio

Sonata VII in C major - Adagio

$2.30

Sonata VIII in G minor - Adagio

Composer(s)

Henry Purcell

Artist(s)

Retrospect Trio

Sonata VIII in G minor - Adagio

$2.30

Sonata VIII in G minor - Canzona

Composer(s)

Henry Purcell

Artist(s)

Retrospect Trio

Sonata VIII in G minor - Canzona

$2.30

Sonata VIII in G minor - Grave

Composer(s)

Henry Purcell

Artist(s)

Retrospect Trio

Sonata VIII in G minor - Grave

$2.30

Sonata VIII in G minor - Largo

Composer(s)

Henry Purcell

Artist(s)

Retrospect Trio

Sonata VIII in G minor - Largo

$2.30

Sonata VIII in G minor - Vivace

Composer(s)

Henry Purcell

Artist(s)

Retrospect Trio

Sonata VIII in G minor - Vivace

$2.30

Sonata IX in F major - [...]

Composer(s)

Henry Purcell

Artist(s)

Retrospect Trio

Sonata IX in F major - [...]

$2.30

Sonata IX in F major - Adagio

Composer(s)

Henry Purcell

Artist(s)

Retrospect Trio

Sonata IX in F major - Adagio

$2.30

Sonata IX in F major - Canzona Allegro

Composer(s)

Henry Purcell

Artist(s)

Retrospect Trio

Sonata IX in F major - Canzona Allegro

$2.30

Sonata IX in F major - Grave

Composer(s)

Henry Purcell

Artist(s)

Retrospect Trio

Sonata IX in F major - Grave

$2.30

Sonata IX in F major - Allegro

Composer(s)

Henry Purcell

Artist(s)

Retrospect Trio

Sonata IX in F major - Allegro

$2.30

Sonata X in D major - Adagio

Composer(s)

Henry Purcell

Artist(s)

Retrospect Trio

Sonata X in D major - Adagio

$2.30

Sonata X in D major - Canzona: Allegro

Composer(s)

Henry Purcell

Artist(s)

Retrospect Trio

Sonata X in D major - Canzona: Allegro

$2.30

Sonata X in D major - Grave

Composer(s)

Henry Purcell

Artist(s)

Retrospect Trio

Sonata X in D major - Grave

$2.30

Sonata X in D major - Largo

Composer(s)

Henry Purcell

Artist(s)

Retrospect Trio

Sonata X in D major - Largo

$2.30

Sonata X in D major - Allegro

Composer(s)

Henry Purcell

Artist(s)

Retrospect Trio

Sonata X in D major - Allegro

$2.30
Total running time: 72 minutes.




Album information

The first recording with this new super-group marks the 350th birthday of Henry Purcell. This recording explores the timeless beauty of Purcell's ten sonatas including the magnificent Sonata IX, known as 'The Golden Sonata'.

The Ten Sonatas in Four Parts (published after Purcell's death in 1697) provide a fascinating insight into the cosmopolitan and often conflicting stylistic tastes of English musicians in the latter part of the seventeenth century. Purcell blends the significant French, Italian and English influences including unique use of counterpoint, unusual and exotic dissonances and strikingly abrupt melodic changes of direction.

Purcell: Ten Sonatas in Four Parts is a fitting tribute to Purcell by four superstar Baroque instrumentalists and the first recording in the highly anticipated Retrospect Ensemble series. Retrospect Trio are: Sophie Gent violin, Matthew Truscott violin, Jonathan Manson bass viol and Matthew Halls harpsichord & organ.  
Related Artists
Reviews