Filters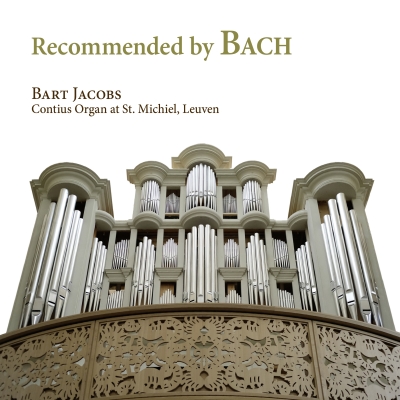 Inlay available for download
Booklet available for download
Fantasia and Fughetta in B-Flat Major: I. Fantasia

Composer(s)

Gottfried Kirchhoff

Fantasia and Fughetta in B-Flat Major: I. Fantasia

$2.30

Fantasia and Fughetta in B-Flat Major: II. Fughetta

Composer(s)

Gottfried Kirchhoff

Fantasia and Fughetta in B-Flat Major: II. Fughetta

$2.30

Violin Partita No. 2 in D Minor, BWV 1004: V. Ciaccona

Composer(s)

Johann Sebastian Bach

Violin Partita No. 2 in D Minor, BWV 1004: V. Ciaccona

$4.60

O Gott, du frommer Gott, BWV 94/8

O Gott, du frommer Gott, BWV 94/8

$2.30

Trio super O Gott, du frommer Gott

Trio super O Gott, du frommer Gott

$2.30

Wir Christenleut habn jetzund Freud, BWV 40/3

Wir Christenleut habn jetzund Freud, BWV 40/3

$2.30

Trio super Wir Christenleut habn jetzund Freud

Trio super Wir Christenleut habn jetzund Freud

$2.30

Was Gott tut, das ist wohlgetan, BWV 99/6

Was Gott tut, das ist wohlgetan, BWV 99/6

$2.30

Trio super Was Gott tut, das ist wohlgetan

Trio super Was Gott tut, das ist wohlgetan

$2.30

Prelude and Fugue in F Minor, BWV 534: I. Prelude

Composer(s)

Wilhelm Friedemann Bach

Prelude and Fugue in F Minor, BWV 534: I. Prelude

$2.30

Harpsichord Concerto No. 5 in F Minor, BWV 1056: II. Largo

Composer(s)

Johann Sebastian Bach

Harpsichord Concerto No. 5 in F Minor, BWV 1056: II. Largo

$2.30

Prelude and Fugue in F Minor, BWV 534: II. Fugue

Composer(s)

Wilhelm Friedemann Bach

Prelude and Fugue in F Minor, BWV 534: II. Fugue

$2.30

Flute Concerto in G Major, TWV 51:G2: I. Andante

Composer(s)

Georg Philipp Telemann

Flute Concerto in G Major, TWV 51:G2: I. Andante

$2.30

Concerto per la Chiesa, TWV Anh. 33:2: I. Fuga

Composer(s)

Georg Philipp Telemann

Concerto per la Chiesa, TWV Anh. 33:2: I. Fuga

$2.30

Concerto per la Chiesa, TWV Anh. 33:2: II. A 2 Tastature

Composer(s)

Georg Philipp Telemann

Concerto per la Chiesa, TWV Anh. 33:2: II. A 2 Tastature

$2.30

Concerto per la Chiesa, TWV Anh. 33:2: III. [Grave]

Composer(s)

Georg Philipp Telemann

Concerto per la Chiesa, TWV Anh. 33:2: III. [Grave]

$2.30

Concerto per la Chiesa, TWV Anh. 33:2: IV. [Allegro]

Composer(s)

Georg Philipp Telemann

Concerto per la Chiesa, TWV Anh. 33:2: IV. [Allegro]

$2.30

Wer nur den lieben Gott lässt walten, BWV 690: I. Choral

Composer(s)

Johann Sebastian Bach

Wer nur den lieben Gott lässt walten, BWV 690: I. Choral

$2.30

Wer nur den lieben Gott lässt walten, BWV 690: II. Variation

Composer(s)

Johann Sebastian Bach

Wer nur den lieben Gott lässt walten, BWV 690: II. Variation

$2.30

Wer nur den lieben Gott lässt walten, BWV 691

Composer(s)

Johann Sebastian Bach

Wer nur den lieben Gott lässt walten, BWV 691

$2.30

Wer nur den lieben Gott lässt walten, BWV 691a

Wer nur den lieben Gott lässt walten, BWV 691a

$2.30

Wer nur den lieben Gott lässt walten, BWV 642

Composer(s)

Johann Sebastian Bach

Wer nur den lieben Gott lässt walten, BWV 642

$2.30

Violin Sonata in G Minor, H.542.5: I. [Allegro]

Composer(s)

Carl Philipp Emanuel Bach

Violin Sonata in G Minor, H.542.5: I. [Allegro]

$2.30

Violin Sonata in G Minor, H.542.5: II. Adagio

Composer(s)

Carl Philipp Emanuel Bach

Violin Sonata in G Minor, H.542.5: II. Adagio

$2.30

Violin Sonata in G Minor, H.542.5: III. Allegro

Composer(s)

Carl Philipp Emanuel Bach

Violin Sonata in G Minor, H.542.5: III. Allegro

$2.30

Fantasia in F Major

Composer(s)

Johann Gottfried Müthel

Fantasia in F Major

$2.30
Total running time: 81 minutes.
Album information

Bart Jacobs highlights the rich sound palette of an extraordinary organ, recorded here for the very first time. 

Heinrich Andreas Contius, originally from Halle in Central Germany, was the leading organ builder in the Baltic lands during the second half of the 18th century; his work was particularly appreciated by J.S. Bach. None of his instruments has survived in its original state, but Joris Potvlieghe (Belgium) and Flentrop Orgelbouw (The Netherlands) began an exact reconstruction of Contius' Liepāja organ to its 1779 state under the management of the Contius Foundation in 2012, using materials and techniques that Contius himself would have employed. The project is unique, as no other instrument by Contius has as yet been reconstructed so meticulously. The organ is characterised by a gentler and more elegant attack that is also somewhat rounder and milder than that of earlier instruments by Gottfried Silbermann and is therefore well suited to the refinements of the galant style. This is the first recording to use the replica of the Contius Liepāja organ in the Sint-Michiel Vredeskerk in Leuven; Bart Jacobs here presents works by composers directly linked to Johann Sebastian Bach as well as to organs built by Heinrich Andreas Contius.
Related Artists
Reviews