Filters
Resound Beethoven Vol. 8: Symphonies 5 & 6 'Pastoral'
Resound Beethoven Vol. 8: Symphonies 5 & 6 'Pastoral'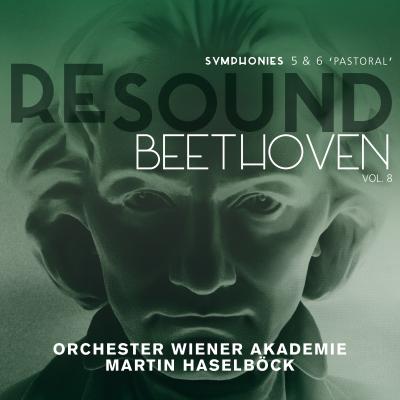 Inlay available for download
Booklet available for download
Symphony No. 5 in C Minor, Op. 67: I. Allegro con brio

Composer(s)

Ludwig Van Beethoven

Artist(s)

Martin Haselböck

Orchester Wiener Akademie

Symphony No. 5 in C Minor, Op. 67: I. Allegro con brio

$3.40

Symphony No. 5 in C Minor, Op. 67: II. Andante con moto

Composer(s)

Ludwig Van Beethoven

Artist(s)

Martin Haselböck

Orchester Wiener Akademie

Symphony No. 5 in C Minor, Op. 67: II. Andante con moto

$3.40

Symphony No. 5 in C Minor, Op. 67: III. Scherzo. Allegro - Trio

Composer(s)

Ludwig Van Beethoven

Artist(s)

Martin Haselböck

Orchester Wiener Akademie

Symphony No. 5 in C Minor, Op. 67: III. Scherzo. Allegro - Trio

$3.40

Symphony No. 5 in C Minor, Op. 67: IV. Allegro

Composer(s)

Ludwig Van Beethoven

Artist(s)

Martin Haselböck

Orchester Wiener Akademie

Symphony No. 5 in C Minor, Op. 67: IV. Allegro

$4.60

Symphony No. 6 in F Major, Op. 68 "Pastoral": I. Erwachen heiterer empfindungen bei der Anfukt auf dem Lande. Allegro ma non troppo

Composer(s)

Ludwig Van Beethoven

Artist(s)

Martin Haselböck

Orchester Wiener Akademie

Symphony No. 6 in F Major, Op. 68 "Pastoral": I. Erwachen heiterer empfindungen bei der Anfukt auf dem Lande. Allegro ma non troppo

$4.60

Symphony No. 6 in F Major, Op. 68 "Pastoral": II. Szene am Bach. Andante molto moto

Composer(s)

Ludwig Van Beethoven

Artist(s)

Martin Haselböck

Orchester Wiener Akademie

Symphony No. 6 in F Major, Op. 68 "Pastoral": II. Szene am Bach. Andante molto moto

$4.60

Symphony No. 6 in F Major, Op. 68 "Pastoral": III. Lustiges zusammensein der Landleute. Allegro

Composer(s)

Ludwig Van Beethoven

Artist(s)

Martin Haselböck

Orchester Wiener Akademie

Symphony No. 6 in F Major, Op. 68 "Pastoral": III. Lustiges zusammensein der Landleute. Allegro

$2.30

Symphony No. 6 in F Major, Op. 68 "Pastoral": IV. Gewitter, Sturm. Allegro

Composer(s)

Ludwig Van Beethoven

Artist(s)

Martin Haselböck

Orchester Wiener Akademie

Symphony No. 6 in F Major, Op. 68 "Pastoral": IV. Gewitter, Sturm. Allegro

$2.30

Symphony No. 6 in F Major, Op. 68 "Pastoral": V. Hirtengesang. Frohe und dankbare gefühle nach dem Sturm. Allegretto

Composer(s)

Ludwig Van Beethoven

Artist(s)

Martin Haselböck

Orchester Wiener Akademie

Symphony No. 6 in F Major, Op. 68 "Pastoral": V. Hirtengesang. Frohe und dankbare gefühle nach dem Sturm. Allegretto

$3.40
Total running time: 80 minutes.
Album information

The Resound Beethoven series from The Orchester Wiener Akademie and conductor Martin Haselböck ends with two emblematic works: Symphonies Nos. 5 and 6.

The series is performed on period instruments and scrupulously respects the orchestral layouts of 200 years ago. Volume 8, the last volume of the series, is devoted to two symphonies, both of which are dedicated jointly to Prince Franz Joseph Maximilian Lobkowitz and Count Andreas Kirillovich Razumovsky. Each of these symphonies has a name attached to it.

While the Fifth Symphony is sometimes called the 'Fate' Symphony for more or less determined reasons, Beethoven himself named the Sixth 'Pastoral', thus pursuing the venerable tradition of the musical pastorale while conferring a new dimension on it.

The Orchester Wiener Akademie recorded these two works in the Landhaus Saal of the Niederösterreich Palais, Beethoven's favourite concert venue. Between 1819 and 1827, all his nine symphonies were performed there at the 'Concerts spirituels' founded by Franz Gebauer, and it was in this same palace that the Austrian Revolution of 1848 began.
Related Artists
Reviews