Filters
Romberg: Violin Concertos
Romberg: Violin Concertos
Artist
Capriccio Barockorchester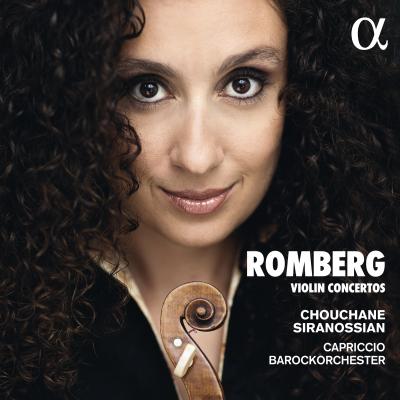 Inlay available for download
Booklet available for download
Concerto No.4 in C Major: I. Allegro

Composer(s)

Andreas Romberg

Artist(s)

Chouchane Siranossian

Capriccio Barockorchester

Concerto No.4 in C Major: I. Allegro

$4.60

Concerto No.4 in C Major: II. Adagio

Composer(s)

Andreas Romberg

Artist(s)

Chouchane Siranossian

Capriccio Barockorchester

Concerto No.4 in C Major: II. Adagio

$2.30

Concerto No.4 in C Major: III. Rondo. Allegretto

Composer(s)

Andreas Romberg

Artist(s)

Chouchane Siranossian

Capriccio Barockorchester

Concerto No.4 in C Major: III. Rondo. Allegretto

$3.40

Concerto No.12 in G Minor: I. Allegro

Composer(s)

Andreas Romberg

Artist(s)

Chouchane Siranossian

Capriccio Barockorchester

Concerto No.12 in G Minor: I. Allegro

$4.60

Concerto No.12 in G Minor: II. Adagio Cantabile

Composer(s)

Andreas Romberg

Artist(s)

Chouchane Siranossian

Capriccio Barockorchester

Concerto No.12 in G Minor: II. Adagio Cantabile

$2.30

Concerto No.12 in G Minor: III. Polonese. Allegretto

Composer(s)

Andreas Romberg

Artist(s)

Chouchane Siranossian

Capriccio Barockorchester

Concerto No.12 in G Minor: III. Polonese. Allegretto

$3.40

Concerto No.9 in A Major: I. Allegro

Composer(s)

Andreas Romberg

Artist(s)

Chouchane Siranossian

Capriccio Barockorchester

Concerto No.9 in A Major: I. Allegro

$4.60

Concerto No.9 in A Major: II. Adagio

Composer(s)

Andreas Romberg

Artist(s)

Chouchane Siranossian

Capriccio Barockorchester

Concerto No.9 in A Major: II. Adagio

$2.30

Concerto No.9 in A Major: III. Rondo. Allegretto

Composer(s)

Andreas Romberg

Artist(s)

Chouchane Siranossian

Capriccio Barockorchester

Concerto No.9 in A Major: III. Rondo. Allegretto

$2.30
Total running time: 73 minutes.

Album information

Violinist Chouchane Siranossian gives the world premiere recording of three concertos by Andreas Romberg, a virtuoso instrumentalist whose life and career shared parallels with those of his contemporary and compatriot, Beethoven.

Born in Lower Saxony just three years before Beethoven, the violinist Andreas Romberg (1767-1821) was, like him, a virtuoso instrumentalist of precocious gifts. His career too was radically affected by the Napoleonic Wars and a formative encounter with Haydn. And, as with Beethoven, his most popular work was a choral setting of a poem by Schiller: Das Lied von der Glocke, premiered in 1809.

Romberg wrote an enormous number of violin concertos, but only sixteen manuscript scores of his entire oeuvre have survived, all of them in Hamburg. Chouchane Siranossian has decided to revive and make the world premiere recording of three concertos, thus revealing an interesting composer and a trio of highly virtuosic works.
Related Artists
Reviews