Filters
Tartini: Violin Concertos
Tartini: Violin Concertos
Artist
Venice Baroque Orchestra
Andrea Marcon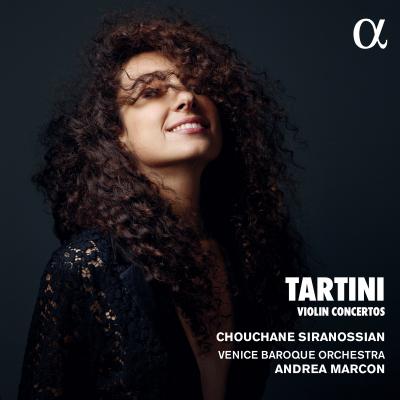 Inlay available for download
Booklet available for download
Violin Concerto in E Minor, D. 56: I. Allegro

Composer(s)

Giuseppe Tartini

Artist(s)

Andrea Marcon

Chouchane Siranossian

Venice Baroque Orchestra

Violin Concerto in E Minor, D. 56: I. Allegro

$2.30

Violin Concerto in E Minor, D. 56: II. Adagio

Composer(s)

Giuseppe Tartini

Artist(s)

Andrea Marcon

Chouchane Siranossian

Venice Baroque Orchestra

Violin Concerto in E Minor, D. 56: II. Adagio

$2.30

Violin Concerto in E Minor, D. 56: III. Allegro

Composer(s)

Giuseppe Tartini

Artist(s)

Andrea Marcon

Chouchane Siranossian

Venice Baroque Orchestra

Violin Concerto in E Minor, D. 56: III. Allegro

$2.30

Violin Concerto in A Major, D. 96: I. Allegro

Composer(s)

Giuseppe Tartini

Artist(s)

Andrea Marcon

Chouchane Siranossian

Venice Baroque Orchestra

Violin Concerto in A Major, D. 96: I. Allegro

$2.30

Violin Concerto in A Major, D. 96: II. Largo andante

Composer(s)

Giuseppe Tartini

Artist(s)

Andrea Marcon

Chouchane Siranossian

Venice Baroque Orchestra

Violin Concerto in A Major, D. 96: II. Largo andante

$2.30

Violin Concerto in A Major, D. 96: III. Presto

Composer(s)

Giuseppe Tartini

Artist(s)

Andrea Marcon

Chouchane Siranossian

Venice Baroque Orchestra

Violin Concerto in A Major, D. 96: III. Presto

$2.30

Violin Concerto in D Minor, D. 45: I. Allegro assai

Composer(s)

Giuseppe Tartini

Artist(s)

Andrea Marcon

Chouchane Siranossian

Venice Baroque Orchestra

Violin Concerto in D Minor, D. 45: I. Allegro assai

$2.30

Violin Concerto in D Minor, D. 45: II. Grave

Composer(s)

Giuseppe Tartini

Artist(s)

Andrea Marcon

Chouchane Siranossian

Venice Baroque Orchestra

Violin Concerto in D Minor, D. 45: II. Grave

$2.30

Violin Concerto in D Minor, D. 45: III. Presto

Composer(s)

Giuseppe Tartini

Artist(s)

Andrea Marcon

Chouchane Siranossian

Venice Baroque Orchestra

Violin Concerto in D Minor, D. 45: III. Presto

$2.30

Concerto in G Major: I. Allegro

Composer(s)

Giuseppe Tartini

Artist(s)

Andrea Marcon

Chouchane Siranossian

Venice Baroque Orchestra

Concerto in G Major: I. Allegro

$2.30

Concerto in G Major : II. Andante

Composer(s)

Giuseppe Tartini

Artist(s)

Andrea Marcon

Chouchane Siranossian

Venice Baroque Orchestra

Concerto in G Major : II. Andante

$2.30

Concerto in G Major: III. Allegretto

Composer(s)

Giuseppe Tartini

Artist(s)

Andrea Marcon

Chouchane Siranossian

Venice Baroque Orchestra

Concerto in G Major: III. Allegretto

$2.30

Concerto in D Minor, D. 44: I. Allegro assai

Composer(s)

Giuseppe Tartini

Artist(s)

Andrea Marcon

Chouchane Siranossian

Venice Baroque Orchestra

Concerto in D Minor, D. 44: I. Allegro assai

$2.30

Concerto in D Minor, D. 44: II. Grave

Composer(s)

Giuseppe Tartini

Artist(s)

Andrea Marcon

Chouchane Siranossian

Venice Baroque Orchestra

Concerto in D Minor, D. 44: II. Grave

$2.30

Concerto in D Minor, D. 44: III. Allegro

Composer(s)

Giuseppe Tartini

Artist(s)

Andrea Marcon

Chouchane Siranossian

Venice Baroque Orchestra

Concerto in D Minor, D. 44: III. Allegro

$2.30
Total running time: 79 minutes.



Album information

Released to coincide with the 250th anniversary of Tartini's death in 2020, this recording includes a completely unknown and unpublished concerto in G major. The recording won the Baroque Instrumental Award at the 2021 ICMAs and the Abbiati del Disco Award 2021.

After several recordings with Anima Eterna and Jos Van Immerseel, the French violinist Chouchane Siranossian tackles a programme of extremely virtuosic concertos that few Baroque violinists dare to face. Thanks to her technical gifts and to partners ideally suited to this repertory – the Venice Baroque Orchestra and its conductor Andrea Marcon, a specialist in the Italian Baroque style – she takes up the challenge with brio.

Special thanks to musicologist Margherita Canale who  found the manuscript of the Concerto in G major.
Related Artists
Reviews