Filters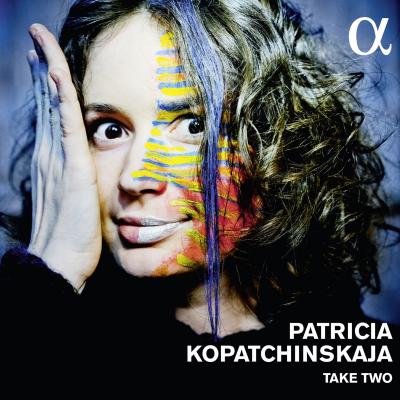 Booklet available for download
Overclockers 5

Composer(s)

Jorge Sanchez-Chiong

Artist(s)

Patricia Kopatchinskaja

Overclockers 5

$2.30

Duo tessuti con diversi solfeggiamenti, scherzi, perfidie, et oblighi: Cu cu

Composer(s)

Giuseppe Giamberti

Artist(s)

Patricia Kopatchinskaja

Reto Bieri

Duo tessuti con diversi solfeggiamenti, scherzi, perfidie, et oblighi: Cu cu

$2.30

Spring Dance (Unsteady)

Composer(s)

Heinz Holliger

Artist(s)

Patricia Kopatchinskaja

Matthias Würsch

Spring Dance (Unsteady)

$2.30

Sonata representativa

Composer(s)

Heinrich Ignaz Franz Biber

Artist(s)

Patricia Kopatchinskaja

Anthony Romaniuk

Sonata representativa

$4.60

The Grasshopper and the Ant, entrée burlesque: Prelude to the Music Theatre Piece "Au contraire"

Artist(s)

Patricia Kopatchinskaja

Reto Bieri

The Grasshopper and the Ant, entrée burlesque: Prelude to the Music Theatre Piece "Au contraire"

$2.30

Winchester Troper: Alleluia

Artist(s)

Patricia Kopatchinskaja

Laurence Dreyfus

Winchester Troper: Alleluia

$2.30

Overclockers 4

Composer(s)

Jorge Sanchez-Chiong

Artist(s)

Patricia Kopatchinskaja

Overclockers 4

$2.30

Six Melodies for Violin and Keyboard: Melody No. 4

Artist(s)

Patricia Kopatchinskaja

Anthony Romaniuk

Six Melodies for Violin and Keyboard: Melody No. 4

$2.30

Suite for Violin, Clarinet and Piano, Op. 157b: III. Jeu (Vif)

Composer(s)

Darius Milhaud

Artist(s)

Patricia Kopatchinskaja

Reto Bieri

Suite for Violin, Clarinet and Piano, Op. 157b: III. Jeu (Vif)

$2.30

Suite populaire espagnole: VI. Jota

Composer(s)

Manuel de Falla

Artist(s)

Patricia Kopatchinskaja

Pablo Márquez

Suite populaire espagnole: VI. Jota

$2.30

Suite populaire espagnole: II. Nana

Composer(s)

Manuel de Falla

Artist(s)

Patricia Kopatchinskaja

Pablo Márquez

Suite populaire espagnole: II. Nana

$2.30

Suite populaire espagnole: IV. Polo

Composer(s)

Manuel de Falla

Artist(s)

Patricia Kopatchinskaja

Pablo Márquez

Suite populaire espagnole: IV. Polo

$2.30

Cuatro fragmentos de luz: Cadenza / Escobilla y soleá for bulería / Cadenza II / Soléa y final (Cascada)

Composer(s)

Mauricio Sotelo

Artist(s)

Patricia Kopatchinskaja

Ernesto Estrella

Cuatro fragmentos de luz: Cadenza / Escobilla y soleá for bulería / Cadenza II / Soléa y final (Cascada)

$3.40

Overclockers 1

Composer(s)

Jorge Sanchez-Chiong

Artist(s)

Patricia Kopatchinskaja

Overclockers 1

$2.30

Overclockers 2

Composer(s)

Jorge Sanchez-Chiong

Artist(s)

Patricia Kopatchinskaja

Overclockers 2

$2.30

6 fantasias a 2: Fantasia VdGS No. 4

Composer(s)

Orlando Gibbons

Artist(s)

Patricia Kopatchinskaja

Laurence Dreyfus

6 fantasias a 2: Fantasia VdGS No. 4

$2.30

Ballade 4: Biaute qui toutes autres pere

Composer(s)

Guillaume de Machaut

Artist(s)

Patricia Kopatchinskaja

Laurence Dreyfus

Ballade 4: Biaute qui toutes autres pere

$2.30

Pièce pour violon et clarinette

Composer(s)

Claude Vivier

Artist(s)

Patricia Kopatchinskaja

Reto Bieri

Pièce pour violon et clarinette

$2.30

Tröpfli-Musig

Composer(s)

Heinz Holliger

Artist(s)

Patricia Kopatchinskaja

Reto Bieri

Tröpfli-Musig

$2.30

Das mit der Stimme

Composer(s)

Otto Matthaüs Zykan

Artist(s)

Patricia Kopatchinskaja

Das mit der Stimme

$2.30

7 études rhythmiques, H. 202: VII. mit Pausen (Allegretto)

Composer(s)

Bohuslav Martinů

Artist(s)

Patricia Kopatchinskaja

Anthony Romaniuk

7 études rhythmiques, H. 202: VII. mit Pausen (Allegretto)

$2.30

The Little Something (A Small Story by Alice)

Composer(s)

Heinz Holliger

Artist(s)

Patricia Kopatchinskaja

The Little Something (A Small Story by Alice)

$2.30

Overclockers 3

Composer(s)

Jorge Sanchez-Chiong

Artist(s)

Patricia Kopatchinskaja

Overclockers 3

$2.30

Partita No. 2 in D Minor, BWV 1004: V. Chaconne (With Harpsichord Improvisation)

Composer(s)

Johann Sebastian Bach

Artist(s)

Patricia Kopatchinskaja

Anthony Romaniuk

Partita No. 2 in D Minor, BWV 1004: V. Chaconne (With Harpsichord Improvisation)

$4.60
Total running time: 76 minutes.
Album information

Duets from a thousand years of musical history for young people from 0-100 years from Patricia Kopatchinskaja and friends.

"Consider everything an experiment. One shouldn't go to the woods looking for something, but rather to see what is there. Wherever we are, what we hear is mostly noise. When we ignore it, it disturbs us. When we listen to it, we find it fascinating". John Cage  

Over the past few years, Patricia Kopatchinskaja has exploded the norms of the classical violin. Her highly personal – even extreme – interpretations of the great classics leave no one indifferent and fascinate the public, which adores her generosity and commitment on the concert platform, her taste for new musical creations and pieces from off the beaten track. Now the barefoot violinist invites us to join her in a unique musical experience that mixes composers of the seventeenth (and even the eleventh!) century with living composers, a clarinettist playing the ocarina, an improvisatory harpsichordist, an electro musician, a toy piano...

Here is Patricia Kopatchinskaja totally at liberty, playing, singing, dialoguing with her musician friends, but also with her daughter Alice, in a CD-book that tells the story of this utterly crazy recording with the help of a rich selection of photos by Marco Borggreve. 'Free imagination, without constraints or rules': the word 'Fantasy' finds its ideal musical illustration with Take Two!
Related Artists
Reviews