Filters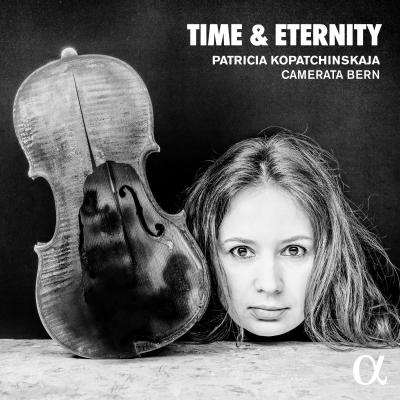 Inlay available for download
Booklet available for download
Kol Nidre

Artist(s)

Patricia Kopatchinskaja

Camerata Bern

Henri Mugier

Kol Nidre

$2.30

Kol Nidre

Artist(s)

Patricia Kopatchinskaja

Camerata Bern

Kol Nidre

$2.30

Elijahu Hanawi

Artist(s)

Patricia Kopatchinskaja

Camerata Bern

Sarah Würsten

Beata Würsten

Elijahu Hanawi

$2.30

Concerto funebre for violin and string orchestra: I. Introduction (Largo)

Composer(s)

Karl Amadeus Hartmann

Artist(s)

Patricia Kopatchinskaja

Camerata Bern

Concerto funebre for violin and string orchestra: I. Introduction (Largo)

$2.30

Concerto funebre for violin and string orchestra: II. Adagio

Composer(s)

Karl Amadeus Hartmann

Artist(s)

Patricia Kopatchinskaja

Camerata Bern

Concerto funebre for violin and string orchestra: II. Adagio

$2.30

Concerto funebre for violin and string orchestra: III. Allegro di molto

Composer(s)

Karl Amadeus Hartmann

Artist(s)

Patricia Kopatchinskaja

Camerata Bern

Concerto funebre for violin and string orchestra: III. Allegro di molto

$3.40

Concerto funebre for violin and string orchestra: IV. Choral

Composer(s)

Karl Amadeus Hartmann

Artist(s)

Patricia Kopatchinskaja

Camerata Bern

Concerto funebre for violin and string orchestra: IV. Choral

$2.30

Unsterbliche Opfer & War Cadenza (improvisation)

Composer(s)

N. N. Ikonnikow

W. G. Archangelski

Artist(s)

Patricia Kopatchinskaja

Camerata Bern

Wieslaw Pipczynski

Unsterbliche Opfer & War Cadenza (improvisation)

$2.30

Boze Ojcze, przebaczenie jest wielkim darem

Artist(s)

Patricia Kopatchinskaja

Camerata Bern

Wojciech Maruszewski

Boze Ojcze, przebaczenie jest wielkim darem

$2.30

Dwa serduszka

Composer(s)

Anonymous

Mira Ziminska

Artist(s)

Patricia Kopatchinskaja

Camerata Bern

Wieslaw Pipczynski

Dwa serduszka

$2.30

Messe de Nostre Dame: Kyrie

Composer(s)

Guillaume de Machaut

Artist(s)

Patricia Kopatchinskaja

Camerata Bern

Messe de Nostre Dame: Kyrie

$2.30

Polyptyque for violin and two small string orchestras: I. Image des Rameaux

Composer(s)

Franck Martin

Artist(s)

Patricia Kopatchinskaja

Camerata Bern

Polyptyque for violin and two small string orchestras: I. Image des Rameaux

$2.30

Johannes-Passion, BWV 245: Choral Ach großer König (transcription for string orchestra)

Composer(s)

Johann Sebastian Bach

Artist(s)

Patricia Kopatchinskaja

Camerata Bern

Johannes-Passion, BWV 245: Choral Ach großer König (transcription for string orchestra)

$2.30

Polyptyque for violin and two small string orchestras: II. Image de la Chambre haute

Composer(s)

Franck Martin

Artist(s)

Patricia Kopatchinskaja

Camerata Bern

Polyptyque for violin and two small string orchestras: II. Image de la Chambre haute

$2.30

Choral Als Jesus Christus in der Nacht, BWV 265 (transcription for string orchestra)

Composer(s)

Johann Sebastian Bach

Artist(s)

Patricia Kopatchinskaja

Camerata Bern

Choral Als Jesus Christus in der Nacht, BWV 265 (transcription for string orchestra)

$2.30

Polyptyque for violin and two small string orchestras: III. Image de Juda

Composer(s)

Franck Martin

Artist(s)

Patricia Kopatchinskaja

Camerata Bern

Polyptyque for violin and two small string orchestras: III. Image de Juda

$2.30

Johannes-Passion, BWV 245: Choral Durch dein Gefängnis (transcription for string orchestra)

Composer(s)

Johann Sebastian Bach

Artist(s)

Patricia Kopatchinskaja

Camerata Bern

Johannes-Passion, BWV 245: Choral Durch dein Gefängnis (transcription for string orchestra)

$2.30

Polyptyque for violin and two small string orchestras: IV. Image de Géthsémané

Composer(s)

Franck Martin

Artist(s)

Patricia Kopatchinskaja

Camerata Bern

Polyptyque for violin and two small string orchestras: IV. Image de Géthsémané

$2.30

Johannes-Passion, BWV 245: Choral Wer hat dich so geschlagen (transcription for string orchestra)

Composer(s)

Johann Sebastian Bach

Artist(s)

Patricia Kopatchinskaja

Camerata Bern

Johannes-Passion, BWV 245: Choral Wer hat dich so geschlagen (transcription for string orchestra)

$2.30

Polyptyque for violin and two small string orchestras: V. Image du Jugement

Composer(s)

Franck Martin

Artist(s)

Patricia Kopatchinskaja

Camerata Bern

Polyptyque for violin and two small string orchestras: V. Image du Jugement

$2.30

Crux for violin, timpani and bells

Artist(s)

Patricia Kopatchinskaja

Camerata Bern

Crux for violin, timpani and bells

$2.30

Polyptyque for violin and two small string orchestras: VI. Image de la Glorification

Composer(s)

Franck Martin

Artist(s)

Patricia Kopatchinskaja

Camerata Bern

Polyptyque for violin and two small string orchestras: VI. Image de la Glorification

$2.30

Christus ist auferstanden

Artist(s)

Patricia Kopatchinskaja

Camerata Bern

Ioan Ciurin

Christus ist auferstanden

$2.30

Johannes-Passion, BWV 245: Choral O große Lieb transcription for string orchestra

Composer(s)

Johann Sebastian Bach

Artist(s)

Patricia Kopatchinskaja

Camerata Bern

Johannes-Passion, BWV 245: Choral O große Lieb transcription for string orchestra

$2.30
Total running time: 76 minutes.





Album information

Always in search of powerful musical experiences, the violinist Patricia Kopatchinskaja and Camerata Bern – of which she has just taken over the artistic direction – together create a memorable album.

Kopatchinskaja juxtaposes Hartmann's Concerto funebre, composed in 1939 to express his indignation at the Nazis' terror, and the Polyptyque for violin and orchestra that Frank Martin wrote in 1973 for Yehudi Menuhin, a work inspired by six scenes from the Passion of Christ painted by Duccio di Buoninsegna around 1310.

The Kyrie from Machaut's Messe de Nostre Dame, composed half a century after the altarpiece and heard here in an arrangement for strings, is interspersed between the movements, along with Bach chorales, 'as an invocation of eternal consolation'. A Polish folksinger interprets the Jewish song 'Eliyahu hanavi', which expresses the hope of salvation and which Hartmann quotes in his concerto. Six hundred years of music to 'make the victims' voices heard', says Patricia Kopatchinskaja. The album opens with Kol Nidrei by John Zorn (born 1953), in response to the eponymous prayer spoken by a representative of the Jewish community. A Catholic priest and an Orthodox priest also say a short prayer.
Related Artists
Reviews