Filters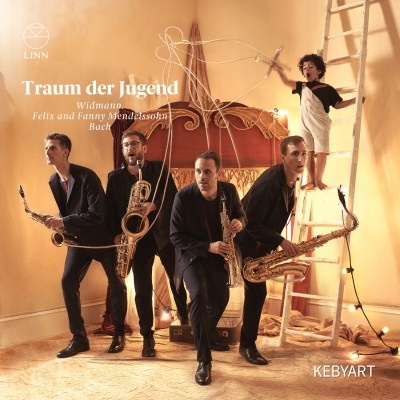 Inlay available for download
Booklet available for download
7 Capricci: I. Ascensió

$2.30

7 Capricci: II. Walzer

$2.30

7 Capricci: III. Noises

$2.30

7 Capricci: IV. Corale 1 a 4 voci

7 Capricci: IV. Corale 1 a 4 voci

$2.30

7 Capricci: V. Keys

$2.30

7 Capricci: VI. Corale 2 a 8 voci

7 Capricci: VI. Corale 2 a 8 voci

$2.30

7 Capricci: VII. Zirkusparade

7 Capricci: VII. Zirkusparade

$2.30

Four Pieces for String Quartet, Op. 81: No. 3, Capriccio

Composer(s)

Felix Mendelssohn

Four Pieces for String Quartet, Op. 81: No. 3, Capriccio

$2.30

Paulus, Op. 36, Pt. 1: Choral. Allein Gott in der Höh sei Ehr

Composer(s)

Felix Mendelssohn

Paulus, Op. 36, Pt. 1: Choral. Allein Gott in der Höh sei Ehr

$2.30

Allein Gott in der Höh sei Ehr, BWV 662

Composer(s)

Johann Sebastian Bach

Allein Gott in der Höh sei Ehr, BWV 662

$2.30

Four Pieces for String Quartet, Op. 81: No. 4, Fuga

Composer(s)

Felix Mendelssohn

Four Pieces for String Quartet, Op. 81: No. 4, Fuga

$2.30

Passacaglia in C Minor, BWV 582

Composer(s)

Johann Sebastian Bach

Passacaglia in C Minor, BWV 582

$3.40

Lied ohne Worte, Op. 30: No. 4, Agitato e con fuoco

Composer(s)

Felix Mendelssohn

Lied ohne Worte, Op. 30: No. 4, Agitato e con fuoco

$2.30

Lied ohne Worte, Op. 67: No. 2, Allegro leggiero

Composer(s)

Felix Mendelssohn

Lied ohne Worte, Op. 67: No. 2, Allegro leggiero

$2.30

Four Lieder for Piano, Op. 6: No. 3, Andante cantabile "O Traum der Jugend, o goldner Stern"

Composer(s)

Fanny Mendelssohn

Four Lieder for Piano, Op. 6: No. 3, Andante cantabile "O Traum der Jugend, o goldner Stern"

$2.30

Four Lieder for Piano, Op. 6: No. 4, Allegro molto "Il Saltarello romano"

Composer(s)

Fanny Mendelssohn

Four Lieder for Piano, Op. 6: No. 4, Allegro molto "Il Saltarello romano"

$2.30
Total running time: 53 minutes.
Album information

With this album, fittingly entitled Traum der Jugend, the young musicians of Kebyart see a longstanding dream come true. 

Drawn by its eagerness to reveal new soundworlds, the saxophone quartet has interwoven works from different epochs and given them a new, unconventional guise through its own arrangements. Taking Jörg Widmann's 7 Capricci as a starting point – a work specially written for the quartet which sparked the idea of this recording – Kebyart draws a myriad of musical connections that journey from Felix Mendelssohn, one of Widmann's favourite composers, to Johann Sebastian Bach, himself a source of inspiration to Mendelssohn. The programme culminates with a tribute to Fanny Mendelssohn, whose skilful compositions played a key role in developing the musical personality of her brother Felix.
Related Artists
Reviews