Filters
The Trumpets That Time Forgot
The Trumpets That Time Forgot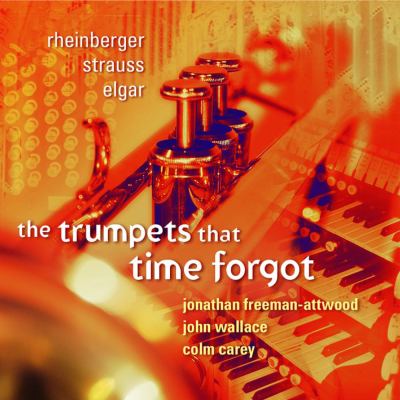 Inlay available for download
Booklet available for download
Suite for two trumpets and organ Op. 149: I. Con moto

Composer(s)

Joseph Rheinberger

Artist(s)

John Wallace, Colm Carey, Jonathan Freeman-Attwood

Jonathan Freeman-Attwood

Suite for two trumpets and organ Op. 149: I. Con moto

$2.70

Suite for two trumpets and organ Op. 149: II. Thema mit Veranderungen

Composer(s)

Joseph Rheinberger

Artist(s)

John Wallace, Colm Carey, Jonathan Freeman-Attwood

Jonathan Freeman-Attwood

Suite for two trumpets and organ Op. 149: II. Thema mit Veranderungen

$2.70

Suite for two trumpets and organ Op. 149: III. Sarabande

Composer(s)

Joseph Rheinberger

Artist(s)

John Wallace, Colm Carey, Jonathan Freeman-Attwood

Jonathan Freeman-Attwood

Suite for two trumpets and organ Op. 149: III. Sarabande

$3.70

Suite for two trumpets and organ Op. 149: IV. Finale

Composer(s)

Joseph Rheinberger

Artist(s)

John Wallace, Colm Carey, Jonathan Freeman-Attwood

Jonathan Freeman-Attwood

Suite for two trumpets and organ Op. 149: IV. Finale

$2.70

Three Movements from the Suite, 'Le Bourgeois Gentilhomme', Op. 60: I. Minuet de Lully

Composer(s)

Richard Strauss

Artist(s)

John Wallace, Colm Carey, Jonathan Freeman-Attwood

Jonathan Freeman-Attwood

Three Movements from the Suite, 'Le Bourgeois Gentilhomme', Op. 60: I. Minuet de Lully

$1.80

Three Movements from the Suite, 'Le Bourgeois Gentilhomme', Op. 60: II. Courante

Composer(s)

Richard Strauss

Artist(s)

John Wallace, Colm Carey, Jonathan Freeman-Attwood

Jonathan Freeman-Attwood

Three Movements from the Suite, 'Le Bourgeois Gentilhomme', Op. 60: II. Courante

$1.80

Three Movements from the Suite, 'Le Bourgeois Gentilhomme', Op. 60: III. Entree de Cleonte

Composer(s)

Richard Strauss

Artist(s)

John Wallace, Colm Carey, Jonathan Freeman-Attwood

Jonathan Freeman-Attwood

Three Movements from the Suite, 'Le Bourgeois Gentilhomme', Op. 60: III. Entree de Cleonte

$1.80

Sonata No. 2, Op. 87a: I. Introduction

Artist(s)

John Wallace, Colm Carey, Jonathan Freeman-Attwood

Jonathan Freeman-Attwood

Sonata No. 2, Op. 87a: I. Introduction

$1.80

Sonata No. 2, Op. 87a: II. Toccata

Artist(s)

John Wallace, Colm Carey, Jonathan Freeman-Attwood

Sonata No. 2, Op. 87a: II. Toccata

$1.80

Sonata No. 2, Op. 87a: III. Fugue

Artist(s)

John Wallace, Colm Carey, Jonathan Freeman-Attwood

Jonathan Freeman-Attwood

Sonata No. 2, Op. 87a: III. Fugue

$1.80

Sonata No. 2, Op. 87a: IV. Coda

Artist(s)

John Wallace, Colm Carey, Jonathan Freeman-Attwood

Jonathan Freeman-Attwood

Sonata No. 2, Op. 87a: IV. Coda

$1.80
Total running time: 59 minutes.
Album information

Outstanding and strikingly idiomatic ensemble music creatively reimagined for two trumpets and organ.

In the expansive acoustic of Hereford Cathedral, these three musicians draw the listener into a late-Romantic world of outstanding and strikingly idiomatic ensemble music. Yet none of these pieces are, in fact, original trumpet and organ works. The transformation from a violin, cello and organ piece – in the case of the Rheinberger Suite – reveals an extraordinary new 19th-century sound world of dazzling dialogues, wide dynamic range and beguiling lyricism. As composers could not imagine the potential of the medium in the decades either side of 1900, The Trumpets That Time Forgot deliberately makes up for 'lost time' and re-establishes the trumpet as a solo protagonist in what is supposed to be barren land for all but the cornet showpiece.

The results bring not merely classical respectability but a stunning aural feast of Gothic splendour and surprising intimacy. The Strauss movements provide a trio of light vignettes between the significant four-movement Rheinberger Suite (a Concerto in all but name) and Elgar's Sonata. In the case of the latter, this version provides a new dimension to a work which Elgar composed originally as the Severn Suite for brass band and reworked as his 2nd Organ Sonata. Here, the two worlds meet in the middle.
Related Artists
Reviews