Filters
Artist
Ensemble Contraste
Karine Deshayes
Pierre Génisson
Déborah Nemtanu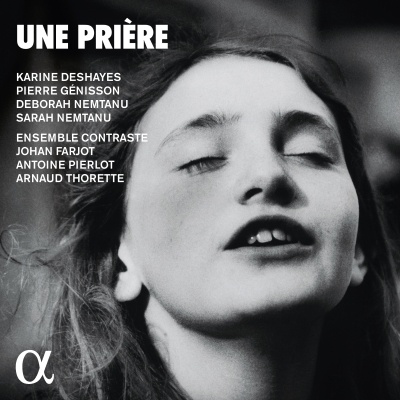 Inlay available for download
Booklet available for download
Suite hébraïque, B. 83: I. Rapsodie

Artist(s)

Ensemble Contraste

Suite hébraïque, B. 83: I. Rapsodie

$3.40

2 Mélodies hébraïque, M.A 22: I. Kaddisch. Lent

Composer(s)

Maurice Ravel

Artist(s)

Ensemble Contraste

2 Mélodies hébraïque, M.A 22: I. Kaddisch. Lent

$2.30

Schindler's List Theme

Composer(s)

John Williams

Artist(s)

Ensemble Contraste

Schindler's List Theme

$2.30

8 Pieces for Clarinet, Viola and Piano, Op. 83: V. Rumänische Melodie (Andante)

Artist(s)

Pierre Génisson

Ensemble Contraste

8 Pieces for Clarinet, Viola and Piano, Op. 83: V. Rumänische Melodie (Andante)

$2.30

Morenica

Artist(s)

Pierre Génisson

Ensemble Contraste

Karine Deshayes

Morenica

$2.30

From Jewish Life, B. 54: I. Prayer

Artist(s)

Ensemble Contraste

From Jewish Life, B. 54: I. Prayer

$2.30

From Jewish Life, B. 54: II. Supplication

Artist(s)

Ensemble Contraste

From Jewish Life, B. 54: II. Supplication

$2.30

From Jewish Life, B. 54: III. Jewish Song

Artist(s)

Ensemble Contraste

From Jewish Life, B. 54: III. Jewish Song

$2.30

From Jewish Folk Poetry, Op. 79: IX. A Good Life

Composer(s)

Dmitri Shostakovich

Artist(s)

Ensemble Contraste

From Jewish Folk Poetry, Op. 79: IX. A Good Life

$2.30

Sholem-Alekhem, Feidman!

Artist(s)

Pierre Génisson

Johan Farjot

Sholem-Alekhem, Feidman!

$2.30

Kol Nidrei, Op. 47

Artist(s)

Ensemble Contraste

Kol Nidrei, Op. 47

$3.40

Overture on Hebrew Themes, Op. 34

Composer(s)

Sergei Prokofiev

Artist(s)

Sarah Nemtanu

Pierre Génisson

Ensemble Contraste

Déborah Nemtanu

Overture on Hebrew Themes, Op. 34

$3.40
Total running time: 60 minutes.
Album information

Ensemble Contraste presents an intense and poignant exploration of Jewish inspiration in classical compositions.

Ernest Bloch's Suite Hébraïque was the starting point for this programme: 'This music came as a revelation to us. Its language is overwhelming and tells of the ravages of the twentieth century ... The other composers in this programme (Ravel, Bloch, Bruch, Prokofiev, Shostakovich) each in their own way experienced the full force of this tormented century and drew inspiration from the most timeless and universal aspects of folk and sacred repertories, the better to respond to the brutality of the age', say violist Arnaud Thorette and pianist Johan Farjot, who devised this programme.

Johan Farjot has also arranged John Williams's famous Schindler's List theme for viola and cello. An intense and poignant experience, also featuring other superb artists: Antoine Pierlot (cello), Pierre Génisson (clarinet), Karine Deshayes (mezzo-soprano), and Sarah and Deborah Nemtanu (violin).
Reviews