Filters
Violin Concertos Collection
Violin Concertos Collection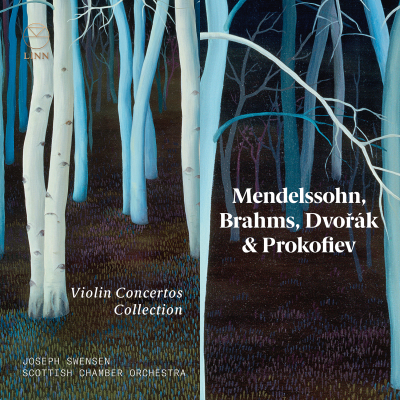 Inlay available for download
Booklet available for download
The Hebrides (Fingal's Cave), Op. 26

Composer(s)

Felix Mendelssohn

Artist(s)

Joseph Swensen

Scottish Chamber Orchestra

The Hebrides (Fingal's Cave), Op. 26

$3.40

Violin Concerto in E Minor, Op. 64: I. Allegro molto appassionato

Composer(s)

Felix Mendelssohn

Artist(s)

Joseph Swensen

Scottish Chamber Orchestra

Violin Concerto in E Minor, Op. 64: I. Allegro molto appassionato

$4.60

Violin Concerto in E Minor, Op. 64: II. Andante – Allegretto non troppo

Composer(s)

Felix Mendelssohn

Artist(s)

Joseph Swensen

Scottish Chamber Orchestra

Violin Concerto in E Minor, Op. 64: II. Andante – Allegretto non troppo

$3.40

Violin Concerto in E Minor, Op. 64: III. Allegro molto vivace

Composer(s)

Felix Mendelssohn

Artist(s)

Joseph Swensen

Scottish Chamber Orchestra

Violin Concerto in E Minor, Op. 64: III. Allegro molto vivace

$2.30

Symphony No. 3 in A Minor 'Scottish', Op. 56: I. Andante con moto – Allegro un poco agitato

Composer(s)

Felix Mendelssohn

Artist(s)

Joseph Swensen

Scottish Chamber Orchestra

Symphony No. 3 in A Minor 'Scottish', Op. 56: I. Andante con moto – Allegro un poco agitato

$4.60

Symphony No. 3 in A Minor 'Scottish', Op. 56: II. Vivace non troppo

Composer(s)

Felix Mendelssohn

Artist(s)

Joseph Swensen

Scottish Chamber Orchestra

Symphony No. 3 in A Minor 'Scottish', Op. 56: II. Vivace non troppo

$2.30

Symphony No. 3 in A Minor 'Scottish', Op. 56: III. Adagio

Composer(s)

Felix Mendelssohn

Artist(s)

Joseph Swensen

Scottish Chamber Orchestra

Symphony No. 3 in A Minor 'Scottish', Op. 56: III. Adagio

$3.40

Symphony No. 3 in A Minor 'Scottish', Op. 56: IV. Allegro vivacissimo – Allegro maestoso assai

Composer(s)

Felix Mendelssohn

Artist(s)

Joseph Swensen

Scottish Chamber Orchestra

Symphony No. 3 in A Minor 'Scottish', Op. 56: IV. Allegro vivacissimo – Allegro maestoso assai

$3.40

Violin Concerto in D Major, Op. 77: I. Allegro non troppo

Composer(s)

Johannes Brahms

Artist(s)

Joseph Swensen

Scottish Chamber Orchestra

Violin Concerto in D Major, Op. 77: I. Allegro non troppo

$8.00

Violin Concerto in D Major, Op. 77: II. Adagio

Composer(s)

Johannes Brahms

Artist(s)

Joseph Swensen

Scottish Chamber Orchestra

Violin Concerto in D Major, Op. 77: II. Adagio

$3.40

Violin Concerto in D Major, Op. 77: III. Allegro giocoso, ma non troppo vivace

Composer(s)

Johannes Brahms

Artist(s)

Joseph Swensen

Scottish Chamber Orchestra

Violin Concerto in D Major, Op. 77: III. Allegro giocoso, ma non troppo vivace

$3.40

Hungarian Dances, WoO1: I. No. 1 in G Minor (Orch. Brahms)

Composer(s)

Johannes Brahms

Artist(s)

Joseph Swensen

Scottish Chamber Orchestra

Hungarian Dances, WoO1: I. No. 1 in G Minor (Orch. Brahms)

$2.30

Hungarian Dances, WoO1: II. No. 8 in A Minor (Orch. Gál)

Composer(s)

Johannes Brahms

Artist(s)

Joseph Swensen

Scottish Chamber Orchestra

Hungarian Dances, WoO1: II. No. 8 in A Minor (Orch. Gál)

$2.30

Hungarian Dances, WoO1: III. No. 19 in B Minor (Orch. Dvořák)

Composer(s)

Johannes Brahms

Artist(s)

Joseph Swensen

Scottish Chamber Orchestra

Hungarian Dances, WoO1: III. No. 19 in B Minor (Orch. Dvořák)

$2.30

Hungarian Dances, WoO1: IV. No. 2 in D Minor (Orch. Hallén)

Composer(s)

Johannes Brahms

Artist(s)

Joseph Swensen

Scottish Chamber Orchestra

Hungarian Dances, WoO1: IV. No. 2 in D Minor (Orch. Hallén)

$2.30

Hungarian Dances, WoO1: V. No. 18 in D Major (Orch. Dvořák)

Composer(s)

Johannes Brahms

Artist(s)

Joseph Swensen

Scottish Chamber Orchestra

Hungarian Dances, WoO1: V. No. 18 in D Major (Orch. Dvořák)

$2.30

Hungarian Dances, WoO1: VI. No. 9 in E Minor (Orch. Gál)

Composer(s)

Johannes Brahms

Artist(s)

Joseph Swensen

Scottish Chamber Orchestra

Hungarian Dances, WoO1: VI. No. 9 in E Minor (Orch. Gál)

$2.30

Hungarian Dances, WoO1: VII. No. 21 in E Minor (Orch. Dvořák)

Composer(s)

Johannes Brahms

Artist(s)

Joseph Swensen

Scottish Chamber Orchestra

Hungarian Dances, WoO1: VII. No. 21 in E Minor (Orch. Dvořák)

$2.30

Hungarian Dances, WoO1: VIII. No. 20 in E Minor (Orch. Dvořák)

Composer(s)

Johannes Brahms

Artist(s)

Joseph Swensen

Scottish Chamber Orchestra

Hungarian Dances, WoO1: VIII. No. 20 in E Minor (Orch. Dvořák)

$2.30

Hungarian Dances, WoO1: IX. No. 3 in F Major (Orch. Brahms)

Composer(s)

Johannes Brahms

Artist(s)

Joseph Swensen

Scottish Chamber Orchestra

Hungarian Dances, WoO1: IX. No. 3 in F Major (Orch. Brahms)

$2.30

Hungarian Dances, WoO1: X. No. 6 in D Major (Orch. Schmeling)

Composer(s)

Johannes Brahms

Artist(s)

Joseph Swensen

Scottish Chamber Orchestra

Hungarian Dances, WoO1: X. No. 6 in D Major (Orch. Schmeling)

$2.30

Hungarian Dances, WoO1: XI. No. 7 in A Major (Orch. Schmeling)

Composer(s)

Johannes Brahms

Artist(s)

Joseph Swensen

Scottish Chamber Orchestra

Hungarian Dances, WoO1: XI. No. 7 in A Major (Orch. Schmeling)

$2.30

Hungarian Dances, WoO1: XII. No. 10 in F Major (Orch. Brahms)

Composer(s)

Johannes Brahms

Artist(s)

Joseph Swensen

Scottish Chamber Orchestra

Hungarian Dances, WoO1: XII. No. 10 in F Major (Orch. Brahms)

$2.30

Hungarian Dances, WoO1: XIII. No. 17 in F Sharp Minor (Orch. Dvořák)

Composer(s)

Johannes Brahms

Artist(s)

Joseph Swensen

Scottish Chamber Orchestra

Hungarian Dances, WoO1: XIII. No. 17 in F Sharp Minor (Orch. Dvořák)

$2.30

Hungarian Dances, WoO1: XIV. No. 5 in G Minor (Orch. Schmeling)

Composer(s)

Johannes Brahms

Artist(s)

Joseph Swensen

Scottish Chamber Orchestra

Hungarian Dances, WoO1: XIV. No. 5 in G Minor (Orch. Schmeling)

$2.30

Violin Concerto in A Minor, Op. 53 (B. 108): I. Allegro ma non troppo

Composer(s)

Antonín Dvořák

Artist(s)

Joseph Swensen

Scottish Chamber Orchestra

Violin Concerto in A Minor, Op. 53 (B. 108): I. Allegro ma non troppo

$3.40

Violin Concerto in A Minor, Op. 53 (B. 108): II. Adagio ma non troppo

Composer(s)

Antonín Dvořák

Artist(s)

Joseph Swensen

Scottish Chamber Orchestra

Violin Concerto in A Minor, Op. 53 (B. 108): II. Adagio ma non troppo

$3.40

Violin Concerto in A Minor, Op. 53 (B. 108): III. Finale: Allegro giocoso, ma non troppo

Composer(s)

Antonín Dvořák

Artist(s)

Joseph Swensen

Scottish Chamber Orchestra

Violin Concerto in A Minor, Op. 53 (B. 108): III. Finale: Allegro giocoso, ma non troppo

$3.40

Czech Suite, Op. 39 (B. 93): I. Preludium (Pastorale): Allegro moderato

Composer(s)

Antonín Dvořák

Artist(s)

Joseph Swensen

Scottish Chamber Orchestra

Czech Suite, Op. 39 (B. 93): I. Preludium (Pastorale): Allegro moderato

$2.30

Czech Suite, Op. 39 (B. 93): II. Polka: Allegretto grazioso

Composer(s)

Antonín Dvořák

Artist(s)

Joseph Swensen

Scottish Chamber Orchestra

Czech Suite, Op. 39 (B. 93): II. Polka: Allegretto grazioso

$2.30

Czech Suite, Op. 39 (B. 93): III. Sousedská (Minuetto): Allegro giusto

Composer(s)

Antonín Dvořák

Artist(s)

Joseph Swensen

Scottish Chamber Orchestra

Czech Suite, Op. 39 (B. 93): III. Sousedská (Minuetto): Allegro giusto

$2.30

Czech Suite, Op. 39 (B. 93): IV. Romanza: Andante con moto

Composer(s)

Antonín Dvořák

Artist(s)

Joseph Swensen

Scottish Chamber Orchestra

Czech Suite, Op. 39 (B. 93): IV. Romanza: Andante con moto

$2.30

Czech Suite, Op. 39 (B. 93): V. Finale (Furiant): Presto

Composer(s)

Antonín Dvořák

Artist(s)

Joseph Swensen

Scottish Chamber Orchestra

Czech Suite, Op. 39 (B. 93): V. Finale (Furiant): Presto

$2.30

Nocturne for String Orchestra in B Major, Op. 40 (B. 47)

Composer(s)

Antonín Dvořák

Artist(s)

Joseph Swensen

Scottish Chamber Orchestra

Nocturne for String Orchestra in B Major, Op. 40 (B. 47)

$3.40

Two Waltzes, Op. 54 (B. 105): I. No. 1 in A Major (Arr. for String Orchestra)

Composer(s)

Antonín Dvořák

Artist(s)

Joseph Swensen

Scottish Chamber Orchestra

Two Waltzes, Op. 54 (B. 105): I. No. 1 in A Major (Arr. for String Orchestra)

$2.30

Symphony No. 1 in D Major 'Classical', Op. 25: I. Allegro

Composer(s)

Sergei Prokofiev

Artist(s)

Joseph Swensen

Scottish Chamber Orchestra

Symphony No. 1 in D Major 'Classical', Op. 25: I. Allegro

$2.30

Symphony No. 1 in D Major 'Classical', Op. 25: II. Larghetto

Composer(s)

Sergei Prokofiev

Artist(s)

Joseph Swensen

Scottish Chamber Orchestra

Symphony No. 1 in D Major 'Classical', Op. 25: II. Larghetto

$2.30

Symphony No. 1 in D Major 'Classical', Op. 25: III. Gavotta: Non troppo allegro

Composer(s)

Sergei Prokofiev

Artist(s)

Joseph Swensen

Scottish Chamber Orchestra

Symphony No. 1 in D Major 'Classical', Op. 25: III. Gavotta: Non troppo allegro

$2.30

Symphony No. 1 in D Major 'Classical', Op. 25: IV. Finale: Molto vivace

Composer(s)

Sergei Prokofiev

Artist(s)

Joseph Swensen

Scottish Chamber Orchestra

Symphony No. 1 in D Major 'Classical', Op. 25: IV. Finale: Molto vivace

$2.30

Violin Concerto No. 2 in G Minor, Op. 63: I. Allegro moderato

Composer(s)

Sergei Prokofiev

Artist(s)

Joseph Swensen

Scottish Chamber Orchestra

Violin Concerto No. 2 in G Minor, Op. 63: I. Allegro moderato

$4.60

Violin Concerto No. 2 in G Minor, Op. 63: II. Andante assai

Composer(s)

Sergei Prokofiev

Artist(s)

Joseph Swensen

Scottish Chamber Orchestra

Violin Concerto No. 2 in G Minor, Op. 63: II. Andante assai

$3.40

Violin Concerto No. 2 in G Minor, Op. 63: III. Allegro ben marcato

Composer(s)

Sergei Prokofiev

Artist(s)

Joseph Swensen

Scottish Chamber Orchestra

Violin Concerto No. 2 in G Minor, Op. 63: III. Allegro ben marcato

$2.30

Five Melodies for Solo Violin and Orchestra (Orch. Joseph Swensen): I. Andante

Composer(s)

Sergei Prokofiev

Artist(s)

Joseph Swensen

Scottish Chamber Orchestra

Five Melodies for Solo Violin and Orchestra (Orch. Joseph Swensen): I. Andante

$2.30

Five Melodies for Solo Violin and Orchestra (Orch. Joseph Swensen): II. Lento, ma non troppo

Composer(s)

Sergei Prokofiev

Artist(s)

Joseph Swensen

Scottish Chamber Orchestra

Five Melodies for Solo Violin and Orchestra (Orch. Joseph Swensen): II. Lento, ma non troppo

$2.30

Five Melodies for Solo Violin and Orchestra (Orch. Joseph Swensen): III. Animato, ma non allegro

Composer(s)

Sergei Prokofiev

Artist(s)

Joseph Swensen

Scottish Chamber Orchestra

Five Melodies for Solo Violin and Orchestra (Orch. Joseph Swensen): III. Animato, ma non allegro

$2.30

Five Melodies for Solo Violin and Orchestra (Orch. Joseph Swensen): IV. Allegretto leggero e scherzando

Composer(s)

Sergei Prokofiev

Artist(s)

Joseph Swensen

Scottish Chamber Orchestra

Five Melodies for Solo Violin and Orchestra (Orch. Joseph Swensen): IV. Allegretto leggero e scherzando

$2.30

Five Melodies for Solo Violin and Orchestra (Orch. Joseph Swensen): V. Andante non troppo

Composer(s)

Sergei Prokofiev

Artist(s)

Joseph Swensen

Scottish Chamber Orchestra

Five Melodies for Solo Violin and Orchestra (Orch. Joseph Swensen): V. Andante non troppo

$2.30
Total running time: 261 minutes.

Album information

Encompassing his first collaboration to his last, this 4 CD collection celebrates Joseph Swensen's tenure as Principal Conductor of the Scottish Chamber Orchestra (1996–2005). 

Swensen combines his role as conductor and soloist in acclaimed recordings of popular concertos by Mendelssohn, Brahms, Dvořák and Prokofiev. Written within a hundred years of each other these concertos not only provide Swensen with the opportunity to display his mastery of formidable technical demands, but also demonstrate each composer's individual expressive and melodic expertise. Swensen's dual role as both conductor and soloist creates a special collaboration with the musicians of the Scottish Chamber Orchestra, who remain acutely attuned to his intentions. In addition they perform a wonderful selection of orchestral music together to complement the concertos: Brahms' Hungarian Dances, Dvořák's Nocturne for string orchestra and Czech Suite, Mendelssohn's Fingal's Cave and 'Scottish' Symphony, plus Prokofiev's Symphony No. 1 and his Five Melodies (orchestrated by Swensen for solo violin and orchestra).
Related Artists
Reviews