Filters
Artist
Münchner Rundfunkorchester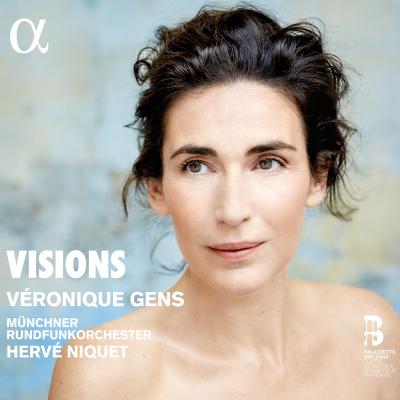 Booklet available for download
Geneviève: Introduction, récitatif et air de Geneviève "Seigneur ! Est-ce bien moi que vous avez choisie ?"

Composer(s)

Alfred Bruneau

Artist(s)

Hervé Niquet

Véronique Gens

Münchner Rundfunkorchester

Geneviève: Introduction, récitatif et air de Geneviève "Seigneur ! Est-ce bien moi que vous avez choisie ?"

$2.30

Les Béatitudes: Mater dolorosa "Moi, du sauveur, je suis la mère"

Artist(s)

Hervé Niquet

Véronique Gens

Münchner Rundfunkorchester

Les Béatitudes: Mater dolorosa "Moi, du sauveur, je suis la mère"

$2.30

Stradella: Récit et air de Léonor "Ah !... Quel songe affreux !"

Composer(s)

Louis Niedermeyer

Artist(s)

Hervé Niquet

Véronique Gens

Münchner Rundfunkorchester

Stradella: Récit et air de Léonor "Ah !... Quel songe affreux !"

$2.30

Les Guelfes, Op. 70: Prélude et air de Jeanne "Là-bas, vers le palais"

Composer(s)

Benjamin Godard

Artist(s)

Hervé Niquet

Véronique Gens

Münchner Rundfunkorchester

Les Guelfes, Op. 70: Prélude et air de Jeanne "Là-bas, vers le palais"

$3.40

Lalla-Roukh: Air de Lalla-Roukh "Sous le feuillage sombre"

Composer(s)

Félicien David

Artist(s)

Hervé Niquet

Véronique Gens

Münchner Rundfunkorchester

Lalla-Roukh: Air de Lalla-Roukh "Sous le feuillage sombre"

$2.30

Gismonda: Air de Gismonda "Dit-elle vrai ?"

Composer(s)

Henry Février

Artist(s)

Hervé Niquet

Véronique Gens

Münchner Rundfunkorchester

Gismonda: Air de Gismonda "Dit-elle vrai ?"

$2.30

Etienne Marcel: Récit et air de Béatrix "Ah ! Laissez-moi, ma mère !"

Composer(s)

Camille Saint-Saëns

Artist(s)

Hervé Niquet

Véronique Gens

Münchner Rundfunkorchester

Etienne Marcel: Récit et air de Béatrix "Ah ! Laissez-moi, ma mère !"

$2.30

La Vierge: Le dernier sommeil de la Vierge

Composer(s)

Jules Massenet

Artist(s)

Hervé Niquet

Münchner Rundfunkorchester

La Vierge: Le dernier sommeil de la Vierge

$2.30

La Vierge: Extase de la Vierge "Rêve infini, divine extase"

Composer(s)

Jules Massenet

Artist(s)

Hervé Niquet

Véronique Gens

Münchner Rundfunkorchester

La Vierge: Extase de la Vierge "Rêve infini, divine extase"

$2.30

La Magicienne: Récit et air de Blanche "Ce sentier nous conduit vers le couvent voisin"

Composer(s)

Fromental Halévy

Artist(s)

Hervé Niquet

Véronique Gens

Münchner Rundfunkorchester

La Magicienne: Récit et air de Blanche "Ce sentier nous conduit vers le couvent voisin"

$2.30

Clovis et Clotilde: Prière de Clotilde "Prière, ô doux souffle de l'ange !"

Composer(s)

Georges Bizet

Artist(s)

Hervé Niquet

Véronique Gens

Münchner Rundfunkorchester

Clovis et Clotilde: Prière de Clotilde "Prière, ô doux souffle de l'ange !"

$2.30

Rédemption: Air de l'Archange "Le flot se lève"

Artist(s)

Hervé Niquet

Véronique Gens

Münchner Rundfunkorchester

Rédemption: Air de l'Archange "Le flot se lève"

$2.30
Total running time: 55 minutes.




Album information

After an album of French songs (Néère) that earned her a Gramophone Award in 2016, Véronique Gens presents her new recital, this time with orchestra. It won the Vocal Recital award at the 2018 International Classical Music Awards.

This album gives her an opportunity to display the maturity of her 'Falcon' soprano, the central tessitura typical of French Romantic opera, which takes its name from Cornélie Falcon, who created the works of Meyerbeer and Halévy staged in the 1830s. She pays tribute here to a number of composers whose unknown operas she was the first to reveal in projects mounted by the Palazzetto Bru Zane (which also coproduced the present recording), including David, Godard, Saint-Saëns and Halévy. The programme selects arias from all the genres in vogue in the Romantic era: opera (Saint-Saëns, Halévy, Godard, Février), opéra-comique (David), oratorio (Franck, Massenet) and the cantata for the Prix de Rome (Bizet, Bruneau).

A nod to Wagner and his Tannhäuser – in its French translation of the 1860s – completes this programme conducted by a longstanding colleague of the soprano, one of the leading specialists in French music, Hervé Niquet.
Related Artists
Reviews