Filters
Vivaldi: L'estro armonico (The Royal Academy of Music Bicentenary Series)
Vivaldi: L'estro armonico (The Royal Academy of Music Bicentenary Series)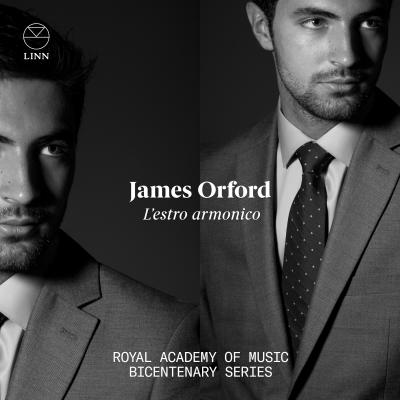 Inlay available for download
Booklet available for download
Concerto No. 9 in D Major, RV 230: I. Allegro

Composer(s)

Antonio Vivaldi

Concerto No. 9 in D Major, RV 230: I. Allegro

$2.30

Concerto No. 9 in D Major, RV 230: II. Larghetto

Composer(s)

Antonio Vivaldi

Concerto No. 9 in D Major, RV 230: II. Larghetto

$2.30

Concerto No. 9 in D Major, RV 230: III. Allegro

Composer(s)

Antonio Vivaldi

Concerto No. 9 in D Major, RV 230: III. Allegro

$2.30

Concerto No. 6 in A Minor, RV 356: I. Allegro

Composer(s)

Antonio Vivaldi

Concerto No. 6 in A Minor, RV 356: I. Allegro

$2.30

Concerto No. 6 in A Minor, RV 356: II. Largo

Composer(s)

Antonio Vivaldi

Concerto No. 6 in A Minor, RV 356: II. Largo

$2.30

Concerto No. 6 in A Minor, RV 356: III. Presto

Composer(s)

Antonio Vivaldi

Concerto No. 6 in A Minor, RV 356: III. Presto

$2.30

Concerto No. 2 in G Minor, RV 578: I. Adagio e spiccato

Composer(s)

Antonio Vivaldi

Concerto No. 2 in G Minor, RV 578: I. Adagio e spiccato

$2.30

Concerto No. 2 in G Minor, RV 578: II. Allegro

Composer(s)

Antonio Vivaldi

Concerto No. 2 in G Minor, RV 578: II. Allegro

$2.30

Concerto No. 2 in G Minor, RV 578: III. Larghetto

Composer(s)

Antonio Vivaldi

Concerto No. 2 in G Minor, RV 578: III. Larghetto

$2.30

Concerto No. 2 in G Minor, RV 578: IV. Allegro

Composer(s)

Antonio Vivaldi

Concerto No. 2 in G Minor, RV 578: IV. Allegro

$2.30

Concerto No. 11 in D Minor, RV 565: I. [Allegro]

Composer(s)

Antonio Vivaldi

Concerto No. 11 in D Minor, RV 565: I. [Allegro]

$2.30

Concerto No. 11 in D Minor, RV 565: II. Grave

Composer(s)

Antonio Vivaldi

Concerto No. 11 in D Minor, RV 565: II. Grave

$2.30

Concerto No. 11 in D Minor, RV 565: III. Largo e spiccato

Composer(s)

Antonio Vivaldi

Concerto No. 11 in D Minor, RV 565: III. Largo e spiccato

$2.30

Concerto No. 11 in D Minor, RV 565: IV. Allegro

Composer(s)

Antonio Vivaldi

Concerto No. 11 in D Minor, RV 565: IV. Allegro

$2.30

Concerto No. 5 in A Major, RV 519: I. Allegro

Composer(s)

Antonio Vivaldi

Concerto No. 5 in A Major, RV 519: I. Allegro

$2.30

Concerto No. 5 in A Major, RV 519: II. Largo

Composer(s)

Antonio Vivaldi

Concerto No. 5 in A Major, RV 519: II. Largo

$2.30

Concerto No. 5 in A Major, RV 519: III. Allegro

Composer(s)

Antonio Vivaldi

Concerto No. 5 in A Major, RV 519: III. Allegro

$2.30

Concerto No. 4 in E Minor, RV 550: I. Andante

Composer(s)

Antonio Vivaldi

Concerto No. 4 in E Minor, RV 550: I. Andante

$2.30

Concerto No. 4 in E Minor, RV 550: II. Allegro assai

Composer(s)

Antonio Vivaldi

Concerto No. 4 in E Minor, RV 550: II. Allegro assai

$2.30

Concerto No. 4 in E Minor, RV 550: III. Adagio

Composer(s)

Antonio Vivaldi

Concerto No. 4 in E Minor, RV 550: III. Adagio

$2.30

Concerto No. 4 in E Minor, RV 550: IV. Allegro

Composer(s)

Antonio Vivaldi

Concerto No. 4 in E Minor, RV 550: IV. Allegro

$2.30

Concerto No. 8 in A Minor, RV 522: I. [Allegro]

Composer(s)

Antonio Vivaldi

Concerto No. 8 in A Minor, RV 522: I. [Allegro]

$2.30

Concerto No. 8 in A Minor, RV 522: II. Adagio

Composer(s)

Antonio Vivaldi

Concerto No. 8 in A Minor, RV 522: II. Adagio

$2.30

Concerto No. 8 in A Minor, RV 522: III. Allegro

Composer(s)

Antonio Vivaldi

Concerto No. 8 in A Minor, RV 522: III. Allegro

$2.30

Concerto No. 7 in F Major, RV 567: I. Andante

Composer(s)

Antonio Vivaldi

Concerto No. 7 in F Major, RV 567: I. Andante

$2.30

Concerto No. 7 in F Major, RV 567: II. Adagio

Composer(s)

Antonio Vivaldi

Concerto No. 7 in F Major, RV 567: II. Adagio

$2.30

Concerto No. 7 in F Major, RV 567: III. Allegro

Composer(s)

Antonio Vivaldi

Concerto No. 7 in F Major, RV 567: III. Allegro

$2.30

Concerto No. 7 in F Major, RV 567: IV. Adagio

Composer(s)

Antonio Vivaldi

Concerto No. 7 in F Major, RV 567: IV. Adagio

$2.30

Concerto No. 7 in F Major, RV 567: V. Allegro

Composer(s)

Antonio Vivaldi

Concerto No. 7 in F Major, RV 567: V. Allegro

$2.30

Concerto No. 3 in G Major, RV 310: I. Allegro

Composer(s)

Antonio Vivaldi

Concerto No. 3 in G Major, RV 310: I. Allegro

$2.30

Concerto No. 3 in G Major, RV 310: II. Largo

Composer(s)

Antonio Vivaldi

Concerto No. 3 in G Major, RV 310: II. Largo

$2.30

Concerto No. 3 in G Major, RV 310: III. Allegro

Composer(s)

Antonio Vivaldi

Concerto No. 3 in G Major, RV 310: III. Allegro

$2.30

Concerto No. 1 in D Major, RV 549: I. Allegro

Composer(s)

Antonio Vivaldi

Concerto No. 1 in D Major, RV 549: I. Allegro

$2.30

Concerto No. 1 in D Major, RV 549: II. Largo e spiccato

Composer(s)

Antonio Vivaldi

Concerto No. 1 in D Major, RV 549: II. Largo e spiccato

$2.30

Concerto No. 1 in D Major, RV 549: III. Allegro

Composer(s)

Antonio Vivaldi

Concerto No. 1 in D Major, RV 549: III. Allegro

$2.30

Concerto No. 10 in B Minor, RV 580: I. Allegro

Composer(s)

Antonio Vivaldi

Concerto No. 10 in B Minor, RV 580: I. Allegro

$2.30

Concerto No. 10 in B Minor, RV 580: II. Largo

Composer(s)

Antonio Vivaldi

Concerto No. 10 in B Minor, RV 580: II. Largo

$2.30

Concerto No. 10 in B Minor, RV 580: III. Larghetto

Composer(s)

Antonio Vivaldi

Concerto No. 10 in B Minor, RV 580: III. Larghetto

$2.30

Concerto No. 10 in B Minor, RV 580: IV. Allegro

Composer(s)

Antonio Vivaldi

Concerto No. 10 in B Minor, RV 580: IV. Allegro

$2.30

Concerto No. 12 in E Major, RV 265: I. Allegro

Composer(s)

Antonio Vivaldi

Concerto No. 12 in E Major, RV 265: I. Allegro

$2.30

Concerto No. 12 in E Major, RV 265: II. Largo

Composer(s)

Antonio Vivaldi

Concerto No. 12 in E Major, RV 265: II. Largo

$2.30

Concerto No. 12 in E Major, RV 265: III. Allegro

Composer(s)

Antonio Vivaldi

Concerto No. 12 in E Major, RV 265: III. Allegro

$2.30
Total running time: 110 minutes.
Album information

In his particularly notable debut recording, organist James continues the series of transcriptions of Vivaldi's L'estro armonico which was left incomplete by its previous author, none other than Johann Sebastian Bach.

James says: 'I had developed a love and admiration for L'estro armonico, and I wanted to be able to play them myself! Not only that, but as Bach demonstrated better than anyone, the Italian concerto form transfers itself very well onto the organ … All these things combined to convince me that I should transcribe all ten concertos, which when added to Bach's two concertos, would complete L'estro armonico for organ. I hope that by doing this, more people might hear the music of Vivaldi and be moved by its exuberance, energy and beauty.'

This recording is part of the Royal Academy of Music Bicentenary Series. In 2021, four exceptional recipients of the Academy's 2019/20 Bicentenary Scholarships scheme - Ariel Lanyi, James Orford Roberts Balanas and Margarita Balanas - will each release a new album ahead of the Royal Academy of Music Bicentenary celebrations in 2022.
Related Artists