Filters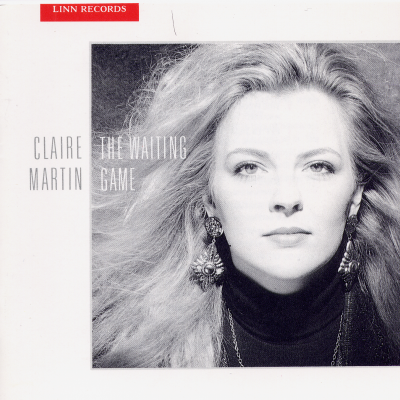 You Hit the Spot

Composer(s)

H Revel, M Gordon

Artist(s)

Claire Martin - vocals, Jim Mullen - guitar, Jonathan Gee - piano, Arnie Somogyi - bass, Clark Tracey - drums

You Hit the Spot

$1.80

Be Cool

Composer(s)

Joni Mitchell

Artist(s)

Claire Martin - vocals, Jim Mullen - guitar, Jonathan Gee - piano, Arnie Somogyi - bass, Clark Tracey - drums

Be Cool

$1.80

This Funny World

Composer(s)

R Rodgers, L Hart

Artist(s)

Claire Martin - vocals, Jim Mullen - guitar, Jonathan Gee - piano, Arnie Somogyi - bass, Clark Tracey - drums

This Funny World

$1.80

Better Than Anything

Composer(s)

D Wheat, W Loughborough

Artist(s)

Claire Martin - vocals, Jim Mullen - guitar, Jonathan Gee - piano, Arnie Somogyi - bass, Clark Tracey - drums

Better Than Anything

$1.80

If You Could See Me Now

Composer(s)

T Dameron/C Sigman

Artist(s)

Claire Martin - vocals, Jim Mullen - guitar, Jonathan Gee - piano, Arnie Somogyi - bass, Clark Tracey - drums

If You Could See Me Now

$1.80

Some Cats Know

Composer(s)

J Lieber, M Stoller

Artist(s)

Claire Martin - vocals, Jim Mullen - guitar, Jonathan Gee - piano, Arnie Somogyi - bass, Clark Tracey - drums

Some Cats Know

$1.80

The Waiting Game

Composer(s)

C Martin, J Gee

Artist(s)

Claire Martin - vocals, Jim Mullen - guitar, Jonathan Gee - piano, Arnie Somogyi - bass, Clark Tracey - drums

The Waiting Game

$1.80

It's Always Four a.m.

Composer(s)

S Cahn, R Anthony

Artist(s)

Claire Martin - vocals, Jim Mullen - guitar, Jonathan Gee - piano, Arnie Somogyi - bass, Clark Tracey - drums

It's Always Four a.m.

$1.80

The People That You Never Get To Love

Composer(s)

Rupert Holmes

Artist(s)

Claire Martin - vocals, Jim Mullen - guitar, Jonathan Gee - piano, Arnie Somogyi - bass, Clark Tracey - drums

The People That You Never Get To Love

$1.80

Tight

Artist(s)

Claire Martin - vocals, Jim Mullen - guitar, Jonathan Gee - piano, Arnie Somogyi - bass, Clark Tracey - drums

Tight

$1.80

Everything Happens To Me

Composer(s)

M Dennis, T Adair

Artist(s)

Claire Martin - vocals, Jim Mullen - guitar, Jonathan Gee - piano, Arnie Somogyi - bass, Clark Tracey - drums

Everything Happens To Me

$1.80

The Key To Your Ferrari

Artist(s)

Claire Martin - vocals, Jim Mullen - guitar, Jonathan Gee - piano, Arnie Somogyi - bass, Clark Tracey - drums

The Key To Your Ferrari

$1.80
Total running time: 46 minutes.
Album information

Claire Martin's debut album was chosen by The Times as one of its 'Records of the Year'. 

Acclaimed as the outstanding new British voice of the decade, Claire Martin achieved instant recognition with her debut album, The Waiting Game. It was among the bestselling jazz albums of 1992 and was chosen as a 'Record of the Year' by The Times and named #6  Critics' Choice for 1992 by The Wire.

The pianist and composer Richard Rodney Bennett, long renowned as a connoisseur of singers, concluded his liner notes for the album with the unabashed exclamation: "This record knocks me out." Tony Bennett was equally enthusiastic when he appeared on the same bill as Claire at the Glasgow International Jazz Festival. 

The Waiting Game sees Claire accompanied by a quartet featuring guitarist Jim Mullen.
Related Artists
Reviews