Filters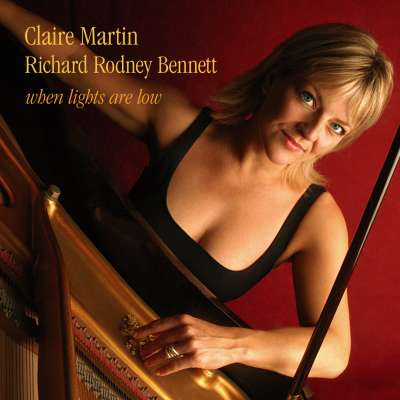 My One And Only

Composer(s)

George Gershwin

Artist(s)

Claire Martin - Vocals, Richard Rodney Bennett - Piano & vocals

My One And Only

$1.80

I Was A Little Too Lonely

Composer(s)

Jay Livingston, Raymond B Evans

Artist(s)

Richard Rodney Bennett - Piano & vocals

I Was A Little Too Lonely

$1.80

My Mood Is You

Artist(s)

Claire Martin - Vocals, Richard Rodney Bennett - Piano

My Mood Is You

$1.80

World Weary

Artist(s)

Richard Rodney Bennett – Piano & vocals

World Weary

$1.80

When Lights Are Low

Composer(s)

Benny Carter, Spencer Williams

Artist(s)

Claire Martin – Vocals, Richard Rodney Bennett – Piano & vocals

When Lights Are Low

$1.80

Fools Fall in Love

Composer(s)

Irving Berlin

Artist(s)

Claire Martin – Vocals, Richard Rodney Bennett – Piano

Fools Fall in Love

$1.80

I Got a Right to Sing the Blues

Composer(s)

Harold Arlen, Ted Koehler

Artist(s)

Claire Martin – Vocals, Richard Rodney Bennett – Piano

I Got a Right to Sing the Blues

$1.80

Baby Plays Around

Composer(s)

Cait O'Riordan, Elvis Costello

Artist(s)

Richard Rodney Bennett – Piano & vocals

Baby Plays Around

$1.80

The Very Thought of You

Artist(s)

Claire Martin – Vocals, Richard Rodney Bennett – Piano

The Very Thought of You

$1.80

What I Was Warned About

Artist(s)

Claire Martin – Vocals, Richard Rodney Bennett – Piano & vocals

What I Was Warned About

$1.80

Baby, Don't You Quit Now

Composer(s)

Jimmy Rowles, Johnny Mercer

Artist(s)

Claire Martin – Vocals, Richard Rodney Bennett – Piano & vocals

Baby, Don't You Quit Now

$1.80

No Love, No Nothing

Composer(s)

Harry Warren, Robin Leo

Artist(s)

Claire Martin – Vocals, Richard Rodney Bennett – Piano & vocals

No Love, No Nothing

$1.80

Not Exactly Paris

Composer(s)

Michael Leonard, Russell E George

Artist(s)

Richard Rodney Bennett – Piano & vocals

Not Exactly Paris

$1.80

Any Place I Hang my Hat is Home

Composer(s)

Johnny Mercer, Harold Arlen

Artist(s)

Claire Martin – Vocals, Richard Rodney Bennett – Piano & vocals

Any Place I Hang my Hat is Home

$1.80

I Keep Going Back to Joe's

Composer(s)

Marvin Fisher, Jack Segal

Artist(s)

Richard Rodney Bennett – Piano & vocals

I Keep Going Back to Joe's

$1.80

We'll Be Together Again

Composer(s)

Carl Fischer, Frankie Laine

Artist(s)

Claire Martin – Vocals, Richard Rodney Bennett – Piano & vocals

We'll Be Together Again

$1.80
Total running time: 52 minutes.
Album information

The eleventh studio album by five-times BBC Jazz Award Winner Claire Martin, on this occasion with pianist, singer and composer Richard Rodney Bennett.

The unstoppable duo of Claire Martin and Sir Richard Rodney Bennett, a partnership polished over two decades, originally released their stylish duo album When Lights Are Low in 2006 to critical acclaim.

It was re-issued in Sir Richard's 75th birthday year to partner their new duo album Witchcraft.

Claire Martin and Richard Rodney Bennett are on top of their game in this smoothly elegant collection of terrific, but not overly-exposed songs. This is an inventive and charming selection of material now getting some deserved attention. The titles reflect the vast knowledge and innate good taste of these artists and the entire album is a treat from start to finish. Fans of this distinguished pair will be thrilled to add this recording to their collection, while those hearing them for the first time will quickly join the great numbers of us who enjoy them so much.
Related Artists
Reviews