Filters
Yoanna Prodanova - The Royal Academy of Music Bicentenary Series
Yoanna Prodanova - The Royal Academy of Music Bicentenary Series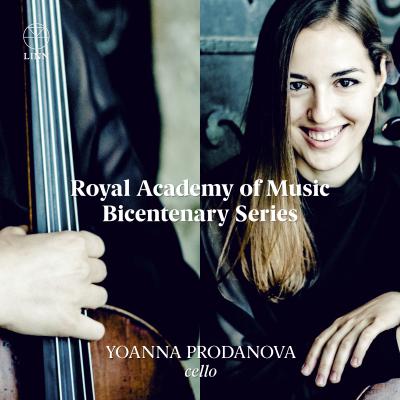 Inlay available for download
Booklet available for download
Pohádka "A Tale": I. Con moto

Artist(s)

Yoanna Prodanova

Mihai Ritivoiu

Pohádka "A Tale": I. Con moto

$2.30

Pohádka "A Tale": II. Con moto

Artist(s)

Yoanna Prodanova

Mihai Ritivoiu

Pohádka "A Tale": II. Con moto

$2.30

Pohádka "A Tale": III. Allegro

Artist(s)

Yoanna Prodanova

Mihai Ritivoiu

Pohádka "A Tale": III. Allegro

$2.30

Romance, Op. 69

Composer(s)

Gabriel Fauré

Artist(s)

Yoanna Prodanova

Mihai Ritivoiu

Romance, Op. 69

$2.30

Élégie, Op. 24

Composer(s)

Gabriel Fauré

Artist(s)

Yoanna Prodanova

Mihai Ritivoiu

Élégie, Op. 24

$2.30

Papillon, Op. 77

Composer(s)

Gabriel Fauré

Artist(s)

Yoanna Prodanova

Mihai Ritivoiu

Papillon, Op. 77

$2.30

Cello Sonata in G Minor, Op. 65: I. Allegro moderato

Composer(s)

Frédéric Chopin

Artist(s)

Yoanna Prodanova

Mihai Ritivoiu

Cello Sonata in G Minor, Op. 65: I. Allegro moderato

$5.75

Cello Sonata in G Minor, Op. 65: II. Scherzo

Composer(s)

Frédéric Chopin

Artist(s)

Yoanna Prodanova

Mihai Ritivoiu

Cello Sonata in G Minor, Op. 65: II. Scherzo

$2.30

Cello Sonata in G Minor, Op. 65: III. Largo

Composer(s)

Frédéric Chopin

Artist(s)

Yoanna Prodanova

Mihai Ritivoiu

Cello Sonata in G Minor, Op. 65: III. Largo

$2.30

Cello Sonata in G Minor, Op. 65: IV. Finale (Allegro)

Composer(s)

Frédéric Chopin

Artist(s)

Yoanna Prodanova

Mihai Ritivoiu

Cello Sonata in G Minor, Op. 65: IV. Finale (Allegro)

$2.30
Total running time: 56 minutes.
Album information

Yoanna Prodanova's recording debut, part of the Royal Academy of Music Bicentenary Series, focuses on music that is of personal significance to the young cellist, and explores the works of three composers of different backgrounds linked by the one common idea: the human voice.

Leoš Janáček spent much of his life deciphering the native Czech speech by listening to people speak and notating their words in music. Among his expansive repertoire we find numerous operas and songs, but he transfers his obsessive use of articulation, speech-like repetition and abrupt silences in his instrumental works as well. In 'Fairy Tale', based on the poem by Vasily Zhukovsky, Janáček explores the intimacy of the cello and piano and like a storyteller uses their voice, from the gentlest range to the mightiest, he tells the story of Tsar Berendyey.

Gabriel Fauré also wrote extensively for the voice, and it is impossible not to compare these three short works to songs. With their colourful miniature worlds, Prodanova treats each one like a short story. Élégie is grave and tragic, while Romance is full of light and hope. Even the fast and palpitating Papillon is abundantly lyrical with poetic phrasing.

Contrary to what one might think, Chopin's biggest love and inspiration was not the piano, but the human voice. That is perhaps why he makes the piano sing like no other. In his G minor sonata, one of the only works he wrote for an instrument other than the piano, he finds a perfect partner in the cello, which he explores to its utmost vocal capacities, from the soaring soprano, to a deep bass. Taking us on a journey from the tragic G minor Allegro maestoso, through a decadent Scherzo and heartfelt Largo, the Finale transforms in its G major coda which culminates in triumph.

Yoanna Prodanova is joined by pianist Mihai Ritivoiu.

The Royal Academy of Music Bicentenary Series also includes debut recordings by Anna Geniushene (piano), Claudia Lucia Lamanna (harp) and Emily Nebel (violin).
Related Artists