Filters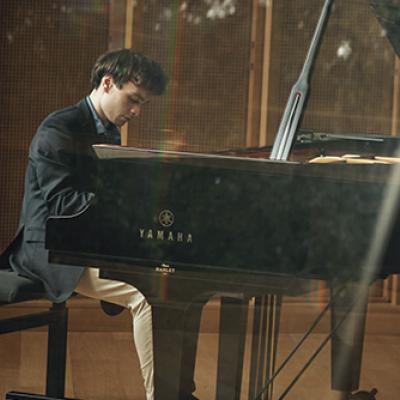 Jonathan Fournel was born in Sarrebourg on 2 October 1993. He won the prestigious Concours Reine Elisabeth in Belgium. In 2021, being awarded the Grand Prix International Reine Elisabeth, the Prix de la Reine Mathilde, the Prix Du Public Musiq3 and the Prix Canvas-Klara.
Biography

Fournel studied at the Saarbrücken Musikhochschule under Robert Leonardy and Jean Micault as well as privately with Gisèle Magnan, whom he still consults. He then studied at the Conservatoire National Supérieur in Paris, where he was taught by Bruno Rigutto, Brigitte Engerer, Claire Désert, and Michel Dalberto; he also studied piano accompaniment there under Reiko Hozu and Jean-Frédéric Neuburger. He won first prize in the Gian Battista Viotti International Piano Competition and in the Scottish International Piano Competition at the age of twenty. He became a resident artist of the Chapelle Musicale Reine Élisabeth de Belgique in 2016 and continued his studies there with Louis Lortie and Avo Kouyoumdjian.

Fournel began to perform in public at the age of ten. He has played at the Lille Piano Festival, in Piano à Lyon, in the Arsenal in Metz, the Salle Cortot in Paris, Stevenson Hall in Glasgow, the Royal Glasgow Concert Hall and the Auditorium Gustav Mahler in Milan; he has appeared in concert with the Orchestre de Chambre de Wallonie, the Orchestre National de Lorraine, the Royal Scottish National Orchestra and the Jiangsu Symphony Orchestra in China under Franck Braley, Stéphane Denève, Jonathon Heyward, Gergely Madaras and Jean-François Verdier.

Fournel takes a lively interest in contemporary music. He gave the first performance of Nicolas Bacri's Sonata no. 3 for Piano and regularly includes works by Rory Boyle, Pierre-Alain Braye-Weppe, Bruno Mantovani, Guillaume Connesson and Thomas Adès in his recital programmes.

He has also performed with Gautier Capuçon, Rémi Delangle, Augustin Dumay, Victor Julien-Laferrière, Christine Lee, Vassilena Serafimova, Gary Hoffman, Miguel Da Silva, Raphael Pidoux, Julien Hervé, the Akilone Quartet, Le Hermès Quartet and the Modigliani Quartet.

Fournel was named the Révélation Classique of 2017 by Adami. He is currently supported by the Fondation Colas, the Fondation Goéland and the Fondation les Allumeurs d'Étoiles.
Reviews