Filters
Brahms: Piano Sonata No. 3 Op. 5 & Handel Variations
Brahms: Piano Sonata No. 3 Op. 5 & Handel Variations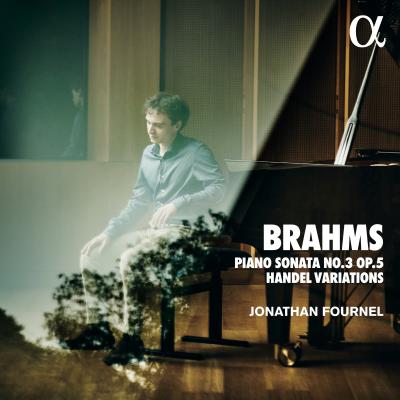 Inlay available for download
Booklet available for download
Piano Sonata No. 3 in F Minor, Op. 5: I. Allegro maestoso

Composer(s)

Johannes Brahms

Artist(s)

Jonathan Fournel

Piano Sonata No. 3 in F Minor, Op. 5: I. Allegro maestoso

$4.60

Piano Sonata No. 3 in F Minor, Op. 5: II. Andante espressivo

Composer(s)

Johannes Brahms

Artist(s)

Jonathan Fournel

Piano Sonata No. 3 in F Minor, Op. 5: II. Andante espressivo

$4.60

Piano Sonata No. 3 in F Minor, Op. 5: III. Scherzo (Allegro energico - Trio)

Composer(s)

Johannes Brahms

Artist(s)

Jonathan Fournel

Piano Sonata No. 3 in F Minor, Op. 5: III. Scherzo (Allegro energico - Trio)

$2.30

Piano Sonata No. 3 in F Minor, Op. 5: IV. Intermezzo (Andante molto)

Composer(s)

Johannes Brahms

Artist(s)

Jonathan Fournel

Piano Sonata No. 3 in F Minor, Op. 5: IV. Intermezzo (Andante molto)

$2.30

Piano Sonata No. 3 in F Minor, Op. 5: V. Finale (Allegro moderato ma rubato)

Composer(s)

Johannes Brahms

Artist(s)

Jonathan Fournel

Piano Sonata No. 3 in F Minor, Op. 5: V. Finale (Allegro moderato ma rubato)

$3.40

Variations and Fugue on a Theme by Handel, Op. 24: No. 1, Aria

Composer(s)

Johannes Brahms

Artist(s)

Jonathan Fournel

Variations and Fugue on a Theme by Handel, Op. 24: No. 1, Aria

$2.30

Variations and Fugue on a Theme by Handel, Op. 24: No. 2, Variation 1

Composer(s)

Johannes Brahms

Artist(s)

Jonathan Fournel

Variations and Fugue on a Theme by Handel, Op. 24: No. 2, Variation 1

$2.30

Variations and Fugue on a Theme by Handel, Op. 24: No. 3, Variation 2 (Animato)

Composer(s)

Johannes Brahms

Artist(s)

Jonathan Fournel

Variations and Fugue on a Theme by Handel, Op. 24: No. 3, Variation 2 (Animato)

$2.30

Variations and Fugue on a Theme by Handel, Op. 24: No. 4, Variation 3 (Dolce)

Composer(s)

Johannes Brahms

Artist(s)

Jonathan Fournel

Variations and Fugue on a Theme by Handel, Op. 24: No. 4, Variation 3 (Dolce)

$2.30

Variations and Fugue on a Theme by Handel, Op. 24: No. 5, Variation 4 (Risoluto)

Composer(s)

Johannes Brahms

Artist(s)

Jonathan Fournel

Variations and Fugue on a Theme by Handel, Op. 24: No. 5, Variation 4 (Risoluto)

$2.30

Variations and Fugue on a Theme by Handel, Op. 24: No. 6, Variation (Espressivo)

Composer(s)

Johannes Brahms

Artist(s)

Jonathan Fournel

Variations and Fugue on a Theme by Handel, Op. 24: No. 6, Variation (Espressivo)

$2.30

Variations and Fugue on a Theme by Handel, Op. 24: No. 7, Variation 6

Composer(s)

Johannes Brahms

Artist(s)

Jonathan Fournel

Variations and Fugue on a Theme by Handel, Op. 24: No. 7, Variation 6

$2.30

Variations and Fugue on a Theme by Handel, Op. 24: No. 8, Variation 7 (Con vivacita)

Composer(s)

Johannes Brahms

Artist(s)

Jonathan Fournel

Variations and Fugue on a Theme by Handel, Op. 24: No. 8, Variation 7 (Con vivacita)

$2.30

Variations and Fugue on a Theme by Handel, Op. 24: No. 9, Variation 8

Composer(s)

Johannes Brahms

Artist(s)

Jonathan Fournel

Variations and Fugue on a Theme by Handel, Op. 24: No. 9, Variation 8

$2.30

Variations and Fugue on a Theme by Handel, Op. 24: No. 10, Variation 9 (Poco sostenuto)

Composer(s)

Johannes Brahms

Artist(s)

Jonathan Fournel

Variations and Fugue on a Theme by Handel, Op. 24: No. 10, Variation 9 (Poco sostenuto)

$2.30

Variations and Fugue on a Theme by Handel, Op. 24: No. 11, Variation 10 (Energico)

Composer(s)

Johannes Brahms

Artist(s)

Jonathan Fournel

Variations and Fugue on a Theme by Handel, Op. 24: No. 11, Variation 10 (Energico)

$2.30

Variations and Fugue on a Theme by Handel, Op. 24: No. 12, Variation 11 (Dolce)

Composer(s)

Johannes Brahms

Artist(s)

Jonathan Fournel

Variations and Fugue on a Theme by Handel, Op. 24: No. 12, Variation 11 (Dolce)

$2.30

Variations and Fugue on a Theme by Handel, Op. 24: No. 13, Variation 12 (Soave)

Composer(s)

Johannes Brahms

Artist(s)

Jonathan Fournel

Variations and Fugue on a Theme by Handel, Op. 24: No. 13, Variation 12 (Soave)

$2.30

Variations and Fugue on a Theme by Handel, Op. 24: No. 14, Variation 13 (Largamente, ma non più)

Composer(s)

Johannes Brahms

Artist(s)

Jonathan Fournel

Variations and Fugue on a Theme by Handel, Op. 24: No. 14, Variation 13 (Largamente, ma non più)

$2.30

Variations and Fugue on a Theme by Handel, Op. 24: No. 15, Variation 14 (Sciolto)

Composer(s)

Johannes Brahms

Artist(s)

Jonathan Fournel

Variations and Fugue on a Theme by Handel, Op. 24: No. 15, Variation 14 (Sciolto)

$2.30

Variations and Fugue on a Theme by Handel, Op. 24: No. 16, Variation 15

Composer(s)

Johannes Brahms

Artist(s)

Jonathan Fournel

Variations and Fugue on a Theme by Handel, Op. 24: No. 16, Variation 15

$2.30

Variations and Fugue on a Theme by Handel, Op. 24: No. 17, Variation 16 (Ma marcato)

Composer(s)

Johannes Brahms

Artist(s)

Jonathan Fournel

Variations and Fugue on a Theme by Handel, Op. 24: No. 17, Variation 16 (Ma marcato)

$2.30

Variations and Fugue on a Theme by Handel, Op. 24: No. 18, Variation 17 (Più mosso)

Composer(s)

Johannes Brahms

Artist(s)

Jonathan Fournel

Variations and Fugue on a Theme by Handel, Op. 24: No. 18, Variation 17 (Più mosso)

$2.30

Variations and Fugue on a Theme by Handel, Op. 24: No. 19, Variation 18 (Grazioso)

Composer(s)

Johannes Brahms

Artist(s)

Jonathan Fournel

Variations and Fugue on a Theme by Handel, Op. 24: No. 19, Variation 18 (Grazioso)

$2.30

Variations and Fugue on a Theme by Handel, Op. 24: No. 20, Variation 19 (Leggiero und vivace)

Composer(s)

Johannes Brahms

Artist(s)

Jonathan Fournel

Variations and Fugue on a Theme by Handel, Op. 24: No. 20, Variation 19 (Leggiero und vivace)

$2.30

Variations and Fugue on a Theme by Handel, Op. 24: No. 21, Variation 20 (Legato)

Composer(s)

Johannes Brahms

Artist(s)

Jonathan Fournel

Variations and Fugue on a Theme by Handel, Op. 24: No. 21, Variation 20 (Legato)

$2.30

Variations and Fugue on a Theme by Handel, Op. 24: No. 22, Variation 21 (Dolce)

Composer(s)

Johannes Brahms

Artist(s)

Jonathan Fournel

Variations and Fugue on a Theme by Handel, Op. 24: No. 22, Variation 21 (Dolce)

$2.30

Variations and Fugue on a Theme by Handel, Op. 24: No. 23, Variation 22

Composer(s)

Johannes Brahms

Artist(s)

Jonathan Fournel

Variations and Fugue on a Theme by Handel, Op. 24: No. 23, Variation 22

$2.30

Variations and Fugue on a Theme by Handel, Op. 24: No. 24, Variation 23 (Vivace e staccato)

Composer(s)

Johannes Brahms

Artist(s)

Jonathan Fournel

Variations and Fugue on a Theme by Handel, Op. 24: No. 24, Variation 23 (Vivace e staccato)

$2.30

Variations and Fugue on a Theme by Handel, Op. 24: No. 25, Variation 24

Composer(s)

Johannes Brahms

Artist(s)

Jonathan Fournel

Variations and Fugue on a Theme by Handel, Op. 24: No. 25, Variation 24

$2.30

Variations and Fugue on a Theme by Handel, Op. 24: No. 26, Variation 25

Composer(s)

Johannes Brahms

Artist(s)

Jonathan Fournel

Variations and Fugue on a Theme by Handel, Op. 24: No. 26, Variation 25

$2.30

Variations and Fugue on a Theme by Handel, Op. 24: No. 27, Fuga

Composer(s)

Johannes Brahms

Artist(s)

Jonathan Fournel

Variations and Fugue on a Theme by Handel, Op. 24: No. 27, Fuga

$2.30
Total running time: 67 minutes.



Album information

Pianist Jonathan Fournel, recent winner of the prestigious Queen Elisabeth Competition 2021 joins Alpha for several recordings, starting with a Brahms programme recorded in the superb acoustics of the Salle de Musique in La Chaux-de-Fonds. 

Jonathan Fournel made his mark at the 2021 Queen Elisabeth Competition where he won not only the Queen Elisabeth Grand Prix, but also the  Queen Mathilde Prize, the Musiq3 Audience Prize and the Canvas-Klara Award. This programme was recorded just before the Competition: 'Over the years, for me Brahms has become a figure I admire so tremendously, a composer I can never tire of. It was fairly obvious to me that I had to make my first recording with these two works that I love so much (…) The rich quality of this music conjures up the profundity and grandeur of a symphony for the piano – and in such an astonishing way.'

The 28-year-old French pianist has been gathering many plaudits for his concerts – in particular for a sensational recital at  La Roque d'Anthéron – and shows all the signs of developing a great career and a highly individual artistic path.
Related Artists
Reviews