Filters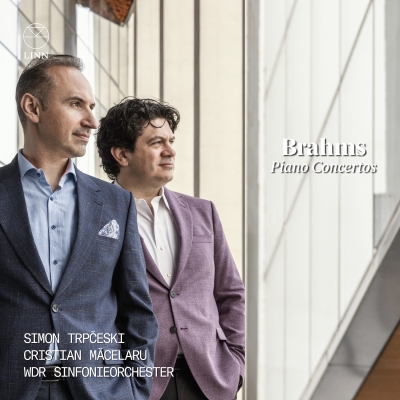 Inlay available for download
Booklet available for download
Piano Concerto No. 1 in D Minor, Op. 15: I. Maestoso

Composer(s)

Johannes Brahms

Artist(s)

Simon Trpčeski

Cristian Măcelaru

WDR Sinfonieorchester

Piano Concerto No. 1 in D Minor, Op. 15: I. Maestoso

$7.00

Piano Concerto No. 1 in D Minor, Op. 15: II. Adagio

Composer(s)

Johannes Brahms

Artist(s)

Simon Trpčeski

Cristian Măcelaru

WDR Sinfonieorchester

Piano Concerto No. 1 in D Minor, Op. 15: II. Adagio

$4.60

Piano Concerto No. 1 in D Minor, Op. 15: III. Rondo. Allegro non troppo

Composer(s)

Johannes Brahms

Artist(s)

Simon Trpčeski

Cristian Măcelaru

WDR Sinfonieorchester

Piano Concerto No. 1 in D Minor, Op. 15: III. Rondo. Allegro non troppo

$4.60

Piano Concerto No. 2 in B-Flat Major, Op. 83: I. Allegro non troppo

Composer(s)

Johannes Brahms

Artist(s)

Simon Trpčeski

Cristian Măcelaru

WDR Sinfonieorchester

Piano Concerto No. 2 in B-Flat Major, Op. 83: I. Allegro non troppo

$5.75

Piano Concerto No. 2 in B-Flat Major, Op. 83: II. Allegro appassionato

Composer(s)

Johannes Brahms

Artist(s)

Simon Trpčeski

Cristian Măcelaru

WDR Sinfonieorchester

Piano Concerto No. 2 in B-Flat Major, Op. 83: II. Allegro appassionato

$3.40

Piano Concerto No. 2 in B-Flat Major, Op. 83: III. Andante

Composer(s)

Johannes Brahms

Artist(s)

Simon Trpčeski

Cristian Măcelaru

WDR Sinfonieorchester

Piano Concerto No. 2 in B-Flat Major, Op. 83: III. Andante

$4.60

Piano Concerto No. 2 in B-Flat Major, Op. 83: IV. Allegretto grazioso

Composer(s)

Johannes Brahms

Artist(s)

Simon Trpčeski

Cristian Măcelaru

WDR Sinfonieorchester

Piano Concerto No. 2 in B-Flat Major, Op. 83: IV. Allegretto grazioso

$3.40
Total running time: 95 minutes.

Album information

This eagerly-awaited new release sees Simon Trpčeski reunite with conductor Cristian Măcelaru to record Brahms Piano Concertos. Their unrivalled chemistry, paramount in Brahms's chamber-like concertos, is on full display in these new performances which puts the two artists' musical affinity in the spotlight.

These two contrasting concertos, one beginning in darkness, the other in light, mark Brahms's major contribution to the genre. With Trpčeski's flawless technique and sensitive playing, pianophiles are in for a treat. Măcelaru's orchestra, WDR Sinfonieorchester, joins the pair to complete the line-up; a perfect companion to their previous album, Shostakovich Piano Concertos, which garnered numerous accolades (BBC Music Magazine Concerto Choice, Le Choix de France Musique, among others).
Related Artists
Reviews