Filters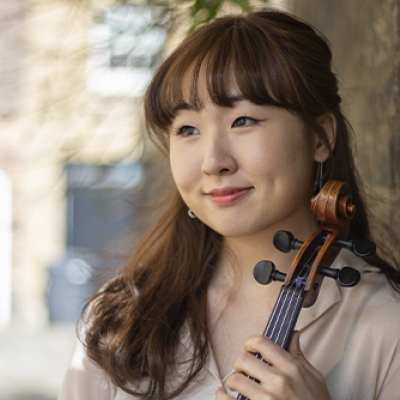 Julie Park is the grand winner of the Royal Academy of Music's 2021 Bicentenary Prize Competition which was held in Wigmore Hall, and the 2020 Sir Karl Jenkins Classical Music Competition – both as the first violist to do so.
Biography

Recently appointed as the Associate Principal Violist of the Auckland Philarmonia Orchestra, Julie Park holds a Bachelor of Music with First Class Honours from the University of Auckland and a Master of Arts with Distinction from the Royal Academy of Music. She was kindly supported by the ABRSM International Postgraduate Scholarship which provided for full tuition and maintenance, and was awarded a DipRAM for gaining full marks in her end of year master's recital. She is currently the first violist to study for an Advanced Diploma at the Royal Academy of Music. She is also an artist with the Talent Unlimited Foundation.

As a concerto soloist, Park has performed with the Baden Baden Philharmonia Orchestra, Auckland Philharmonia Orchestra, UOA Symphony Orchestra, Sainsbury Royal Academy Soloists and Royal Academy of Music String Orchestra under the baton of John Wilson. In June 2021, she performed the world premiere of the Britten Double Concerto arranged for String Orchestra by Colin Matthews with violinist Charlie Lovell-Jones.

Park won the 2016 Viva La Viola competition, APO's Young Soloist of the year, and gained 2nd place in the 2020 International Anton Rubinstein Viola Competition. She has performed and been praised by numerous renowned artists such as Kim Kashkashian, Roberto Diaz, Toby Appel, Hartmut Rohde and Nicola Benedetti.

As a chamber musician Park won several competitions including the Auckland Chamber Music Society Prize Competition at the University of Auckland two years in a row and the 2020 Harold Craxton Piano Prize at the Royal Academy of Music.