Filters
Bowen: Viola Concerto & Phantasy (The Royal Academy of Music Bicentenary Series)
Bowen: Viola Concerto & Phantasy (The Royal Academy of Music Bicentenary Series)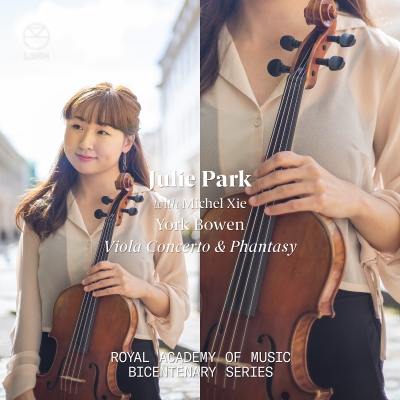 Inlay available for download
Booklet available for download
Viola Concerto in C Minor, Op. 25: I. Allegro assai

Artist(s)

Julie Park

Michel Xie

Viola Concerto in C Minor, Op. 25: I. Allegro assai

$5.50

Viola Concerto in C Minor, Op. 25: II. Andante cantabile

Artist(s)

Julie Park

Michel Xie

Viola Concerto in C Minor, Op. 25: II. Andante cantabile

$4.25

Viola Concerto in C Minor, Op. 25: III. Allegro scherzando

Artist(s)

Julie Park

Michel Xie

Viola Concerto in C Minor, Op. 25: III. Allegro scherzando

$5.50

Phantasy in F Major, Op. 54

Artist(s)

Julie Park

Michel Xie

Phantasy in F Major, Op. 54

$6.75
Total running time: 52 minutes.
Album information

Julie Park, notably the first violist to receive a Royal Academy of Music Bicentenary Scholarship, now makes her debut on Linn with a programme of works by York Bowen. Together with her duo pianist Michel Xie, they perform the Viola Concerto in C minor, Op. 25, and the Phantasy in F major, Op. 54. 

Both dedicated to viola virtuoso Lionel Tertis, these pieces successfully exhibit the compositional developments from the composer's early years to his more mature style. Composed in 1907, the concerto mirrors Bowen's youthfulness and energy, whereas the Phantasy, dated 1918, delves into a deeper, more mature Romanticism. In 2022, four exceptional recipients of the Academy's 2020/21 Bicentenary Scholarships scheme – Julie Park, Camilla Harris, Ossian Huskinson and Charlie Lovell-Jones – will each release a new album to coincide with the Royal Academy of Music Bicentenary celebrations.
Related Artists