Filters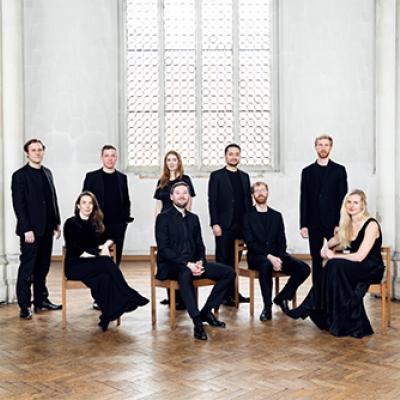 The Marian Consort is a vocal ensemble led by founder and director, Rory McCleery that presents bold and thrilling performances across the UK, Europe and North America.
Biography

The Marian Consort is composed of the very best singers in a flexible, intimate ensemble, allowing clarity of texture and subtlety of interpretation that illuminates the music for performer and audience alike. The group features regularly on BBC Radio 3, and has released eleven recordings to critical acclaim, praised for 'precision and pellucid textures' (The Times).

The Marian Consort performs music from the fifteenth century to the present day, with a focus on bringing to light and championing lesser-known works by composers such as Vicente Lusitano, Raffaella Aleotti and Jean Maillard. New music is of vital importance to TMC, and in recent years it has commissioned Dani Howard, Cheryl Frances-Hoad, Gabriel Jackson, Donna McKevitt and Ben Rowarth. TMC regularly collaborates with ensembles, including the Carducci Quartet, Berkeley Ensemble and Illyria Consort.

The Marian Consort is a pioneer of projects which move beyond the confines of the traditional concert, most notably 'Breaking the Rules', a staged concert-drama based on the life and crimes of Carlo Gesualdo called 'daring and vivid' by The Guardian. Other highlights include a debut at the BBC Proms; performances in the Bascule Chamber underneath London's Tower Bridge; the premiere of Dani Howard's 'Unbound' at Three Choirs Festival; and a Wigmore Hall recital presented in partnership with BBC Radio 3. The Marian Consort will make its debut tour of Japan in 2023.
Reviews