Filters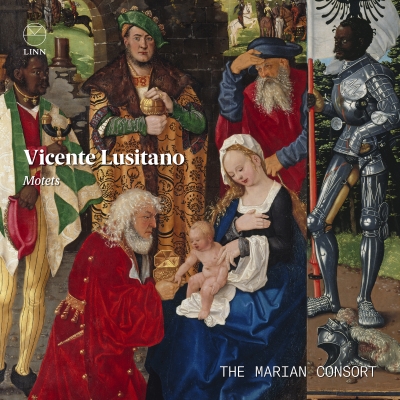 Inlay available for download
Booklet available for download
Praeter rerum seriem

Composer(s)

Vicente Lusitano

Artist(s)

The Marian Consort

Praeter rerum seriem

$3.40

Regina caeli

Composer(s)

Vicente Lusitano

Artist(s)

The Marian Consort

Regina caeli

$2.30

Aspice Domine

Composer(s)

Vicente Lusitano

Artist(s)

The Marian Consort

Aspice Domine

$3.40

Ave spes nostra, Dei genitrix

Composer(s)

Vicente Lusitano

Artist(s)

The Marian Consort

Ave spes nostra, Dei genitrix

$2.30

Salve Regina

Composer(s)

Vicente Lusitano

Artist(s)

The Marian Consort

Salve Regina

$2.30

Heu me, Domine

Composer(s)

Vicente Lusitano

Artist(s)

The Marian Consort

Heu me, Domine

$2.30

Emendemus in melius

Composer(s)

Vicente Lusitano

Artist(s)

The Marian Consort

Emendemus in melius

$3.40

Sancta Maria

Composer(s)

Vicente Lusitano

Artist(s)

The Marian Consort

Sancta Maria

$2.30

Sancta mater, istud agas

Composer(s)

Vicente Lusitano

Artist(s)

The Marian Consort

Sancta mater, istud agas

$2.30

Inviolata, integra et casta es

Composer(s)

Vicente Lusitano

Artist(s)

The Marian Consort

Inviolata, integra et casta es

$4.60
Total running time: 68 minutes.




Album information

Following its digital debut on Linn presenting a triptych of works by Josquin des Prez, Vicente Lusitano and Roderick Williams, The Marian Consort now focuses its attention on the central figure of this trio, the 'Portuguese'. It was shortlisted for a 2023 Gramophone Award.

In his own time an important music theorist, Lusitano's reputation and music have both been neglected in ours. As so often with musical figures of the Renaissance, many of the details of his life remain unknown. We can, however, be reasonably confident that he was the first published composer of African heritage. Referred to as 'pardo' in one eighteenth-century source, his only surviving printed book of compositions, the Liber primus epigramatum, was issued in Rome in 1551. True to its pioneer spirit as 'brilliant discoverers, and exponents, of rare repertoire' (The Observer), The Marian Consort has recorded a carefully chosen programme of these striking and impressive unjustly forgotten works.
Related Artists
Reviews