Filters
Josquin, Lusitano & Williams: Inviolata
Josquin, Lusitano & Williams: Inviolata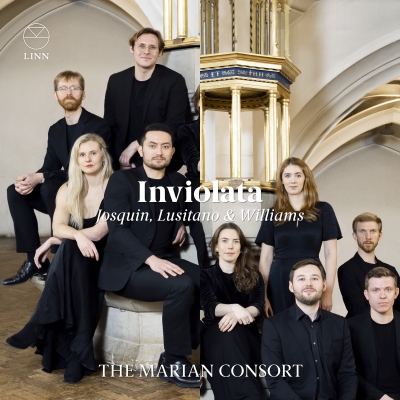 Inlay available for download
Booklet available for download
Inviolata, integra et casta es (I)

Composer(s)

Josquin des Prez

Artist(s)

Rory McCleery

The Marian Consort

Inviolata, integra et casta es (I)

$5.00

Inviolata, integra et casta es (II)

Composer(s)

Vicente Lusitano

Artist(s)

Rory McCleery

The Marian Consort

Inviolata, integra et casta es (II)

$6.00

Inviolata

Composer(s)

Roderick Williams

Artist(s)

Rory McCleery

The Marian Consort

Inviolata

$6.00
Total running time: 30 minutes.
Album information

This triptych of Inviolata settings marks the beginning of The Marian Consort's new relationship with Linn, and serves as something of a mission statement: interrogating the music of the past; reviving important, unjustly forgotten works; and using both as inspiration for new compositions.

At the centre of this digital-only release is the neglected composer and theorist Vicente Lusitano. Much detail of his life remains unknown, but we can say with reasonable confidence that he was the first published composer of African heritage. His 8-voice Inviolata is unmistakeably indebted to the most influential musical figure of the high Renaissance, Josquin des Prez, whose 5-voice setting opens the recording.

Completing the programme, Roderick Williams's Inviolata (after Lusitano) looks backwards – through its quotations of Lusitano, Josquin and Gregorian chant – and forwards, being originally conceived as a sound installation. Co-commissioned by The Marian Consort and Classical Remix, this piece showcases the ensemble's pioneering spirit as 'brilliant discoverers, and exponents, of rare repertoire' (The Observer).
Related Artists
Reviews