Filters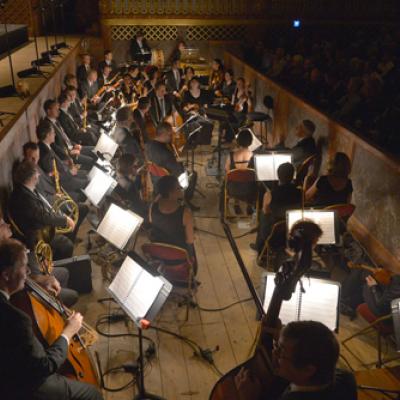 From the very beginning, the orchestra's work has received unanimous praise from the critics.  Over the years, Les Agrémens has played under the direction of Frieder Bernius, Pierre Cao, Françoise Lasserre, Florian Heyerick, Wieland Kuijken, Guy Van Waas, Jean Tubéry, Leonardo García Alarcón, amongst others.
Biography

The ensemble, Les Agrémens, was created in 1995 by The Centre for Vocal Art and Ancient Music (CAV&MA).  Guy Van Waas has been Principal Conductor and artistic director of Les Agrémens since 2001.

The orchestra has played in several opera productions on stage (Le Bourgeois Gentilhomme at the Opéra Royal de Wallonie and the Grand Théâtre de Luxembourg, under the direction of Patrick Cohen-Akenine, and Scarlatti's La Vergine dei Dolori under the direction of Rinaldo Alessandrini at La Monnaie de Bruxelles) and in concert (the opera-ballet Céphale & Procris by Grétry, La Mort d'Abel by Rodolphe Kreutzer, La Vénitienne by Antoine Dauvergne, La Caravane du Caire by Grétry in Liège and Versailles, under the direction de Guy Van Waas and in collaboration with the Centre de Musique Baroque in Versailles and the Palazzetto Bru Zane in Venice).

With Ricercar, Les Agrémens has released recordings of Pachelbel, Bach, Charpentier and Haydn as well as François-Joseph Gossec and André-Modeste Grétry, two Walloon composers who dazzled in Paris at the end of the 18th century.

The orchestra has taken part in several productions of emblematic works by George Frideric Handel (Dixit Dominus, Messiah and Judas Maccabaeus).  Its preferred repertoire spans from the end of the 17th century to Beethoven's symphonies.

Les Agrémens and Guy Van Waas also support young soloists from the European Vocal Department of Imep.

Les Agrémens is funded by the Fédération Wallonie-Bruxelles (department of music and dance), the Belgian National Lottery, and the City and Province of Namur.
Reviews