Filters
Charpentier: Pour un reposoir, Noëls sur les instruments & Sonate à huit
Charpentier: Pour un reposoir, Noëls sur les instruments & Sonate à huit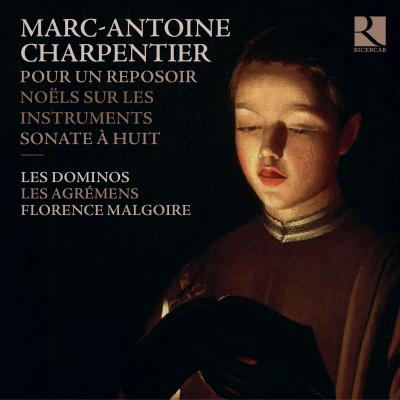 Inlay available for download
Booklet available for download
Pour un reposoir, H. 508: I. Ouverture

Composer(s)

Marc-Antoine Charpentier

Artist(s)

Les Dominos

Les Agrémens

Pour un reposoir, H. 508: I. Ouverture

$2.30

Pour un reposoir, H. 508: II. Tantum ergo

Composer(s)

Marc-Antoine Charpentier

Artist(s)

Les Dominos

Les Agrémens

Pour un reposoir, H. 508: II. Tantum ergo

$2.30

Pour un reposoir, H. 508: III. Tantum ergo (Gregorian)

Composer(s)

Marc-Antoine Charpentier

Artist(s)

Les Dominos

Les Agrémens

Pour un reposoir, H. 508: III. Tantum ergo (Gregorian)

$2.30

Pour un reposoir, H. 508: IV. Fugue

Composer(s)

Marc-Antoine Charpentier

Artist(s)

Les Dominos

Les Agrémens

Pour un reposoir, H. 508: IV. Fugue

$2.30

Pour un reposoir, H. 508: V. Genitori (Gregorian)

Composer(s)

Marc-Antoine Charpentier

Artist(s)

Les Dominos

Les Agrémens

Pour un reposoir, H. 508: V. Genitori (Gregorian)

$2.30

Pour un reposoir, H. 508: VI. Amen

Composer(s)

Marc-Antoine Charpentier

Artist(s)

Les Dominos

Les Agrémens

Pour un reposoir, H. 508: VI. Amen

$2.30

Pour un reposoir, H. 508: VII. Allemande grave

Composer(s)

Marc-Antoine Charpentier

Artist(s)

Les Dominos

Les Agrémens

Pour un reposoir, H. 508: VII. Allemande grave

$2.30

Chantons je vous en prie

Artist(s)

Les Dominos

Les Agrémens

Chantons je vous en prie

$2.30

Noëls sur les instruments, H. 531, 534: Les Bourgeois de Châtre (H. 534/1)

Composer(s)

Marc-Antoine Charpentier

Artist(s)

Les Dominos

Les Agrémens

Noëls sur les instruments, H. 531, 534: Les Bourgeois de Châtre (H. 534/1)

$2.30

Noëls sur les instruments, H. 531, 534: Ô créateur (H. 531/1)

Composer(s)

Marc-Antoine Charpentier

Artist(s)

Les Dominos

Les Agrémens

Noëls sur les instruments, H. 531, 534: Ô créateur (H. 531/1)

$2.30

Noëls sur les instruments, H. 531, 534: Vous qui désirez sans fin (H. 531/3)

Composer(s)

Marc-Antoine Charpentier

Artist(s)

Les Dominos

Les Agrémens

Noëls sur les instruments, H. 531, 534: Vous qui désirez sans fin (H. 531/3)

$2.30

Noëls sur les instruments, H. 531, 534: Laissez paîtres vos bêtes (H. 531/2)

Composer(s)

Marc-Antoine Charpentier

Artist(s)

Les Dominos

Les Agrémens

Noëls sur les instruments, H. 531, 534: Laissez paîtres vos bêtes (H. 531/2)

$2.30

A la venue de Noël

Artist(s)

Les Dominos

Les Agrémens

A la venue de Noël

$2.30

Joseph est bien marié

Artist(s)

Les Dominos

Les Agrémens

Joseph est bien marié

$2.30

Noëls sur les instruments, H. 531, 534: Or nous dites Marie (H. 534/4)

Composer(s)

Marc-Antoine Charpentier

Artist(s)

Les Dominos

Les Agrémens

Noëls sur les instruments, H. 531, 534: Or nous dites Marie (H. 534/4)

$2.30

Noëls sur les instruments, H. 531, 534: Á la venue de Noël (H. 534/5)

Composer(s)

Marc-Antoine Charpentier

Artist(s)

Les Dominos

Les Agrémens

Noëls sur les instruments, H. 531, 534: Á la venue de Noël (H. 534/5)

$2.30

Noëls sur les instruments, H. 531, 534: Une jeune pucelle (H. 534/6)

Composer(s)

Marc-Antoine Charpentier

Artist(s)

Les Dominos

Les Agrémens

Noëls sur les instruments, H. 531, 534: Une jeune pucelle (H. 534/6)

$2.30

Noëls sur les instruments, H. 531, 534: Joseph est bien marié (H. 534/3)

Composer(s)

Marc-Antoine Charpentier

Artist(s)

Les Dominos

Les Agrémens

Noëls sur les instruments, H. 531, 534: Joseph est bien marié (H. 534/3)

$2.30

Noëls sur les instruments, H. 531, 534: Où s'en vont ces gais bergers (H. 534/2)

Composer(s)

Marc-Antoine Charpentier

Artist(s)

Les Dominos

Les Agrémens

Noëls sur les instruments, H. 531, 534: Où s'en vont ces gais bergers (H. 534/2)

$2.30

Une jeune pucelle

Artist(s)

Les Dominos

Les Agrémens

Une jeune pucelle

$2.30

Noëls sur les instruments, H. 531, 534: Les bourgeois de Châtre (H. 534/7)

Composer(s)

Marc-Antoine Charpentier

Artist(s)

Les Dominos

Les Agrémens

Noëls sur les instruments, H. 531, 534: Les bourgeois de Châtre (H. 534/7)

$2.30

Sonate à huit, H. 548: I. Grave

Composer(s)

Marc-Antoine Charpentier

Sonate à huit, H. 548: I. Grave

$2.30

Sonate à huit, H. 548: II. Récit de la viole seule - Sarabande

Composer(s)

Marc-Antoine Charpentier

Sonate à huit, H. 548: II. Récit de la viole seule - Sarabande

$2.30

Sonate à huit, H. 548: III. Récit de la basse de violon - Bourrée

Composer(s)

Marc-Antoine Charpentier

Sonate à huit, H. 548: III. Récit de la basse de violon - Bourrée

$2.30

Sonate à huit, H. 548: IV. Gavotte - Gigue - Passacaille - Chaconne

Composer(s)

Marc-Antoine Charpentier

Sonate à huit, H. 548: IV. Gavotte - Gigue - Passacaille - Chaconne

$3.40
Total running time: 74 minutes.
Album information

Discover the instrumental works of Marc-Antoine Charpentier, which are familiar to very few people; a recording of Christmas music that can be enjoyed throughout the year!

A large number of them were composed for use in churches, the most famous of these being the Messe pour plusieurs instruments au lieu des orgues that has already been recorded by Jean Tubéry and La Fenice for Ricercar. Charpentier composed the Sonate à huit around 1685, at a time when various private musical societies were exploring the Italian sonata style. Charpentier discovered this style at the same time as François Couperin, who also set about composing sonatas in the Italian style. Couperin's sonatas were,recorded splendidly last year by Les Dominos for Ricercar (RIC 330); the recording was praised highly by the musical press, being awarded 5 Diapasons and an FFFF by Telerama. Charpentier's Sonate à huit blends the Italian style with the French suite of dances and as such is one of the masterpieces of instrumental music of the French baroque. The symphonies Pour un Reposoir were intended to accompany an outdoor procession, an organ naturally not being available. The greater part of the CD, however, is taken up by the Noëls pour les Instruments which Charpentier set for instrumental ensemble and organ. Our interpretation of this work is based on the original manuscript and respects the marked instrumentation as well as Charpentier's own specifications for organ registrations. We have also recorded the original versions of the above-mentioned Christmas carols, complete with their many verses as they appeared in French collections published at the beginning of the 18th century. 
Related Artists
Reviews