Filters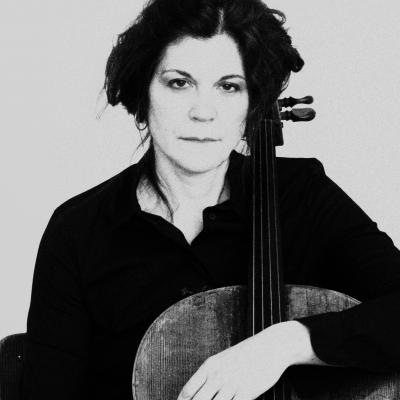 For Sonia Wieder-Atherton, music has always been a laboratory. Her unbounded research has taken her from one repertoire to another, from one discovery to the next. Constantly exploring crisscrossing musical avenues, she unravels the received wisdom in a relentless pursuit of meaning.
Biography

She was born in San Francisco of a mother of Romanian origin and an American father. She grew up in New York and then Paris, where she enrolled at the Conservatoire National Supérieur, studying with Maurice Gendron. She very soon found herself investigating form and sound, already seeking a language that could be a common denominator for all music. At 19 she crossed the Iron Curtain to live in Moscow, where she studied with Natalia Shakhovskaya at the Tchaikovsky Conservatory. Her years there left an indelible mark, for, in addition to receiving a top class education, she took away a special relationship with time, stories and man. Returning to France she has never stopped querying the repertoire. At 25, she won the Rostropovich Competition.

Sonia Wieder-Atherton works as tirelessly as she experiments. She enjoys nothing better than to decipher the language of contemporary composers like Pascal Dusapin, Georges Aperghis, and Wolfgang Rihm, all of whom she has been prompt to champion and who have written for her. Researching the «classical» repertory with equal devotion, her curiosity sets her interpretations apart.
She performs as a soloist under the guidance of numerous conductors, notably : the Paris Orchestra, the French National Orchestra, the Belgian National Orchestra, the Liège Philharmonic, the Israel Philharmonia, the Gulbenkian Orchestra in Lisbon, the Philharmonic Orchestra of Luxembourg, the NDR Orchestra in Hanover, the REMIX Ensemble, Les Siècles, Asko/ Schönberg… and works regularly with musicians like Imogen Cooper and Raphaël Oleg, with whom she records and performs in concert.

In recent years she has instigated a wide range of projects conceived as complete musical and visual experiences : Jewish songs, a cycle for cello and piano inspired by the art of the Hazzan ; Songs of Slavic Lands, for cello and instrumental ensemble, conceived as a journey from Russia to Central Europe ; Vita, for cello solo and three cellos, in which she tells the story of Angioletta-Angel via two timeless geniuses, Monteverdi and Scelsi ; Odyssey for Cello and Imaginary Choir, in which a woman, alone with her cello, accompanied by a soundtrack, faces the elements : wind, waves, chaos, storms ; Little Girl Blue, from Nina Simone. For Sonia Wieder-Atherton, playing Bach, Beethoven, Jewish songs or Nina Simone, is the same movement, asking the same questioning : that of a voice that can never be understood if it is heard in isolation.

Sonia Wieder-Atherton constantly pushes back the boundaries, venturing with her cello into other artistic forms, with projects like From the East in Music, a show designed with footage from Chantal Akerman's film D'Est, and two projects with celebrated actresses : Night Dances, with Charlotte Rampling, featuring works by Benjamin Britten and Sylvia Plath, and Marguerite Duras' Navire Night with Fanny Ardant. Exile, a creation for cello, piano and eight voices. Chantal? An installation, created in 2018 in Paris, in the form of dialogue between the cello and Chantal Akerman in his first film Blow up my City.

In 2011, she received the Bernheim Foundation Award, which each year acknowledges three creative works in the fields of the arts, literature and science. In 2015, she was named Chevalier de l'Ordre des Arts et des Lettres.