Filters
30 Years of New Organ Works (1991-2021)
30 Years of New Organ Works (1991-2021)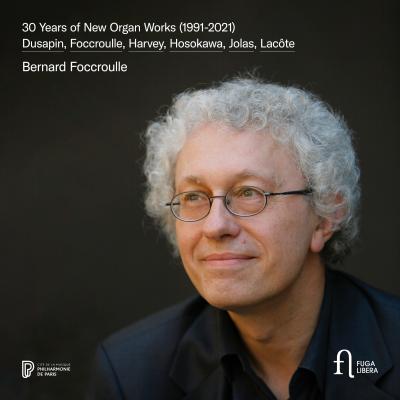 Inlay available for download
Booklet available for download
Elegy for Trisha for Violoncello and Organ

Composer(s)

Bernard Foccroulle

Artist(s)

Bernard Foccroulle

Sonia Wieder-Atherton

Elegy for Trisha for Violoncello and Organ

$5.75

The Fifth Hammer

Composer(s)

Thomas Lacôte

Artist(s)

Bernard Foccroulle

Yoann Tardivel

The Fifth Hammer

$4.60

Musique d'autres jours for Cello and Organ

Artist(s)

Bernard Foccroulle

Sonia Wieder-Atherton

Musique d'autres jours for Cello and Organ

$3.40

Cloudscape

Composer(s)

Toshio Hosokawa

Artist(s)

Bernard Foccroulle

Cloudscape

$3.40

E più corusco il sole

Composer(s)

Bernard Foccroulle

Artist(s)

Bernard Foccroulle

E più corusco il sole

$5.75

Fantasia

Composer(s)

Jonathan Harvey

Artist(s)

Bernard Foccroulle

Fantasia

$3.40

Memory

Composer(s)

Pascal Dusapin

Artist(s)

Bernard Foccroulle

Memory

$4.60
Total running time: 80 minutes.
Album information

Organist Bernard Foccroulle looks back over his previous thirty years of recordings, concerts and premiere creating this snapshot of an incredible career. 

During the years in which Bernard Foccroulle was successively director of the Théâtre de la Monnaie in Brussels and the Festival d'Aix-en-Provence, he never ceased to devote himself to his instrument, the organ, regularly making recordings, giving numerous concerts and several premieres. The compositions on this recording range over that thirty-year cycle, from the 1991 premiere of Jonathan Harvey's Fantasia in Strasbourg to that of Betsy Jolas's Musique d'autres jours, a piece combining organ with cello that was premiered in Paris in February 2021 during the Présences Festival.

His collaboration with the cellist Sonia Wieder-Atherton also resulted in a new composition by Bernard Foccroulle for this organ-cello duo!
Related Artists