Filters
Alma & Gustav Mahler Lieder
Alma & Gustav Mahler Lieder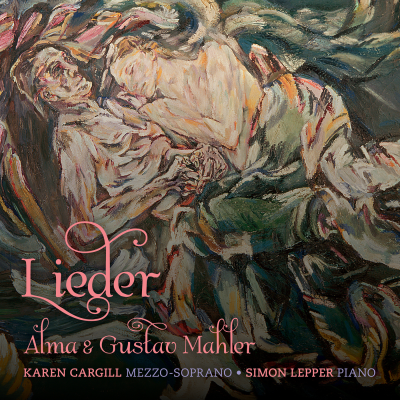 Inlay available for download
Booklet available for download
Funf Lieder: Die stille Stadt

Artist(s)

Karen Cargill

Simon Lepper - piano

Funf Lieder: Die stille Stadt

$2.30

Funf Lieder: In meines Vaters Garten

Artist(s)

Karen Cargill

Simon Lepper - piano

Funf Lieder: In meines Vaters Garten

$2.30

Funf Lieder: Laue Sommernacht

Artist(s)

Karen Cargill

Simon Lepper - piano

Funf Lieder: Laue Sommernacht

$2.30

Funf Lieder: Bei dir ist es traut

Artist(s)

Karen Cargill

Simon Lepper - piano

Funf Lieder: Bei dir ist es traut

$2.30

Funf Lieder: Ich wandle unter Blumen

Artist(s)

Karen Cargill

Simon Lepper - piano

Funf Lieder: Ich wandle unter Blumen

$2.30

Ruckert Lieder: Blicke mir nicht in die Lieder

Composer(s)

Gustav�Mahler

Artist(s)

Karen Cargill

Simon Lepper - piano

Ruckert Lieder: Blicke mir nicht in die Lieder

$2.30

Ruckert Lieder: Ich atmet' einen linden Duft!

Composer(s)

Gustav�Mahler

Artist(s)

Karen Cargill

Simon Lepper - piano

Ruckert Lieder: Ich atmet' einen linden Duft!

$2.30

Ruckert Lieder: Liebst du um Schonheit

Composer(s)

Gustav�Mahler

Artist(s)

Karen Cargill

Simon Lepper - piano

Ruckert Lieder: Liebst du um Schonheit

$2.30

Ruckert Lieder: Um Mitternacht

Composer(s)

Gustav�Mahler

Artist(s)

Karen Cargill

Simon Lepper - piano

Ruckert Lieder: Um Mitternacht

$2.30

Ruckert Lieder: Ich bin der Welt abhanden gekommen

Composer(s)

Gustav�Mahler

Artist(s)

Karen Cargill

Simon Lepper - piano

Ruckert Lieder: Ich bin der Welt abhanden gekommen

$2.30

Lieder eines fahrenden Gesellen: Wenn mein Schatz Hochzeit macht

Composer(s)

Gustav�Mahler

Artist(s)

Karen Cargill

Simon Lepper - piano

Lieder eines fahrenden Gesellen: Wenn mein Schatz Hochzeit macht

$2.30

Lieder eines fahrenden Gesellen: Ging heut morgen uber's Feld

Composer(s)

Gustav�Mahler

Artist(s)

Karen Cargill

Simon Lepper - piano

Lieder eines fahrenden Gesellen: Ging heut morgen uber's Feld

$2.30

Lieder eines fahrenden Gesellen: Ich hab' ein gluhend Messer

Composer(s)

Gustav�Mahler

Artist(s)

Karen Cargill

Simon Lepper - piano

Lieder eines fahrenden Gesellen: Ich hab' ein gluhend Messer

$2.30

Lieder eines fahrenden Gesellen: Die zwei blauen Augen von meinem Schatz

Composer(s)

Gustav�Mahler

Artist(s)

Karen Cargill

Simon Lepper - piano

Lieder eines fahrenden Gesellen: Die zwei blauen Augen von meinem Schatz

$2.30

Symphony No. 2 'Resurrection': IV. Urlicht

Composer(s)

Gustav�Mahler

Artist(s)

Karen Cargill

Simon Lepper - piano

Symphony No. 2 'Resurrection': IV. Urlicht

$2.30
Total running time: 53 minutes.
Album information

Frequently singled out for her phenomenal vocals Scottish mezzo-soprano Karen Cargill brings her exemplary range of vocal colours and rich emotional expression to bear in her debut solo recital.

Seldom paired, the well-known Gustav Mahler lieder follow five of wife Alma's lesser-known, but equally engaging, songs. These personal and highly romantic songs are perfectly complemented by Cargill's poetic sensitivity; her warm and vibrant voice, with the emotional insight borne of opera, is breathtakingly beautiful. Simon Lepper accompanies with sensitivity and flair; an award-winning pianist specialising in vocal accompanying, Lepper is a regular recital partner of Cargill's.

This recording was named #7 in The Herald's 'Top 50 Scottish Albums of 2014' and a Critics' Choice 'Highlight of 2014' by Kate Molleson, also in The Herald.
Related Artists
Reviews