Filters
Alma - Meine Seele. Complete Songs of Alma Mahler
Alma - Meine Seele. Complete Songs of Alma Mahler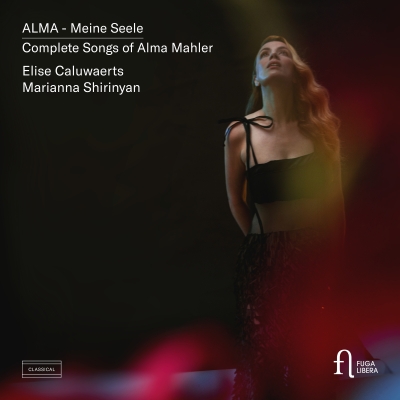 Inlay available for download
Booklet available for download
Leise weht ein erstes Blühn

Artist(s)

Elise Caluwaerts

Marianna Shirinyan

Leise weht ein erstes Blühn

$2.30

Kennst du meine Nächte

Artist(s)

Elise Caluwaerts

Marianna Shirinyan

Kennst du meine Nächte

$2.30

Fünf Lieder: No. 1, Die Stille stadt

Artist(s)

Elise Caluwaerts

Marianna Shirinyan

Fünf Lieder: No. 1, Die Stille stadt

$2.30

Fünf Lieder: No. 2, In meines Vaters Garten

Artist(s)

Elise Caluwaerts

Marianna Shirinyan

Fünf Lieder: No. 2, In meines Vaters Garten

$2.30

Fünf Lieder: No. 3, Laue Sommernacht

Artist(s)

Elise Caluwaerts

Marianna Shirinyan

Fünf Lieder: No. 3, Laue Sommernacht

$2.30

Fünf Lieder: No. 4, Bei dir ist es traut

Artist(s)

Elise Caluwaerts

Marianna Shirinyan

Fünf Lieder: No. 4, Bei dir ist es traut

$2.30

Fünf Lieder: No. 5, Ich wandle unter Blumen

Artist(s)

Elise Caluwaerts

Marianna Shirinyan

Fünf Lieder: No. 5, Ich wandle unter Blumen

$2.30

Einsamer Gang

Artist(s)

Elise Caluwaerts

Marianna Shirinyan

Einsamer Gang

$2.30

Vier Lieder: No. 1, Licht in der Nacht

Artist(s)

Elise Caluwaerts

Marianna Shirinyan

Vier Lieder: No. 1, Licht in der Nacht

$2.30

Vier Lieder: No. 2, Waldseligkeit

Artist(s)

Elise Caluwaerts

Marianna Shirinyan

Vier Lieder: No. 2, Waldseligkeit

$2.30

Vier Lieder: No. 3, Ansturm

Artist(s)

Elise Caluwaerts

Marianna Shirinyan

Vier Lieder: No. 3, Ansturm

$2.30

Vier Lieder: No. 4, Erntelied

Artist(s)

Elise Caluwaerts

Marianna Shirinyan

Vier Lieder: No. 4, Erntelied

$2.30

Fünf Lieder: No. 1, Hymne

Artist(s)

Elise Caluwaerts

Marianna Shirinyan

Fünf Lieder: No. 1, Hymne

$2.30

Fünf Lieder: No. 2, Ekstase

Artist(s)

Elise Caluwaerts

Marianna Shirinyan

Fünf Lieder: No. 2, Ekstase

$2.30

Fünf Lieder: No. 3, Der Erkennende

Artist(s)

Elise Caluwaerts

Marianna Shirinyan

Fünf Lieder: No. 3, Der Erkennende

$2.30

Fünf Lieder: No. 4, Lobgesang

Artist(s)

Elise Caluwaerts

Marianna Shirinyan

Fünf Lieder: No. 4, Lobgesang

$2.30

Fünf Lieder: No. 5, Hymne an die Nacht

Artist(s)

Elise Caluwaerts

Marianna Shirinyan

Fünf Lieder: No. 5, Hymne an die Nacht

$2.30
Total running time: 65 minutes.
Album information

Mostly written in her youth, Alma Mahler's Lieder are rarely performed, yet each one is a musical gem that forms an important part of the Romantic song repertoire. This album is the first recording that includes all 17 of her songs. 

Like her personality, Alma's songs are mysterious, complex and profound and take the listener on a kaleidoscopic voyage where different layers in text and music can simultaneously express blistering religious sentiments, overwhelming eroticism and profound tenderness. With a rich and velvety sound Elise Caluwaerts reveals the full depths of this music: refined details are portrayed with appealing intimacy, exuberant, roller coaster-like chromatic lines are savoured, and text is interpreted with mouth-watering expertise. She is joined on this symbiotic journey by star pianist Marianna Shirinyan who performs on a Steinway from 1899 that exactly mirrors the colourful and warm piano sound that Alma had in mind when composing these beautiful songs.
Related Artists