Filters
Arcadelt: Motetti - Madrigali - Chansons
Arcadelt: Motetti - Madrigali - Chansons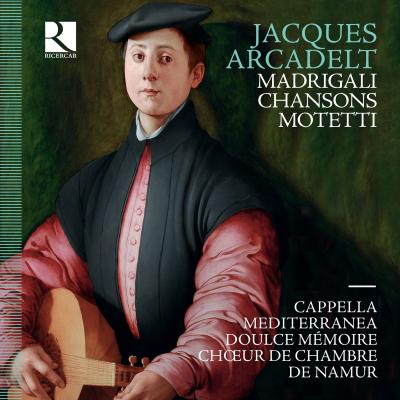 Inlay available for download
Booklet available for download
Salve Regina a 5

Composer(s)

Jacques Arcadelt

Artist(s)

Leonardo García Alarcón

Chœur de Chambre de Namur

Adrià Gracia

Salve Regina a 5

$3.40

O pulcherrima mulierum a 5

Composer(s)

Jacques Arcadelt

Artist(s)

Leonardo García Alarcón

Chœur de Chambre de Namur

Adrià Gracia

O pulcherrima mulierum a 5

$2.30

Domine non secundum a 3, 4 & 5

Composer(s)

Jacques Arcadelt

Artist(s)

Leonardo García Alarcón

Chœur de Chambre de Namur

Adrià Gracia

Domine non secundum a 3, 4 & 5

$2.30

Filiae Jerusalem a 4

Composer(s)

Jacques Arcadelt

Artist(s)

Leonardo García Alarcón

Chœur de Chambre de Namur

Adrià Gracia

Filiae Jerusalem a 4

$2.30

Recordare Domine a 5

Composer(s)

Jacques Arcadelt

Artist(s)

Leonardo García Alarcón

Chœur de Chambre de Namur

Adrià Gracia

Recordare Domine a 5

$2.30

Pater noster a 8

Composer(s)

Jacques Arcadelt

Artist(s)

Leonardo García Alarcón

Chœur de Chambre de Namur

Adrià Gracia

Pater noster a 8

$2.30

Gloriosae virginis Mariae a 5

Composer(s)

Jacques Arcadelt

Artist(s)

Leonardo García Alarcón

Chœur de Chambre de Namur

Adrià Gracia

Gloriosae virginis Mariae a 5

$2.30

Memento salutis auctor a 4

Composer(s)

Jacques Arcadelt

Artist(s)

Leonardo García Alarcón

Chœur de Chambre de Namur

Adrià Gracia

Memento salutis auctor a 4

$2.30

Lamentatio Jeremiae a 5

Composer(s)

Jacques Arcadelt

Artist(s)

Leonardo García Alarcón

Chœur de Chambre de Namur

Adrià Gracia

Lamentatio Jeremiae a 5

$3.40

Agnus Dei (Missa Ave Regina Caelorum) a 5 & 6

Composer(s)

Jacques Arcadelt

Artist(s)

Leonardo García Alarcón

Chœur de Chambre de Namur

Adrià Gracia

Agnus Dei (Missa Ave Regina Caelorum) a 5 & 6

$2.30

Ave Maria (After Arcadelt)

Composer(s)

Pierre-Louis Dietsch

Artist(s)

Leonardo García Alarcón

Chœur de Chambre de Namur

Ave Maria (After Arcadelt)

$2.30

Ave Maria d'Arcadelt

$2.30

Il bianco e dolce cigno

Composer(s)

Jacques Arcadelt

Artist(s)

Leonardo García Alarcón

Cappella Mediterranea

Il bianco e dolce cigno

$2.30

Vostra fui e sarò, mentre ch'io viva

Composer(s)

Jacques Arcadelt

Artist(s)

Leonardo García Alarcón

Cappella Mediterranea

Vostra fui e sarò, mentre ch'io viva

$2.30

Amor, tu sai pur fare

Composer(s)

Jacques Arcadelt

Artist(s)

Leonardo García Alarcón

Cappella Mediterranea

Amor, tu sai pur fare

$2.30

Io son talvolta, Donna, per morire

Composer(s)

Jacques Arcadelt

Artist(s)

Leonardo García Alarcón

Cappella Mediterranea

Io son talvolta, Donna, per morire

$2.30

Non mai sempre fortuna

Composer(s)

Jacques Arcadelt

Artist(s)

Leonardo García Alarcón

Cappella Mediterranea

Non mai sempre fortuna

$2.30

Occhi miei lassi, mentre ch'io vi giro

Composer(s)

Jacques Arcadelt

Artist(s)

Leonardo García Alarcón

Cappella Mediterranea

Occhi miei lassi, mentre ch'io vi giro

$2.30

Mentre gli ardenti rai

Composer(s)

Jacques Arcadelt

Artist(s)

Leonardo García Alarcón

Cappella Mediterranea

Mentre gli ardenti rai

$2.30

Felici amanti, voi che d'amor lieti

Composer(s)

Jacques Arcadelt

Artist(s)

Leonardo García Alarcón

Cappella Mediterranea

Felici amanti, voi che d'amor lieti

$2.30

Io mi pensai che spento fusse 'l foco

Composer(s)

Jacques Arcadelt

Artist(s)

Leonardo García Alarcón

Cappella Mediterranea

Io mi pensai che spento fusse 'l foco

$2.30

Voi mi poneste in foco

Composer(s)

Jacques Arcadelt

Artist(s)

Leonardo García Alarcón

Cappella Mediterranea

Voi mi poneste in foco

$2.30

Tante son le mie pene

Composer(s)

Jacques Arcadelt

Artist(s)

Leonardo García Alarcón

Cappella Mediterranea

Tante son le mie pene

$2.30

Alma, perché sì trist'ogni hor ti duoli

Composer(s)

Jacques Arcadelt

Artist(s)

Leonardo García Alarcón

Cappella Mediterranea

Alma, perché sì trist'ogni hor ti duoli

$2.30

Quando col dolce suono (Instrumental)

Composer(s)

Jacques Arcadelt

Artist(s)

Leonardo García Alarcón

Cappella Mediterranea

Quando col dolce suono (Instrumental)

$2.30

Deh! dimm' Amor se l'alma di costei

Composer(s)

Jacques Arcadelt

Artist(s)

Leonardo García Alarcón

Cappella Mediterranea

Deh! dimm' Amor se l'alma di costei

$2.30

Crudel, acerba, inesorabil Morte

Composer(s)

Jacques Arcadelt

Artist(s)

Leonardo García Alarcón

Cappella Mediterranea

Crudel, acerba, inesorabil Morte

$2.30

Deh fuggite, o mortali

Composer(s)

Jacques Arcadelt

Artist(s)

Leonardo García Alarcón

Cappella Mediterranea

Deh fuggite, o mortali

$2.30

Io non ardisco di levar più gli occhi

Composer(s)

Jacques Arcadelt

Artist(s)

Leonardo García Alarcón

Cappella Mediterranea

Io non ardisco di levar più gli occhi

$2.30

O felici occhi miei, felici voi

Composer(s)

Jacques Arcadelt

Artist(s)

Leonardo García Alarcón

Cappella Mediterranea

O felici occhi miei, felici voi

$2.30

Dolce nimica mia

Composer(s)

Jacques Arcadelt

Artist(s)

Leonardo García Alarcón

Cappella Mediterranea

Dolce nimica mia

$2.30

Ancidetemi pur grievi martiri

Composer(s)

Jacques Arcadelt

Artist(s)

Leonardo García Alarcón

Cappella Mediterranea

Ancidetemi pur grievi martiri

$2.30

Hor che 'l cielo et la terra

Composer(s)

Jacques Arcadelt

Artist(s)

Leonardo García Alarcón

Cappella Mediterranea

Hor che 'l cielo et la terra

$2.30

Ahime, dov'è'l bel viso

Composer(s)

Jacques Arcadelt

Artist(s)

Leonardo García Alarcón

Cappella Mediterranea

Ahime, dov'è'l bel viso

$2.30

Amorosetto fiore

Composer(s)

Jacques Arcadelt

Artist(s)

Leonardo García Alarcón

Cappella Mediterranea

Amorosetto fiore

$2.30

Les yeux qui me sçeurent prendre

Composer(s)

Jacques Arcadelt

Artist(s)

Denis Raisin Dadre

Doulce Mémoire

Les yeux qui me sçeurent prendre

$2.30

Tout au rebours

Composer(s)

Jacques Arcadelt

Artist(s)

Denis Raisin Dadre

Doulce Mémoire

Tout au rebours

$2.30

Vous n'aurez plus mes yeux la jouissance

Composer(s)

Jacques Arcadelt

Artist(s)

Denis Raisin Dadre

Doulce Mémoire

Vous n'aurez plus mes yeux la jouissance

$2.30

Extrême amour est entre moy et elle

Composer(s)

Jacques Arcadelt

Artist(s)

Denis Raisin Dadre

Doulce Mémoire

Extrême amour est entre moy et elle

$2.30

Si la beaulté de ma dame

Composer(s)

Jacques Arcadelt

Artist(s)

Denis Raisin Dadre

Doulce Mémoire

Si la beaulté de ma dame

$2.30

De mes ennuys

Composer(s)

Jacques Arcadelt

Artist(s)

Denis Raisin Dadre

Doulce Mémoire

De mes ennuys

$2.30

De mes ennuys (Instrumental)

Composer(s)

Jacques Arcadelt

Artist(s)

Denis Raisin Dadre

Doulce Mémoire

De mes ennuys (Instrumental)

$2.30

Nous boirons du vin clairet

Composer(s)

Jacques Arcadelt

Artist(s)

Denis Raisin Dadre

Doulce Mémoire

Nous boirons du vin clairet

$2.30

Franc berger

Composer(s)

Jacques Arcadelt

Artist(s)

Denis Raisin Dadre

Doulce Mémoire

Franc berger

$2.30

Quand je me trouve auprès de ma maitresse (I)

Composer(s)

Jacques Arcadelt

Artist(s)

Denis Raisin Dadre

Doulce Mémoire

Quand je me trouve auprès de ma maitresse (I)

$2.30

Quand je me trouve auprès de ma maitresse (II)

Composer(s)

Jacques Arcadelt

Artist(s)

Denis Raisin Dadre

Doulce Mémoire

Quand je me trouve auprès de ma maitresse (II)

$2.30

Il me prend fantasie

Composer(s)

Jacques Arcadelt

Artist(s)

Denis Raisin Dadre

Doulce Mémoire

Il me prend fantasie

$2.30

Amour se plaint de ton forfait (Instrumental)

Composer(s)

Jacques Arcadelt

Artist(s)

Denis Raisin Dadre

Doulce Mémoire

Amour se plaint de ton forfait (Instrumental)

$2.30

Margot labourez les vignes

Composer(s)

Jacques Arcadelt

Artist(s)

Denis Raisin Dadre

Doulce Mémoire

Margot labourez les vignes

$2.30

La Diane que je sers

Composer(s)

Jacques Arcadelt

Artist(s)

Denis Raisin Dadre

Doulce Mémoire

La Diane que je sers

$2.30

Entendez vous point vostre amy

Composer(s)

Jacques Arcadelt

Artist(s)

Denis Raisin Dadre

Doulce Mémoire

Entendez vous point vostre amy

$2.30

Laissés la verde couleur

Composer(s)

Jacques Arcadelt

Artist(s)

Denis Raisin Dadre

Doulce Mémoire

Laissés la verde couleur

$2.30

J'ay acquis un serviteur - Celle que j'estime tant

Composer(s)

Jacques Arcadelt

Artist(s)

Denis Raisin Dadre

Doulce Mémoire

J'ay acquis un serviteur - Celle que j'estime tant

$2.30

O le grand bien

Composer(s)

Jacques Arcadelt

Artist(s)

Denis Raisin Dadre

Doulce Mémoire

O le grand bien

$2.30

Nous voyons que les hommes

Composer(s)

Jacques Arcadelt

Artist(s)

Denis Raisin Dadre

Doulce Mémoire

Nous voyons que les hommes

$2.30

Du temps que j'estois amoureux (Instrumental)

Composer(s)

Jacques Arcadelt

Artist(s)

Denis Raisin Dadre

Doulce Mémoire

Du temps que j'estois amoureux (Instrumental)

$2.30

Contentez vous, heureuses violettes

Composer(s)

Jacques Arcadelt

Artist(s)

Denis Raisin Dadre

Doulce Mémoire

Contentez vous, heureuses violettes

$2.30

Vous n'aurez plus mes yeux la jouissance (Instrumental)

Composer(s)

Jacques Arcadelt

Artist(s)

Denis Raisin Dadre

Doulce Mémoire

Vous n'aurez plus mes yeux la jouissance (Instrumental)

$2.30

Hélas amy

Composer(s)

Jacques Arcadelt

Artist(s)

Denis Raisin Dadre

Doulce Mémoire

Hélas amy

$2.30

Ancidetemi pur

Composer(s)

Giovanni Maria Trabaci

Artist(s)

Angélique Mauillon

Ancidetemi pur

$2.30
Total running time: 187 minutes.
Album information

The composer Jacques Arcadelt was in the service of the Medici, the papacy and the kings of France; he could hardly have had a more impressive career, but he does not yet have the recognition that he deserves.

Although named in every history of music as an important composer and as one of the creators of the Italian madrigal, principally known for the madrigal Il bianco e dolce cigno and even more so by an incorrectly attributed Ave Maria that amateur choirs have been performing since the Romantic period, Jacques Arcadelt has not yet gained the position that he deserves in the musical world of today.

The recording sessions for this set created a real emotional shock on several occasions: we were convinced that Jacques Arcadelt was a true genius and it was easy to understand why his contemporaries regarded him as truly exceptional.
Related Artists
Reviews